If you'd like your food-allergic child to get the school's hot lunch, filling out a Meal Modification form is the way to go. You may be able to avoid years of frustration and pitfalls if you do. This is the second part of Monday's post, Food Allergies and School Lunches.
How to use a Meal Modification Form
I wish I'd know this from the start. Or more to the point, I wish I'd understood this from the start. Any child (in public school) whose dietary restraints qualify as a disability has legal protections in the school kitchen, just like they would with a 504 plan. That's where the Meal Modification Form comes in.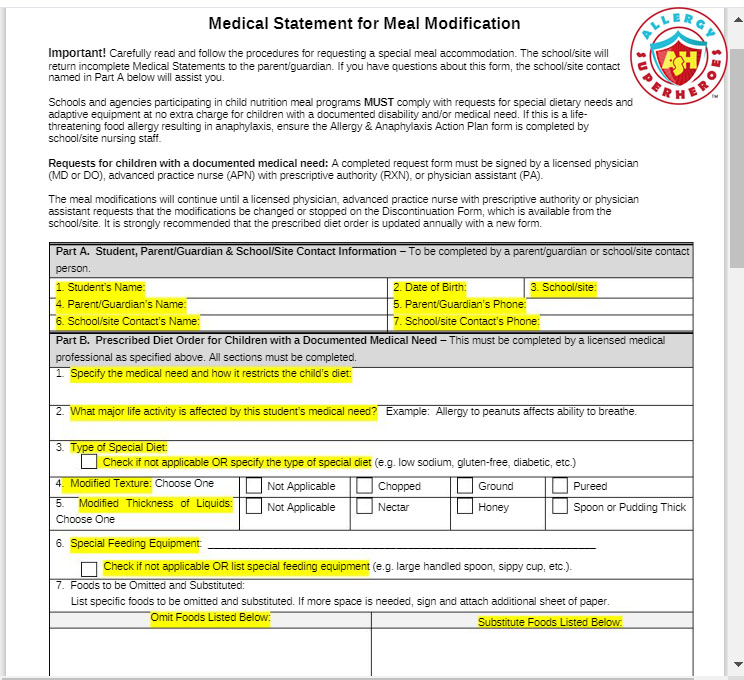 A doctor need to fill out this form, demonstrating that the child has a dietary disability. The doctor fills out what the child cannot have and what substitutions are acceptable. Then it goes back to the school, through the district to whoever runs food services. At that point they have to analyze what foods they offer and see what alternatives they can provide.
Our school typically offers two meal choices each day: a main "hot" course and more of a bag lunch if people don't want the first option. Since my kids were able to eat a lot of the hot meals, Nutrition Services and I agreed that coming up with safe alternates was acceptable. They somehow found a Sunbutter equivalent of the Uncrustables sandwiches called Sunwise, which was amazing! (I don't know if they're available for retail purchase anywhere though, it may just be for food services customers.) They also concocted a lunch where my kids would get a little to-go cup of Sunbutter with something to dip in it.
It took me until my older son Zax was in Fourth Grade to get this figured out. In fact, it was halfway through the school year. Once we had our form turned in and worked out the details, school lunch was like magic!
Each week, I emailed the Kitchen Manager, telling her which days my kids wanted the hot lunch and which days they wanted an alternate. The alternates were also easy to throw together, so they could be grabbed for an unexpected change.
That was our routine for the second half of Fourth Grade, and the Kitchen Manager even gave me her cell phone number so we could text each other if necessary. We stuck to email most of the time, but texting worked well for short-notice things (like Zax forgetting his lunch box at home.) She would also text me after unexpected snow days to tell me how the lunch schedule would adapt.
As I said, I wish someone had explained this to me earlier. I learned about the forms sometime around Zax's First Grade year, but I didn't fill one out. My relationship with past years' food services was already strained. I didn't want to "force" the kitchen to provide a safe version for my picky child every day. He wouldn't want to eat half of it anyway. I thought it meant that they would have to provide a safe alternative for every meal, whether he used it or not. I didn't want that.
All I had ever wanted to know was the allergen content of the menu items. I wanted to give my kids the option of a hot lunch when it was safe. In the end, I got more than I had ever hoped for! But then again, our Nutrition Services changed hands many times. I might not have gotten much help or trusted them–even if I'd filled those forms out for an earlier year.
Fifth Grade
At the end of Fourth Grade, I asked our Kitchen Manager multiple times if she was planning on coming back. I sent emails to our school principal and the Director of Nutrition Services, singing her praises. I really wanted them to retain her. After all, it was the best year we'd ever had, food-wise.
All parties said she was staying, until two weeks before school started. That's when she texted me that she'd accepted a position in a different school district. I was heartbroken. She knew my boys, we had a working system, and she'd always shown great care with making sure my kids were safe and well-fed. Other district personnel would remain the same, but I worried about how easily we'd build a routine with someone new.
The district Director emailed me and told me who the new Kitchen Manager was, but we needed a little time to settle into the new year first. We had the boys get a few definitely-safe hot lunches and mostly packed from home for the first few weeks. We had a lot of other things to sort out for the new school year, too.
Once I felt ready, I emailed the Director and asked for a meeting with the new Manager. They'd already hired someone different from the first name they gave me. Not two weeks into the new year. We set up a meeting for a few days later, after the new person finished training. We discussed how to utilize alternate meals, how to deal with menu changes, and got to know each other. She gave me her cell phone number and said that our previous year's system ought to still work.
It's still a work in progress. The first day one of my kids requested an alternate meal, he didn't get it. When he told me, I started to get mad (and worried.) But I delved deeper, and determined that he'd asked a different employee for his alternate, and that employee hadn't known about it. That was what Zax did last year, so he assumed it would work the same. The next day, I sent him to school with instructions to introduce himself to the new Kitchen Manager. I wanted him to work out how to get his alternates. I sent her an email as well.
Fortunately, the regular meal was safe for him that day. He has instructions to find a phone and call me if he's ever unable to get a safe meal. We all have our fingers crossed that there will be no more bumps along the way.
Are School Lunches even Safe?
So are school lunches safe for kids with food allergies? That will depend on a lot of factors. Districts vary on the types of food they serve, the level of food allergy training, and what the individual child is allergic to. As I mentioned in Part 1, my kids' allergens are mostly contained in our school's kitchen, but that may not be the case in yours.
If you're considering having your food-allergic child get school hot lunches, you'll need to put in some work. Have your own conversations with Nutrition Services and your individual kitchen. You'll need to see if you're satisfied with their kitchen policies.
How to Get Started with the Meal Modification form and School Lunches
Go into your child's school and head to the cafeteria. In the morning, after the first bell (or after breakfast) is usually a good time, when they aren't rushed. Learn who's in charge and introduce yourself. Mention your child's food allergies and ask if they have allergen information for the menu items. Their level of cooperation will give you a sense of where to go next.
If your child's allergen is ever part of the menu, ask for a Meal Modification (or Dietary Disability) form. Do this even if you never intend to ask for a modification. As we can attest, sometimes things go awry in the kitchen, and they serve something that wasn't on the schedule. If you have forms on file, they will be required to come up with something safe for your child. (Hopefully something you've already discussed with them.)
If you don't have forms on file, they don't have the legal obligation to find a safe alternate. While they'll probably try, they may not be able to find something suitable in the short lunch period and your child may go hungry that day. This is especially important if your child will depend on free or reduced rate lunches.
Even if your child already has a 504 plan, you will need to do these forms separately. Perhaps everything can be worked out along with your 504, but it's still a different department.
You'll also want to contact the person in charge of food at the district level. The kitchen employees can tell you who this is, or you can ask for an email/phone number at the front office. You'll be dealing with someone from this office (Nutrition Services or Food Services) when discussing acceptable substitutions and possibly ingredients. Food Services is usually a company that is not part of the district, only hired by them. They may change from year to year.
Also plan on there being a time delay. They may have to order specialty food (like our Sunbutter sandwiches) and that could take extra time to arrive. Plan on packing lunch until you get confirmation that everything has arrived.
Will it Work Out for Me?
As our experience demonstrates, there can be a huge spectrum of how helpful the kitchen and the greater Nutrition Services will be if you decide to pursue hot lunches for your food-allergic child. Technically speaking, any year my kids' school was unwilling to help was illegal. But food allergies and school lunches are an unstable pairing. A lot of families don't feel comfortable getting school lunches, so conformity (and even awareness of) the law varies greatly. We're all still blazing the path.
This would also be different for a private school. If they aren't taking federal funds, I'm not sure the school would have to provide something safe, even if requested. The guidelines here would be a place to start, but some things may be different.
For us, we went years without any option but to pack every day. However, the last 13 months have been sooooo much better than before. Having our boys break up their cold lunches with a handful of safe, hot, and more to the point different foods have eased our lunchtime struggles tremendously.
Have you had any luck navigating the challenges of food allergies and school lunches? Let us know your experiences in the comments below!