I was truly honored and amazed last month when I learned that I had been awarded the Love Remembers Trailblazer Advocate Award from Compassion for Anaphylaxis!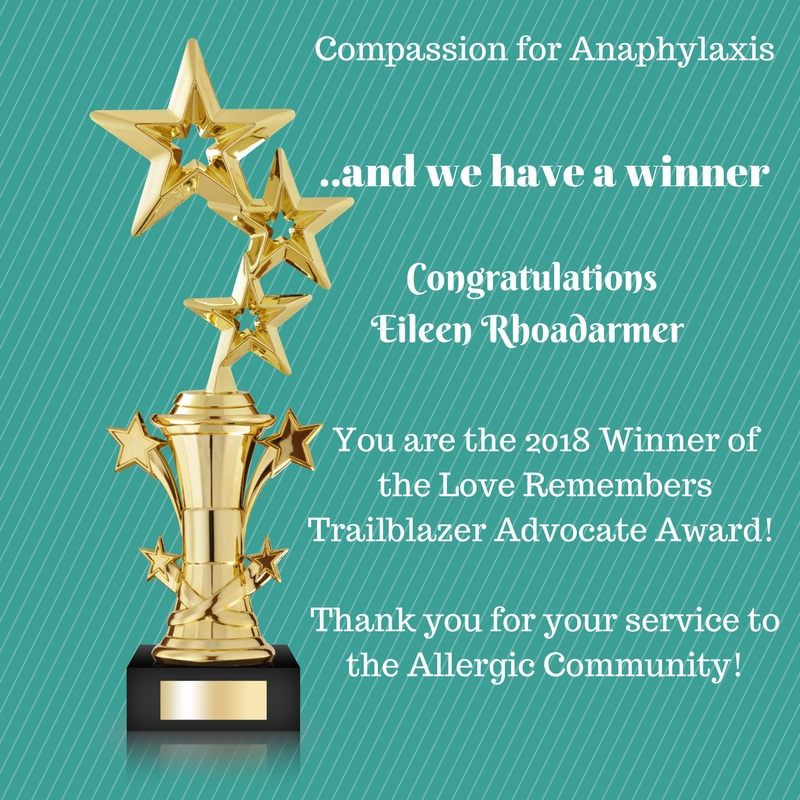 Quite honestly, this came as a happy, complete shock. We'd been promoting the nominations for this award on social media, but Dean didn't even tell me he'd nominated me until I won. I had collapsed on my bed after a very rough evening with one of the kiddos, and there was the congratulatory email waiting for me. "Surprise!" said Dean. It was an unexpected, flattering pleasure!
One of the things that made this so nice was this note from Aleasa Word, the founder of Compassion for Anaphylaxis.
Though we typically do not like to pick businesses, your story is more than just about business. It is truly about a person taking challenges of life and making the best out of them while sharing knowledge with others.
I'll admit this brought a tear to my eye, as this is an element I struggle with. Sometimes I feel like my work as an advocate is viewed with suspicion because of the fact that I own a food allergy business–I don't get it much from individuals, but groups and organizations sometimes stand aloof based on the assumption that I'm only in this to make money. So it was a real blessing to have someone acknowledge all the work I (and Dean, and the boys too) put into this community. Like the many other bloggers and food allergy advocates out there, I put in many hours that will never be reimbursed monetarily. We do it to help, because it hurts us to see people struggle, and being acknowledged for that was the best feeling.
While this blog is largely mine (though Dean has been making inroads in his guest post count lately), Allergy Superheroes truly is a family venture. Dean and I work together on all elements, and the boys are true members of the team. Allergy Superheroes would not be what it is without the support of the whole family!
I'm also honored to stand beside Red Sneakers for Oakley, who received the Love Remembers Trailblazer Legacy Award. Over Thanksgiving break in 2016, the Debbs family suffered the worst possible outcome from a food allergy: 11-year-old Oakley Debbs passed away from an anaphylactic reaction to tree nuts. Since this horrific event, the Debbs family (Oakley's parents Robert and Merrill, and Oakley's twin sister Olivia) have worked tirelessly to spread awareness for food allergies to prevent other families from suffering the same fate. The sad truth is that a lot of people still don't take food allergies seriously–including many food allergy sufferers and their doctors–and Red Sneakers for Oakley (named for Oakley's love of his red sneakers) aims to remind food-allergic patients of how important it is to take anaphylaxis seriously and treat it promptly. They've taken their unimaginable loss and turned it into a powerful force, and it is an honor to stand beside them for this award!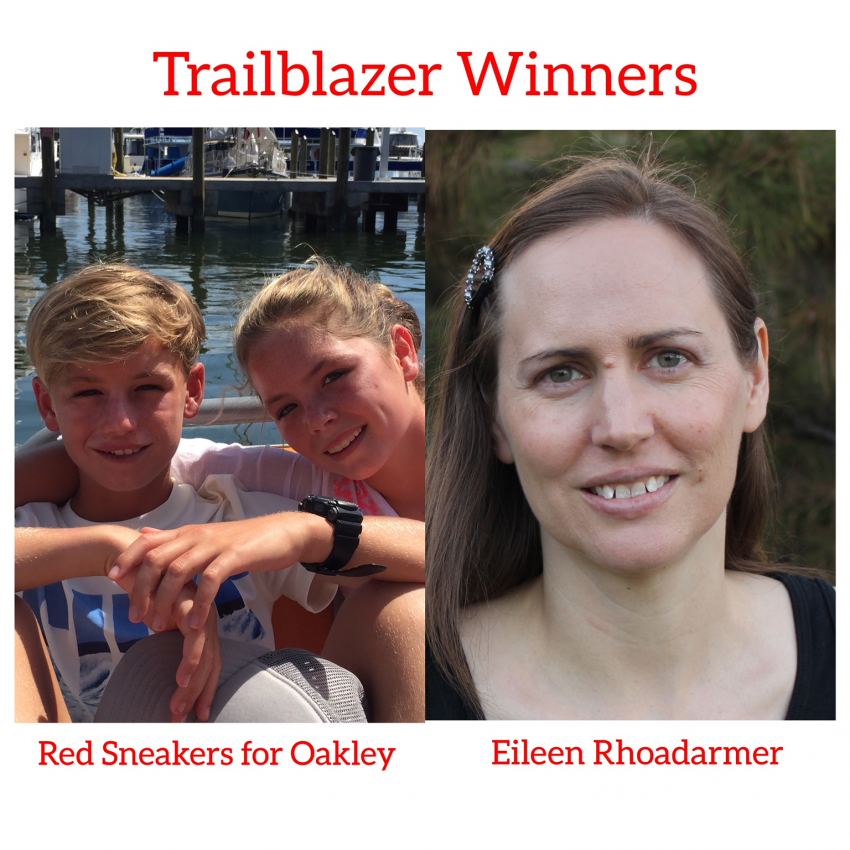 There are so many worthy food allergy advocates out there, and I am proud to be among them. Thank you so much to Compassion for Anaphylaxis for this award. I am honored beyond words!
Here is the press release announcing the winners:
DULUTH, Ga. – April 26, 2018 – PRLog — The 5th Annual Love Remembers Day Virtual Awareness Event, hosted by the Compassion for Anaphylaxis Project which honors the lives of those lost to life-threatening food allergies concluded April 7, 2018.  The grand finale of this US-based event that now spans the globe reaching as far as Dubai, ended with the tallying of votes for the Annual Trailblazer Awards

Taking the vote for the Trailblazer Legacy Family Award was "Red Sneakers for Oakley" aka The Debbs a family-based organization formed by the immediate and extended family of 11 year old Oakley Debbs.  Their mission includes ensuring his memory is never forgotten as they push to raise awareness using Oakley's signature red sneakers as a reminder for all to be safe. Oakley's father, Robert Debbs said "We just don't want this to happen to another family.  We will do whatever we can to better educate and advocate for food allergy awareness and prevent anaphylaxis from occurring."  Robert, his wife Merrill and Oakley's beautiful twin sister Olivia have taken this mission on full speed ahead with the help from those who love and support them. Their social media campaign programs are both informative and eye opening as they are able to reach the masses in a matter of seconds to help people see that dealing with any life-threatening allergy needs to be taken seriously.  Just as important and impactful, the Trailblazer Advocate award went to Eileen Rhoadarmer.  Eileen, who has lived with food allergies for more than 3 decades has taken her experience to social media via blogs and forums aimed at helping people conquer the fears that often times come with living the allergic life. With the support from her sons and husband who are equally as deserving of the award, Eileen took on a mission to help children become empowered.  Together they developed the well-known "Allergy Superheroes" program which is a project helping children and their families take charge of their allergies via specialty products and awareness characters. Eileen can be seen all around wearing her own superhero clothes and her signature cape to show everyone that she not only believes in superheroes but she is one.

Aleasa Word, chair and founder of the Love Remembers Day committee said "We have great people nominated each year.  The decision is not just mine but includes the help of a diverse, fair and knowledgeable group who helps me choose those that best represent the integrity of the award's purpose Our selection process looks at how the work of the nominees aligns with the needs and desires of the community as a whole.  We factor in the implementation of compassionate advocacy, research-based awareness, inclusivity of all without judgment or pressure and more.  As I've stated before, it is not a popularity contest.  It is about finding those who are making a real difference because our legacy families hard work matters and so does that of everyone still dealing with life-threatening allergies no matter what level of advocacy they provide.  This is not easy work; however, many do it and they do it well."

Nominees receive trophies each year and the committee has committed to adding a Junior Trailblazer Award to next year's program for kids 13-17. For more information visit
You can see the press release here.