We received a phone call yesterday, with an invitation for Zax to come see if he qualifies for a new Food Allergy Clinical Research Study.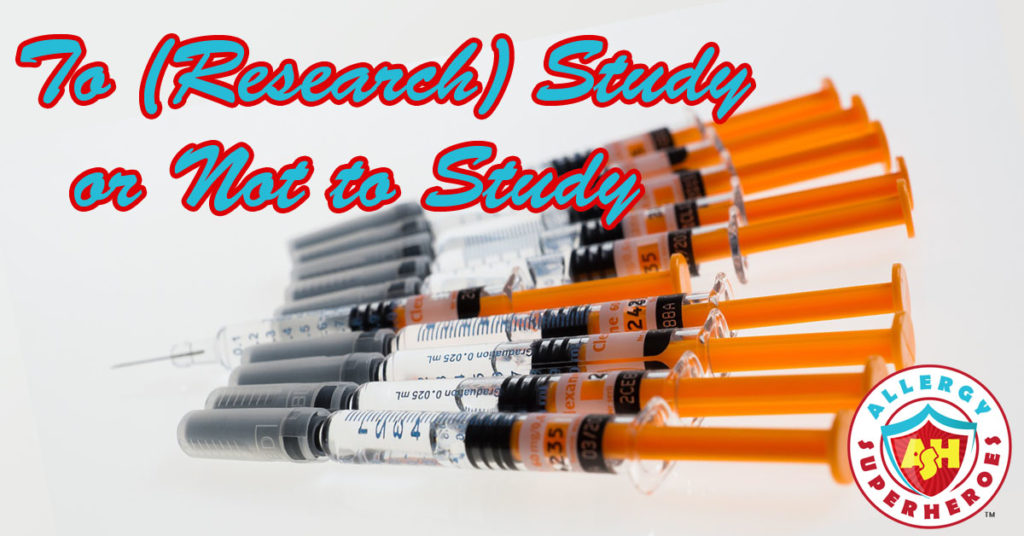 I was excited at first. I'm an analytical person, and I enjoy participating in the research process. I also like knowing that we're on the cutting edge of food allergy treatments. Having access to experimental treatments is neat, but is not without risks or pitfalls.
So much to consider for a Research Study
This study is a doozy though. For one, it's four years long–that would be the longest study we would have done. It's also strange to think that my son will be almost 15 when it's over. It's also very complex, with multiple different phases.
Unlike other clinical research we've participated in, this one seems to be in an earlier stage of development. That means that once it's over, we may not have a clear path towards maintaining any benefit Zax receives from it.
This sort of research is important. Human studies have to be carefully crafted to make sure that new drugs or treatments have the desired effects. Gathering enough data to be able to prove that the treatment will benefit most people, with side effects that are within the range of "acceptable," takes many years to complete. It's inevitable that early research subjects will be without treatment again before the treatments come to market. But that doesn't mean it's easy to be one of those research subjects. In fact, the thought of putting four years of effort into increasing food allergy tolerance and then losing it all is, well, terrifying.
The other difficulty is that this study would involve a lot of needles–and needles and Zax don't get along. At the end of his last study, I literally had to hold him still for blood draws. And he hasn't gotten better at shots or blood draws since.
Passing the Torch
Of course, this isn't really my decision anymore. My kids are both past the age where I can sign them up for a study and say "we'll do this because it'll help you and other allergic kids." They have to give their own consent, in addition to mine as their guardian. And because so much of this study would involve Zax tolerating uncomfortable things, it's his decision to make.
I pitched it to him last night, making sure he knew he didn't have to answer right away. His initial response went up and down, back and forth. He likes research too. He also likes the payment and prizes. He doesn't like needles. He's scared of inducing a reaction that might require epinephrine (for a food challenge) but excited by the thought of reducing his reactivity. He doesn't like needles.
I also told Zax that if he wants to do this, he has to follow through. Which doesn't mean he can't drop out if it becomes horrible, because he can. But I told him that I wasn't going to argue with him and then hold him still for every injection and blood draw. He has to be on board with this, and prepared to cooperate. Dropping out for something small would waste everybody's time.
Musings
It's a little funny to me how much brain power I spend on things like this. (I've mused here before.) Especially since we don't even know if Zax would qualify. But I guess it isn't that funny. Joining a Research Study is a big decision, and not one to take lightly. Even the screening visits will involve pokes and food challenges. None of this is easy, and Clinical Research isn't for the faint of heart.
This story is ongoing, so watch this space!