The level of food allergy awareness surrounding Halloween has increased dramatically in recent years, thanks in large part to the popularity of the Teal Pumpkin movement. Not only are more people aware that some kids cannot enjoy much candy, they are also paying more attention to what goes into that candy.
This display I found at Target the other day is a perfect example. Just a few short years ago, we'd have to compile lists like these ourselves–no retailers conveniently compiled them for us.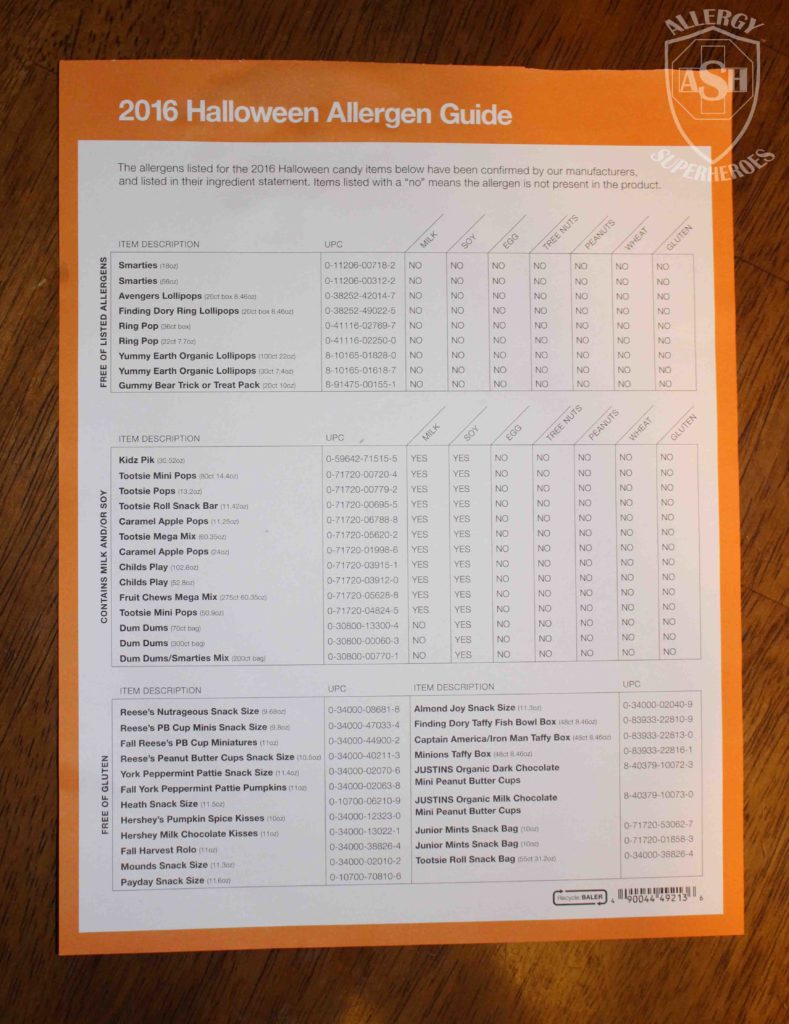 This is a huge step in the right direction, and a great victory for the food allergy community! (Now if only the candy companies would take steps to avoid cross contamination and open up a greater assortment of candies to allergic kids!)
The in-store display says "Allergen Guide" in large letters, which easily grabs the attention of shoppers. This guide was printed on tear-away pages, so interested consumers could take one with while shopping, or even take it home for easy reference. (That's what I'm doing with it–I intend to have this handy on Halloween night, so I can check the safety of candy that may not have easy-to-read allergen info on the wrapper.)
One thing struck me as unusual about Target's allergen list, however, and perhaps this is something they could improve in the future. The top of this lists reads great, showing the major allergen content of the safest candies. First are Top 8 Free, and then those containing only dairy or soy.
After that comes the gluten-free list, but in a different format. It stopped being in a handy list with "yes" and "no" marks in the allergen columns. What if I'm celiac and allergic to egg, for example? The rest of the allergen info is missing for the gluten-free candies.
And then, this is where the list ends.
A note on the display directs consumers to target.com for the "full list," implying that this one is abbreviated, but the website has the exact same information as the take-home sheet. There is no expanded information, no additional categories. Here's the link to the info on the website. As you can see, it's a pdf of the same.
In fact, it's rather hard to find the online document at all. It only pops up if you search for the exact wording written on the display. You must type "Halloween Candy Allergen Info" into the search bar in order to bring it up. "Halloween Candy allergens," doesn't work, nor does "Halloween Candy allergy info," nor "allergen/allergy info for Halloween Candy." All of those just bring up listings for all the Halloween candy Target sells at Target.com. This is an oversight, in my opinion. I saw the display in the store but was still unable to find the document online. It wasn't until I looked back at my picture that I noticed my wording wasn't perfect.
But the biggest oversight, in my opinion, is not having a more comprehensive list including all the allergen categories–or at least, more categories.
Nut allergies, for example, have the morbid reputation of being the most deadly allergens, and they certainly are among the most common in school-age children. So why is there no list of which candies are safe for nut allergy sufferers–apart from those that are free of almost all allergens?
In addition, as the mother of an egg-allergic child, I know how frustrating it can be when some allergens are ignored–and this list makes no mention of candies to avoid if you have an egg allergy (apart from where they overlap with the previous categories.)
Increasing the content of this list and including the more common allergens would be a great improvement Target could make in the future. In fact, I love and prefer the column format they use initially, because I think it's the easiest way to read when checking for multiple allergens.
Thank you, Target, for being food allergy aware, and I hope this service can be expanded in the future!