Last month, hubby and I sponsored the Kids Zone for the Incredible Edible Gluten Free Food Fair! One of the activities we did was an hourly story time. We wanted to keep the stories poignant, so I spent a day driving all over to various local libraries, collecting picture books on celiac. (It's funny that all of these libraries have interlibrary loan programs, but they don't all pull from the same pool.)
Fortunately, my efforts paid off, and I ended up with a collection of books large enough that I could pick and choose my favorites for the fair. I typically had a small but attentive audience every hour, and it was a fun way to interact with the kids.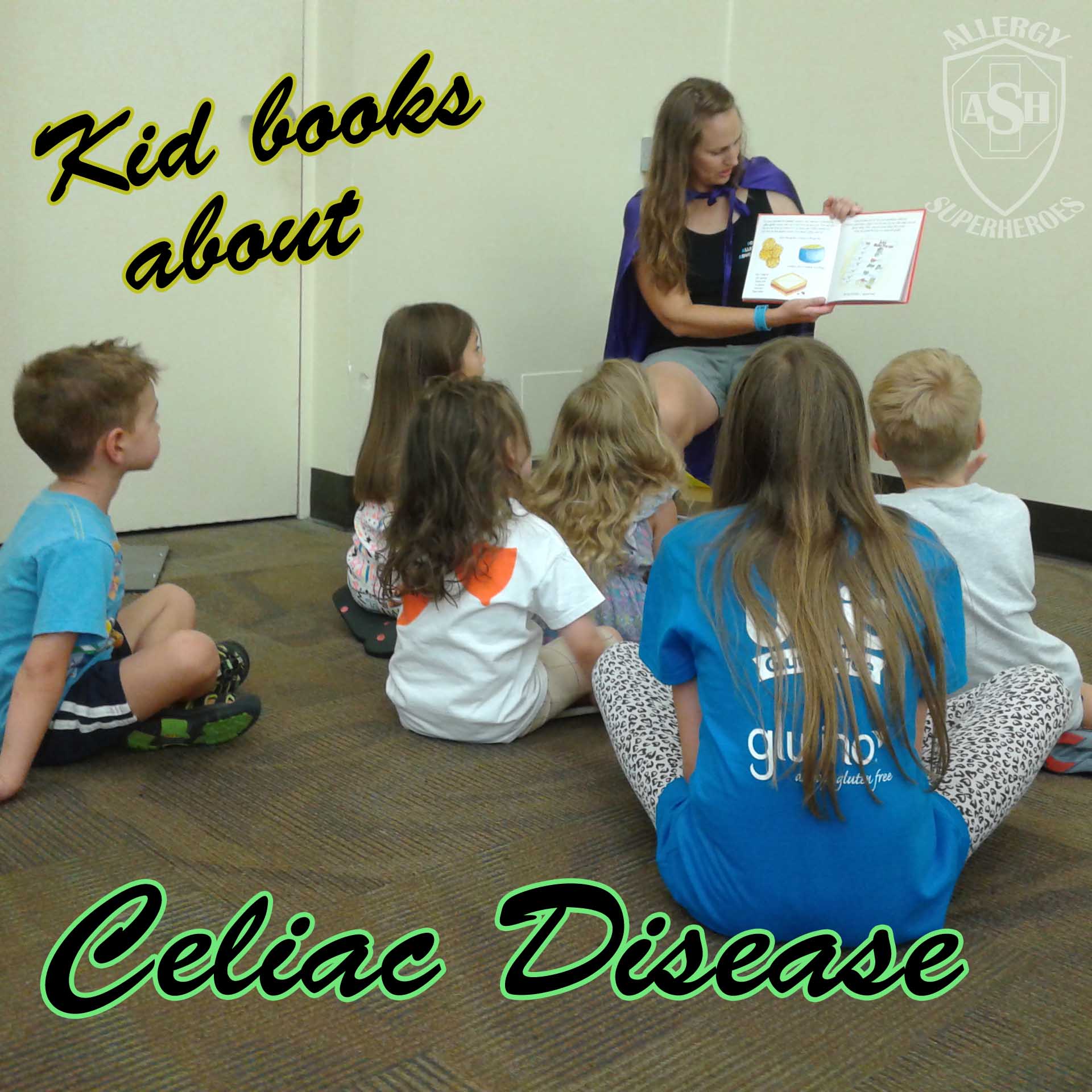 In addition, I've decided to summarize the books I found for all of you. If you're in the market for children's books about celiac disease, I'll bet one of these will fit the bill!
There are two categories of books here: those that explain celiac disease in children's terms, and those that tell a story around (and usually involving) a child's diagnosis or known celiac. From a storytelling perspective, I preferred the latter, but if I were a parent looking to explain a new diagnosis to my child, the explanation books would be perfect!
Books that Explain Celiac Disease to Kids
This cute book would be good for really little kids, as the main character was pretty little, himself. The story emphasizes that the little boy is a normal kid, but that he has a weakness–his archrival is gluten (very similar to the philosophy behind Allergy Superheroes!) It goes on to explain all the things he has to do differently, including how they navigate social situations. It ends with the boy declaring that he's Super, which is a message we can totally get behind!
In this book, the young girl Emily explains how she hadn't been feeling well until the doctors ran lots of tests and figured out what was wrong with her. After explaining the basic nuts and bolts of the disease, Emily also explains how she and her parents navigate various social situations, and how those situations make her feel. A very relateable book for little ones with Celiac.
The reading level of this book is higher than most of the other books here. Like the others, it explains the technical side of celiac disease as well as how it impacts food, life, and social situations. My favorite part of this book was the little anecdotes thrown in on each page. This first-person narrative was meant to look like the child is writing/drawing it herself, and so she writes all over it, making jokes and extra comments in the margins, or explaining pictures a little more thoroughly. While this book would be too much for a very young child (unless you edit out all the extras,) I think it would be a fun book for older children dealing with celiac.
Its downfalls are that it is getting a bit dated (there are tons of gluten-free options available now, and I don't think they were available when it was published) and the fact that it encourages telling restaurants that the main character is allergic to wheat. She says "That they understand." Although she admits in a side note that the allergy reference isn't true, she's still encouraging others to do the same–but misrepresenting why you have dietary restrictions can be very harmful, especially to the customers who come after you.
This story narrates a conversation between a mother and daughter, as the mother explains that the child has celiac disease and will have to make some changes. There is very little talk of symptoms, but plenty of technical information told in child-friendly terms. The pictures are interesting, with illustrated characters superimposed onto photographs of the outdoors. This book had perhaps the least amount of animation of all those we read–instead of illustrations or anecdotes about certain celiac situations, it really is just an illustrated conversation as mother and daughter walk through a park. It was also a little on the long side, and I was certain that my kids would lose interest in this one before the end. It certainly has plenty of information, but it was presented in the least creative way of all the books we looked at.
Books that Tell a Story Around and/or About Celiac Disease
This was probably my favorite of all the books we looked at. It's got fun, lyrical text that takes the main character through making a gluten-free cake and then having all her friends over for a party. Another child sadly goes off on his own at cake time because he can't eat gluten either, but they get to triumphantly bring him back to the party because the cake is safe! This is a cute story to show celiac kids that there are others like them, and they can still have fun doing kid stuff!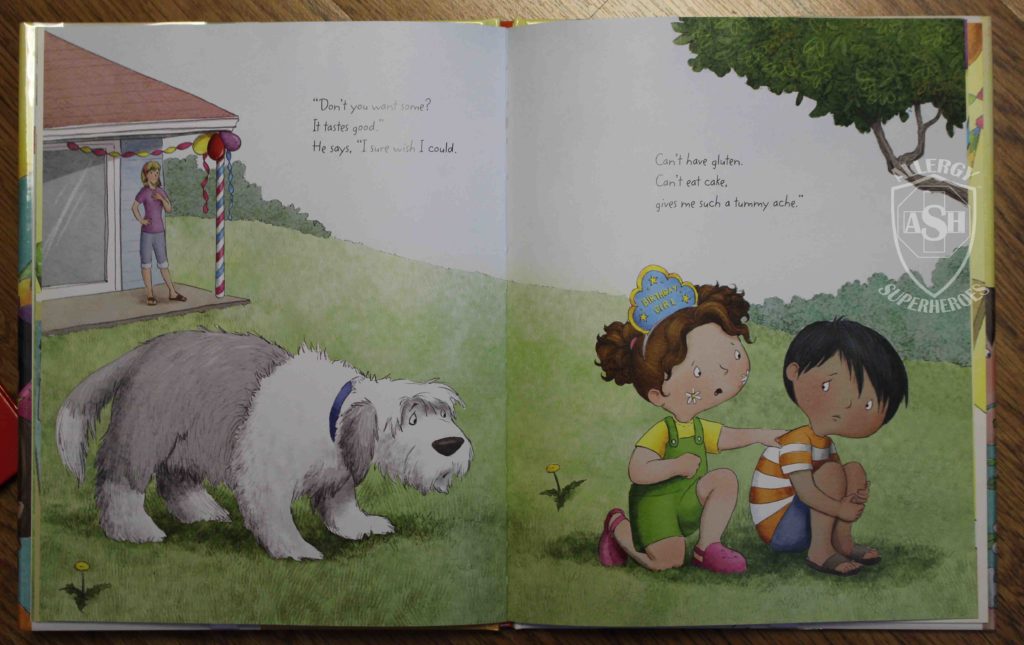 This makes for a nice, compassionate moment, but honestly, what is wrong with this little boy's mom? Leaving him at a party without informing the host of his dietary restrictions at the very least? Not particularly plausible, but a larger issue than the book's reading level, and again, it allows the kids to connect over their shared condition.
First be aware, this is not a picture book but a chapter book with pictures every few pages, probably edging into the middle grade reading level. Zax is starting 2nd grade and while he's reading chapter books, they are still much simpler than this one. This is probably for third-grade readers or above.
I actually liked this book a lot. It's the first person narrative of Cilie, a young Irish boy who explains his diagnosis of Celiac Disease through the lens of his young experience. He explains much of his spirited (and sometimes troubled) youth and his feelings (both physical and emotional) as he and his family slowly discover that something is wrong with him, and then begin to figure out what to do about it. Cilie's got a great voice, but probably the best part about it is his honesty. He doesn't pull punches regarding how he feels about his brothers, his friends, his family life, or his diagnosis. I think this would really interest an older child with Celiac disease. It doesn't just explain his diagnosis and leave it there, either. It also goes on to show how the diagnosis influenced Cilie's interests and allowed his personality to blossom.
***Still stories, but
The following books are all from The No Biggie Bunch. These stories are more geared towards kids with food allergies rather than celiac disease–in fact, it goes so far as to say Greta, the character who cannot eat gluten, has a gluten allergy (which I believe is actually impossible.) Regardless, these books are not about the technical aspects of allergies or celiac–they are about kids who navigate social situations without letting restrictions get under their skin! (And that's a philosophy I am always behind!)
This book involves three kids with separate restrictions–peanut, egg, and gluten–getting together for a tea party. When peanut cross contamination threatens to rear its head, they shrug it off and stay safe because the peanut-allergic child was prepared with her own safe snack. (My only qualm is that the celiac child is concerned about cross contamination for her peanut-allergic friend, but makes no mention of the possibility of cross contamination with gluten, which seems equally plausible to me.)
The entire No Biggie Bunch gets together for Scott's birthday party! This means allergies to soy, peanut, egg, dairy, and gluten are represented. The cake is safe for some of them, but the others just pull out their favorite alternative snacks and don't miss a beat!
The title of this one threw me–I had anticipated that it would have the kids all trading candy with one another, but instead it promoted Switch-Witch-style swapping. The kids all dreamed about what toys and goodies they will trade their unsafe candy for when the night is over, rather than feeling bad about receiving candy that they cannot eat. (And by the way, this book was written before teal pumpkins started appearing.)
If you're looking for books that your Celiac child will enjoy or relate to, I hope you've found a few titles that you want to check out from this list. Happy reading!