We were excited to see the winners of the Love Remembers Trailblazer Award for 2019! Announced Monday, the Advocate winner is Stephanie Lowe of Turn it Teal. The Legacy winner is Thomas Silvera of Elijah's Echo.
What the Trailblazer Award is About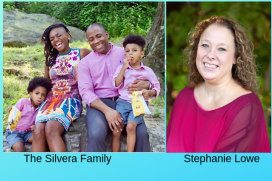 Compassion for Anaphylaxis honored me with the Trailblazer Advocate Award last year. It felt amazing to have someone recognize my efforts. Dean and I excitedly nominated several pillars of the food allergy community for 2019 to spread the love. We love all of the support this community gives us, and we love supporting them in return!
The Trailblazer Awards honor advocates working to make an impact in the world of food allergies. And in the case of the Legacy Award, it honors those who have turned their personal tragedy into a triumph. They advocate to save others from losing a loved one like they did.
We give a hearty Congratulations to Stephanie and Thomas (along with his family)! Both of your voices are a beacon to those walking this food allergy life with us. We are all stronger together!
Press release follows:
DULUTH, Ga. – July 1, 2019 – PRLog — The 2019 Winners of the Annual Love Remembers Trailblazer Awards Program in the food allergy community have been selected. Congratulations are in order for Thomas Silvera and Stephanie Lowe.
Taking the vote for the Trailblazer Legacy Family Award was Thomas Silvera. Silvera who along with help and support from his wife Dina and son Sebastin has pushed forward to honor the memory of their young son Elijah who they lost in 2017. In recent days, Silvera and the Elijah-Alavi Foundation celebrated a win in the New York Legislature for the passing of Elijah's law requiring daycares to have food allergy protocols in the state. Silvera said, "Thank you to those who nominated me and supported me and of course my wife Dina and son Sebastin and family and friends who have been standing strongly by my side. This award I dedicate to my beloved son Elijah-Alavi Affiq Thomas Silvera."
Equally important, the nomination for the Advocate Award went to Stephanie Lowe of Turn it Teal, an organization dedicated to lighting buildings around the world in an effort to educate others about food allergy awareness and support those living with the disease. Since 2014, Lowe has been on a mission to ensure that others know the plight of the food allergic through her unique advocacy approach. Lowe said, "I am so very honored to have been nominated and to win is beyond anything that I would have ever thought would happen when I started the project 6 years ago."
The Love Remembers Day virtual event has been in place since 2014 as a community-based grassroots program awards two winners each year nominated and selected by the community. The event occurs under the umbrella of the grassroots organization the Compassion for Anaphylaxis Project to bring awareness to the severity of life-threatening food allergies. The awards program honors both volunteer advocates working to make an impact as well as legacy family advocates who have taken the torch turning grief from losing a loved one into fuel to continue the fight to save lives.
Aleasa Word, chair and founder of the Love Remembers and Compassion for Anaphylaxis said "Once again the community has shown its support for others through nominations and the has the task of sorting through an amazing group to find two that stood out even more. The task is never easy to pick just two; but, we are confident that the work these two individuals have done is impactful beyond measure and the awards are well deserved."
The decision process is left up to a committee of peers who represent knowledge in the world of food allergy, peer advocacy, diversity and fairness in their quest to represent the integrity of the award's purpose. The selection process looks at how the work of the nominees aligns with the needs and desires of the community as a whole when factoring in the implementation of compassionate advocacy, research-based awareness, inclusivity of all without judgment or pressure and more. Word stresses each year, 'It is not a popularity contest but about finding those who have made a difference and letting them know that their peers see them and recognize them."
Nominees receive trophies and the committee has committed to adding a Junior Trailblazer Award in the future. For more information visit
http://www.compassionforanaphylaxis.com
Source:
https://www.prlog.org/12776775-2019-trailblazer-award-winners-announced.html