We have news! Allergy Superheroes is now on Patreon!
Check us out here: Patreon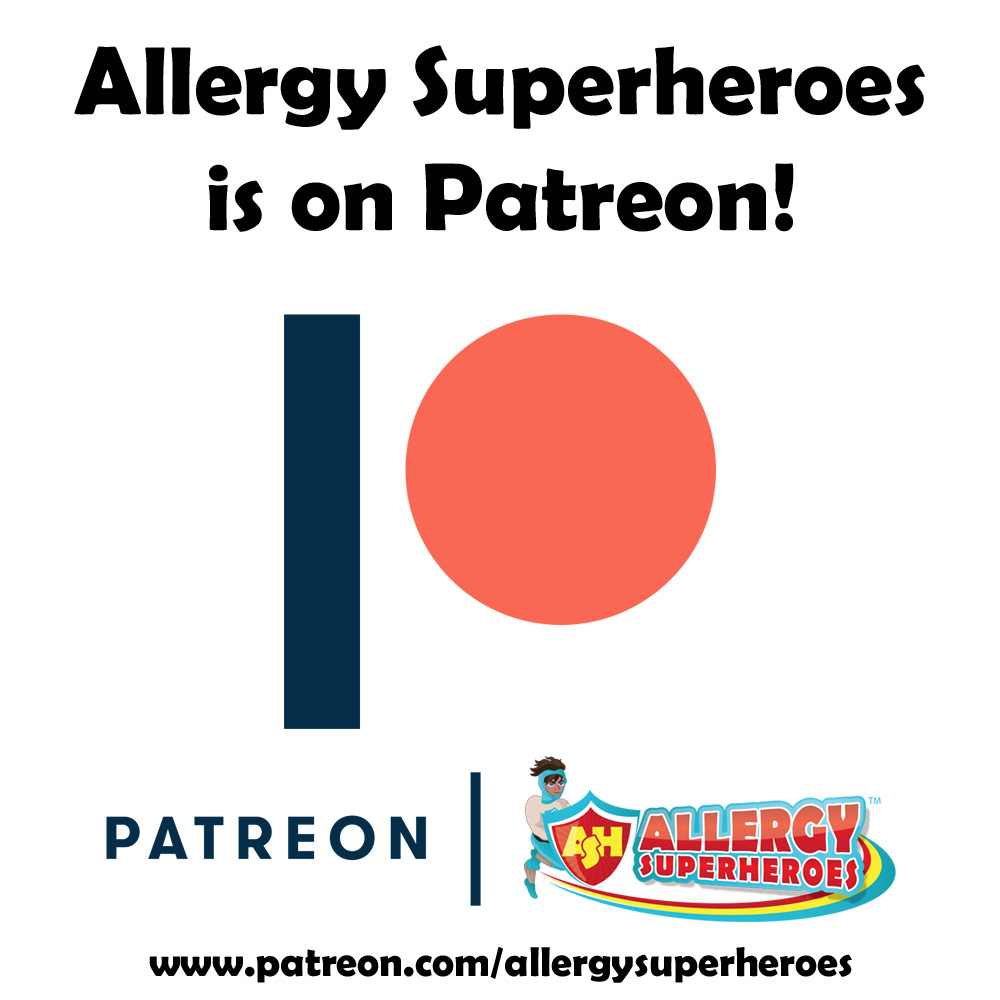 What is Patreon?
Patreon is a membership platform that allows creators to get paid for making the content you love! When you become a Patron, you pay your favorite creators for making things that you want to read/see! It's a way you can support the people and organizations online that you appreciate. Particularly if you aren't interested in anything they have to sell, but you know you get genuine value from their content.
There are multiple tiers of membership, and you are able to pay as much per month as you are comfortable giving. This gives the creator regular income, and gives YOU extra perks!
Why Patreon for Allergy Superheroes?
Over the last several years, we've seen modest success with the Allergy Superheroes online store, but unfortunately it's not something that brings in enough money to sustain us. (We also dealt with a layoff a few years ago, which we never fully recovered from.) Regardless, this business and mission is deeply important to us, since three of the four members of our household have food allergies. (You can read more of our story here.)
Over the years, we've also observed that what people like most about Allergy Superheroes is the blog posts, memes/images, videos, experiments, and other allergy awareness content that we produce.
And that's great, because that content is some of the most rewarding things that we do. We absolutely LOVE connecting with fans and finding out that our experiences have helped someone navigate the muddy waters of food allergies. I mean seriously–we read those things out loud to each other and do a little happy dance and just beam for an hour in the glow of knowing we helped somebody. It truly makes our day. Sometimes our week!
But the only problem is that the above-mentioned content is something that we don't get paid to generate. That warm-fuzzy feeling from helping people doesn't pay any bills. As much as we'd like to make people happy all day, every day, we need income. And we need to spend the bulk of our time on things that generate income. We need to put allergy-friendly food on the table and keep a roof over our heads just like everybody else.
So when we noticed our favorite webcomics using Patreon, we thought it could be the perfect fit for our blog! We would step up the amount of content we create, and people can support us by becoming our Patrons!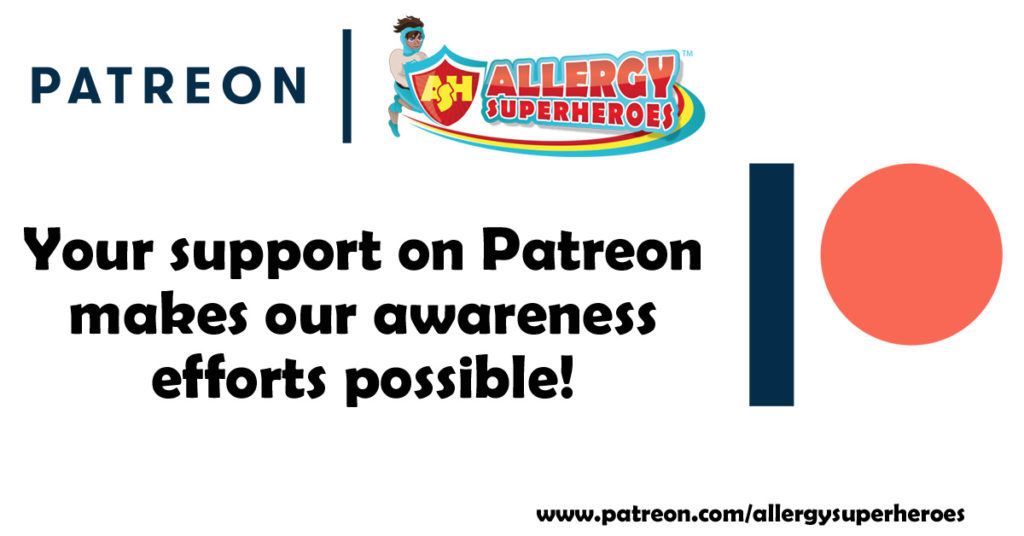 How you can help
If you have the means, we would be forever grateful if you become a Patron of Allergy Superheroes! We set up several tiers of membership on our Patreon page, starting at just $1 per month. Yes, even $1 per month helps! I know that makes me sound like I'm standing on a street corner with a cardboard sign, but it's true–even small contributions add up.
But you're not just doing this out of the kindness of your heart–there are perks, too! We're offering all sorts of sweet benefits for helping us out! Some examples include:
A social media shout-out
Early and behind-the-scenes looks at Allergy Superheroes
Patron-only videos detailing how we navigate food allergies in the real world
and more!
We've got a tier that fits your budget! I promise! You can find all of our levels of membership on our Patreon page!

A subtle shift
The Allergy Superheroes store isn't going anywhere, I promise. Nor are our social media channels. But we'll be shifting our time and attention into generating more of the content that you love!
So please consider backing us. There's no commitment and you can change your mind at any time. But we promise to make it worth your while!