Have you ever encountered a potluck event that turned out to be allergy-friendly? Well, that's exactly what I did with our elementary school Harvest Festival!
The Harvest Festival has been going on at our school since a few years before Zax started Kindergarten. (He's in 5th grade now!!!) It's a celebration of healthy food, local food, and building community. Each class creates a dish, usually incorporating ingredients from the school garden. Families are also invited to bring a soup, salad, or bread to share. Then there's music and pumpkin decorating and crafts and fun activities for everyone. It's such a fun, school-wide activity!
For the first two years, we attended but mostly brought our own food. We also sampled what Zax had made in class. I saw some efforts to make the event allergy-friendly, but most fell short of the mark. For example, during Zax's Kindergarten year, there were allergen cards by many of the dishes, but most of them weren't filled out. I remember looking at these, wondering whether a card with no allergens circled meant it didn't contain any, or if the person who brought the dish simply hadn't filled it out. Plus, the whole event was ripe for cross contamination. The boys and I mostly ate my own soup and Zax's class applesauce that night. And then, the allergen cards were completely gone by the next year.
Getting involved in the Harvest Festival
It was our third year, when Zax was in 2nd Grade and Kal in Kindergarten, that I got involved. I couldn't make the whole event allergy-friendly, of course, but I made it my pet project to host an allergy-friendly table. I wanted to bring together the foods that were free of the top 8 allergens, and make sure that people with allergies knew where to go. And that's what I did!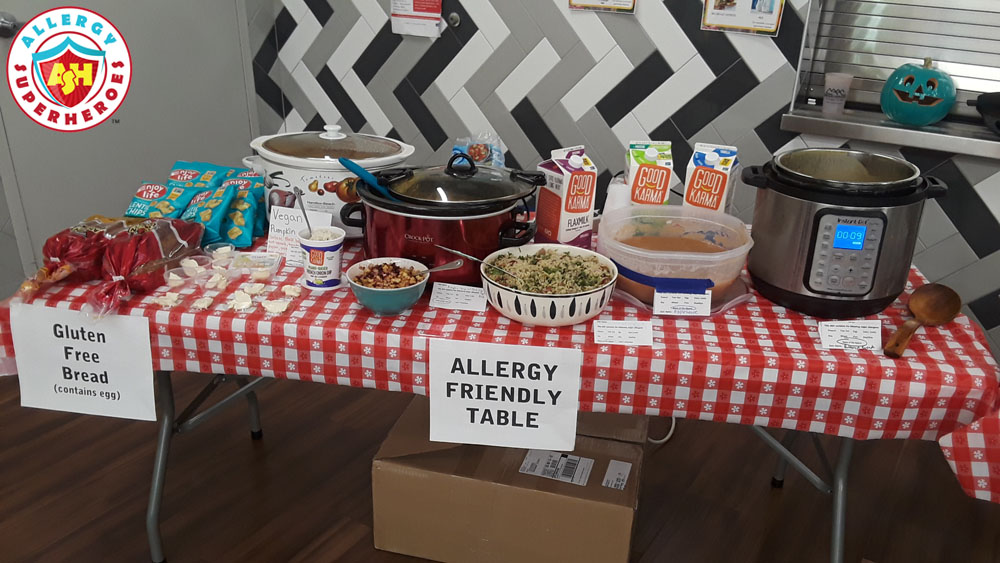 For four years in a row now, I've hosted my allergy-friendly table at the Harvest Festival, in conjunction with our school's Wellness Committee. I keep learning things every year, finding ways to improve. My table is usually populated by a combination of donations I secure from allergy-friendly companies, foods provided by allergy-aware classrooms, foods from other parents and, of course, the dish I bring.
I want to take a moment to thank the companies who donated to our event this year. I've received no money from them, but they each generously donated product for our event, and we appreciate them!
Canyon Gluten Free Bakehouse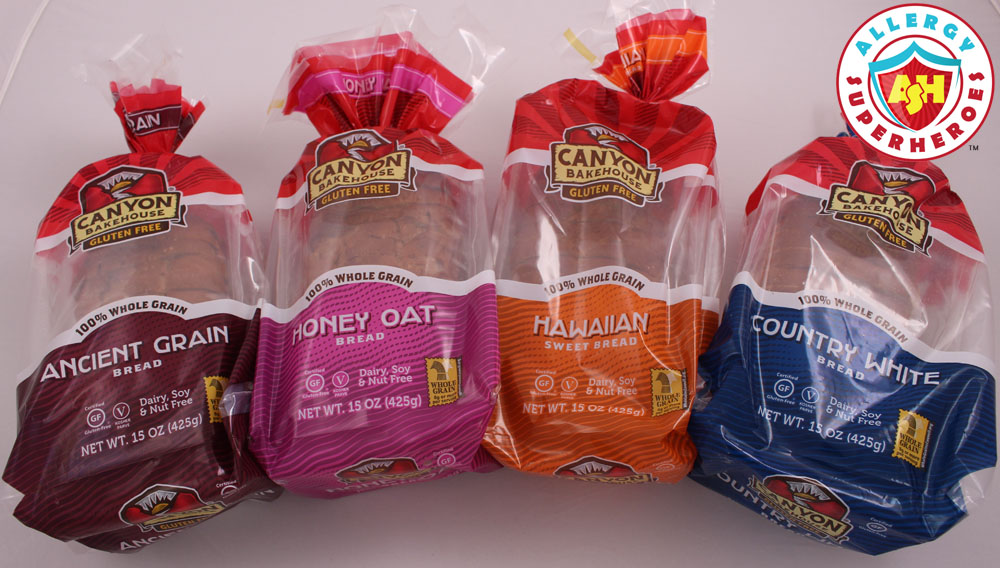 Food restrictions go beyond food allergies, of course, and so a gluten-free bread was a must for my table. Canyon Bakehouse is a Colorado company, which makes them local to us. I've always found their bread to be tasty and something I'm willing to eat, even though I can eat wheat without a problem. When I emailed them, Canyon Bakehouse generously donated four loaves of bread to our event. (Canyon bread is not completely top 8 free, so egg was the only allergen at my table, in the bread. I made a big sign, so people would know.)
Good Karma Foods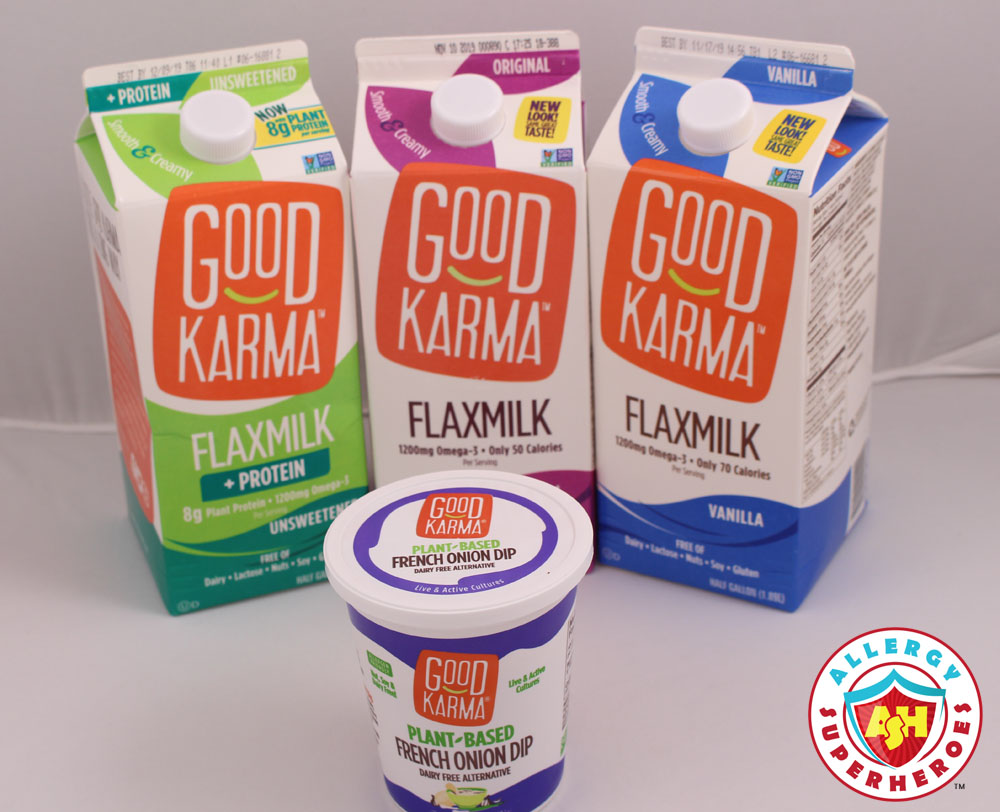 Good Karma Flaxmilk is the only dairy-free milk that has succeeded in impressing me, as a milk drinker. (Bear in mind that I can't have nut milks due to my own nut allergy.) I've tried, used, and baked with several dairy free milks for recipe development, and Good Karma is the only dairy-free milk that I would drink, just because. It's good, and it's creamy! I asked them if they would donate, and they sent me coupons so I could pick up some products locally. I nabbed three milks and a French Onion dip, which was a new product I didn't know they had.
In addition to bringing the flaxmilk to the Harvest Festival, I also used a few cups of it in my Pumpkin Soup.
Enjoy Life Foods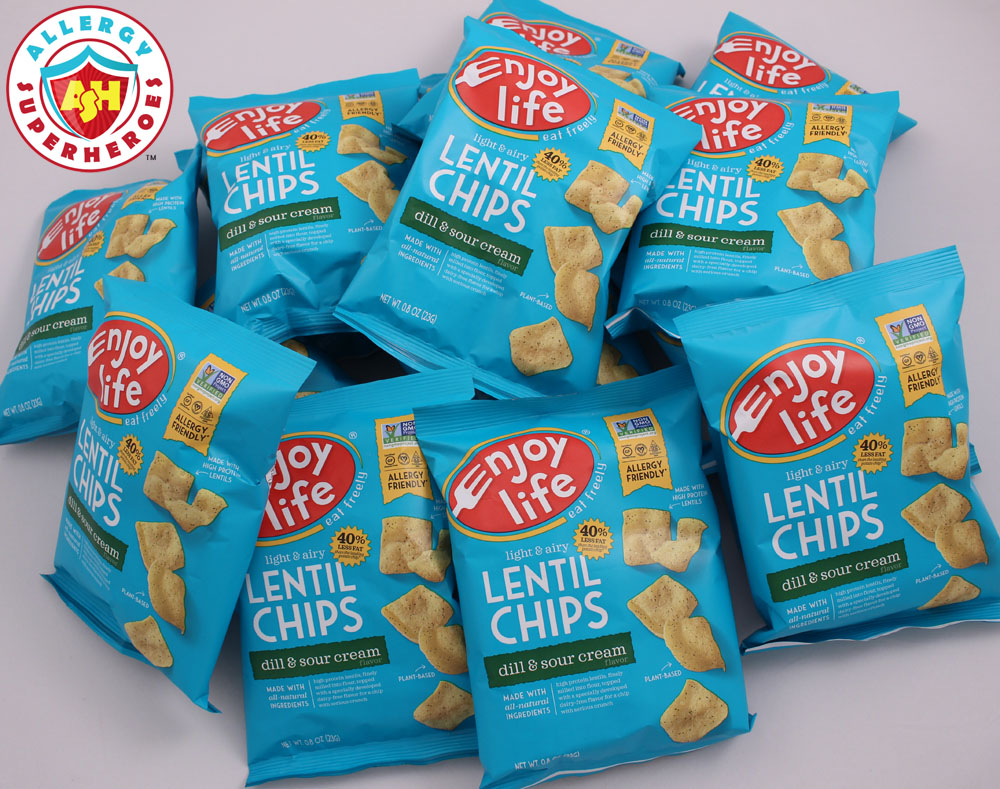 Enjoy Life is one of our favorite allergy-friendly brands. Most of their foods are sweet though, and I couldn't ask for a donation of cookies or chocolate for an event where we discourage desserts. Fortunately, Enjoy Life has their tasty Lentil Chips, which went well with the Good Karma dip and classmade salsas! They provided us with a nice, big box of chips for the event.
Teacher Involvement at the Harvest Festival
For the past few years, I've sent a variation of this letter to the teachers at our school, a week or two prior to the event. This year, our P.E. teacher (and head of our Wellness Committee) went a step further and went to each teacher, discussing their recipe and filling out the recipe card together.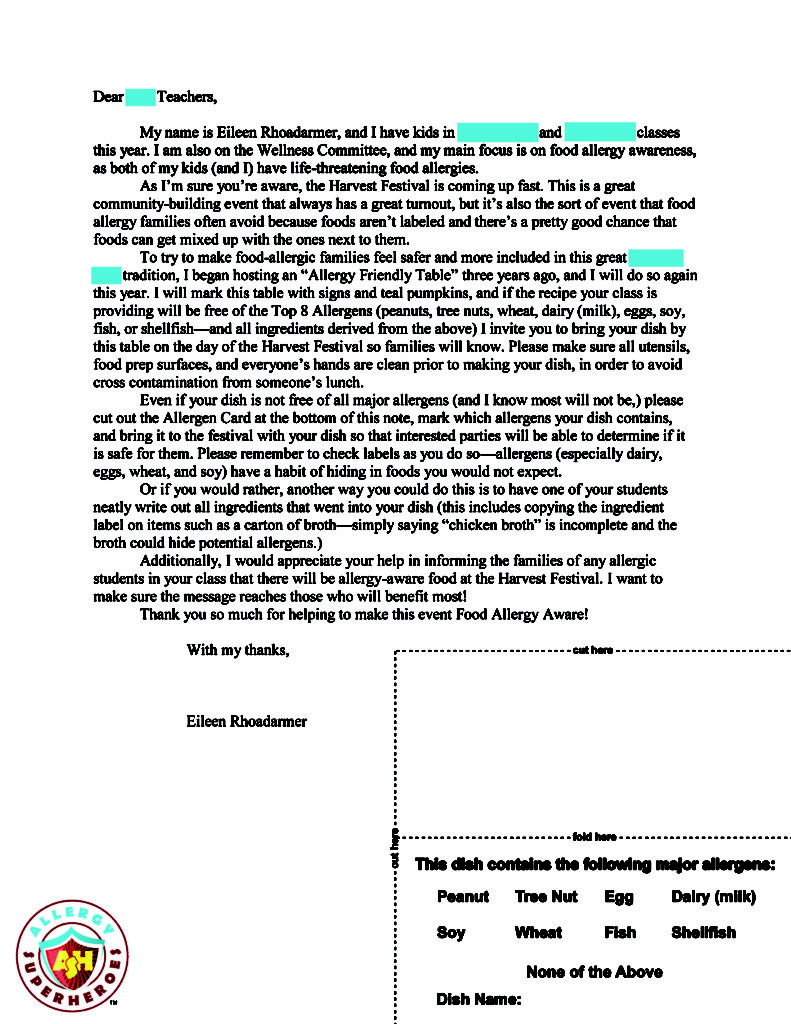 This dramatically increased teacher use of the allergen card, which was wonderful! Not all classes have students with food allergies, but I like making sure that allergies are on their minds when preparing food.
Community Involvement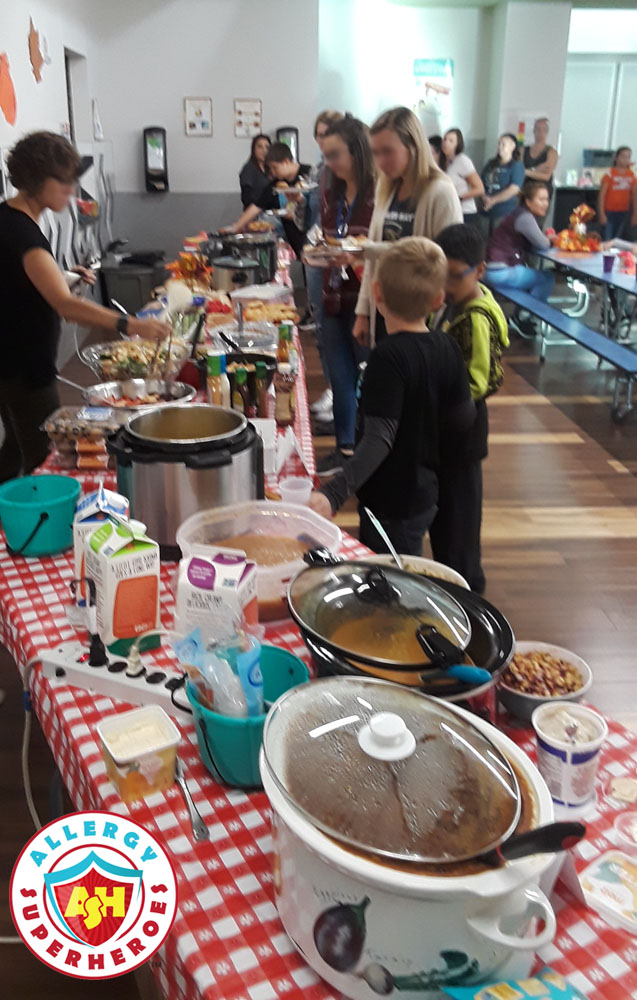 Even though "Allergy-Friendly Foods" are a category on the event sign-up, I haven't had very many families bring a dish by my table. Most people, even people with food allergies, don't intentionally make something free of all of the top 8 allergens, after all. And when they do it by accident, they don't think about it.
This year though, a Vegan family brought a few dishes over to me, and I was happy to include their foods with the rest. Not everything there was good for them (meat-based broths and such,) but they still appreciated using our table as a starting point. I was very impressed that they brought a full list of ingredients for their foods as well!
Our P.E. teacher did a nice job of organizing volunteers this year, too. She had a few volunteers at the door, accepting dishes as people arrived. This got the foods organized, and also was the perfect opportunity to distribute the allergen cards. I've always provided allergen cards, and compliance was at its best this year!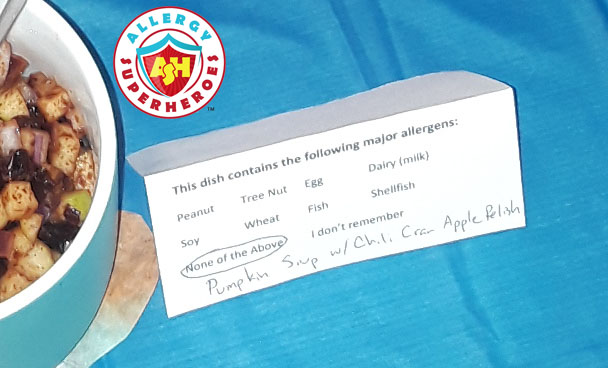 Looking at the future of the Harvest Festival
We love the Harvest Festival, and so I was a little sad to realize that we don't have many years left. Our Elementary School goes through 6th grade, but our district has an optional "Leadership" middle school that starts in 6th. I don't know what my kids want to do for 6th grade yet (but we're obviously figuring that out for Zax soon.) Depending on what Kal chooses to do, we only have two or three years left in Elementary School. And that means we only have two or three Harvest Festivals left, too.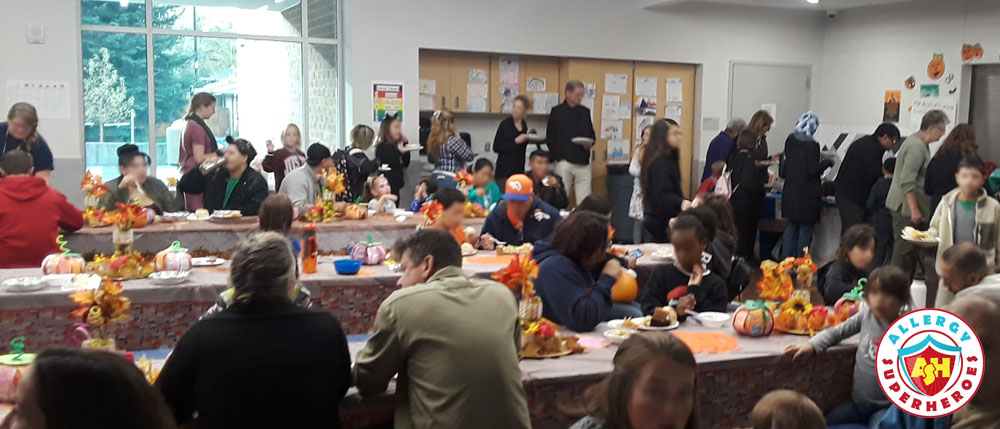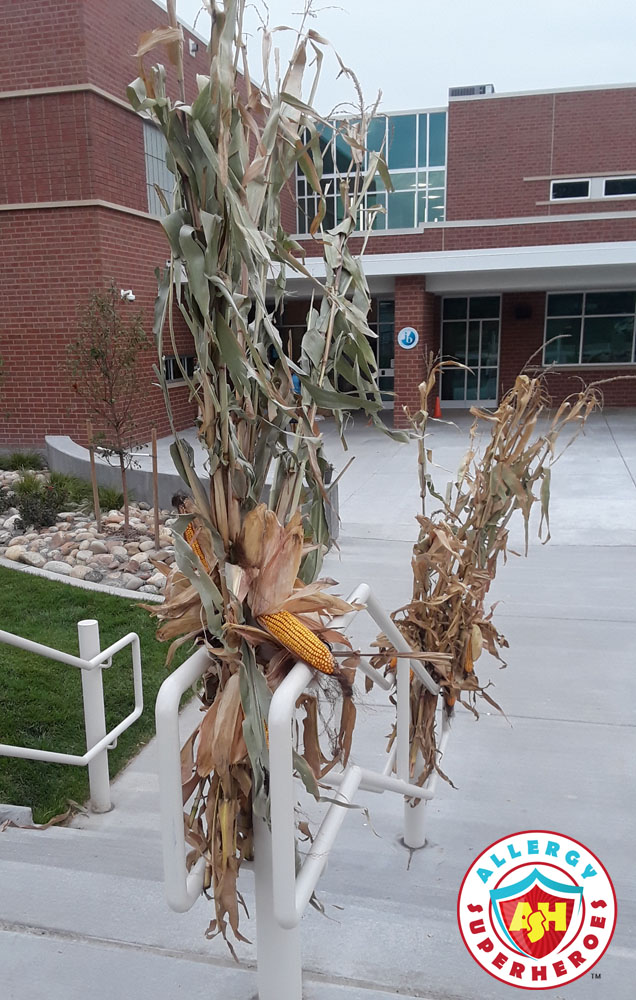 I'm hoping that I'll be able to find another food allergy mom in the next year or two. Preferably a kindergarten or first grade mom, so she'll be around for a while. (Or a dad, that would work too!) I'd like somebody to pass the torch of the Allergy Friendly Table to, because I'd hate for it to disappear when my kids get older.
But for now, I'll enjoy stuffing myself silly on allergy-friendly dishes and donations. This is one of the best extra-curriculars our school has, and I love being part of it!