Because I can, here are some pics from Kal's awesome Star Wars 5th Birthday Party! And links to the online resources where I found the various ideas.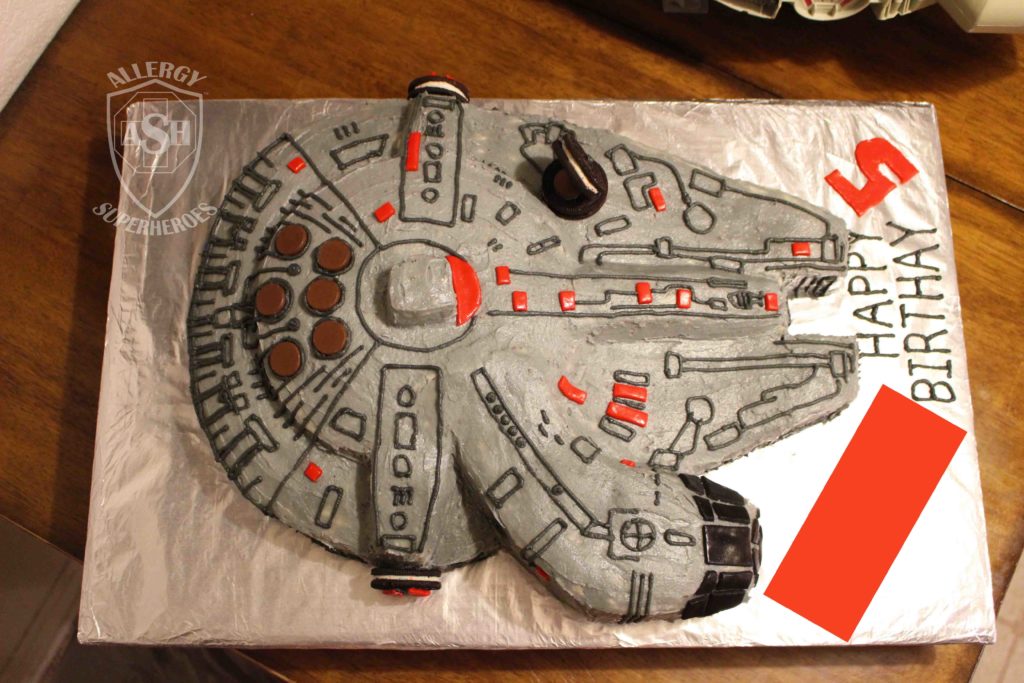 I provided coloring sheets from Disney.com for the kids to color while waiting for everyone to arrive, but the rowdy boys didn't end up using them, so I sent them home as additional party favors.
Our first activity was for each kid to make their own light saber. We purchased 1/2 inch (inside diameter) pipe insulation from Home Depot and set out red, green, and blue duct tape for the kids to decorate them. (This could also be done with pool noodles.) These also functioned as party favors, and they were each unique so it was easy to tell them apart! I didn't get any pics of the kids making them though, since I was helping to cut duct tape. After we made the sabers, they headed outside to test them out!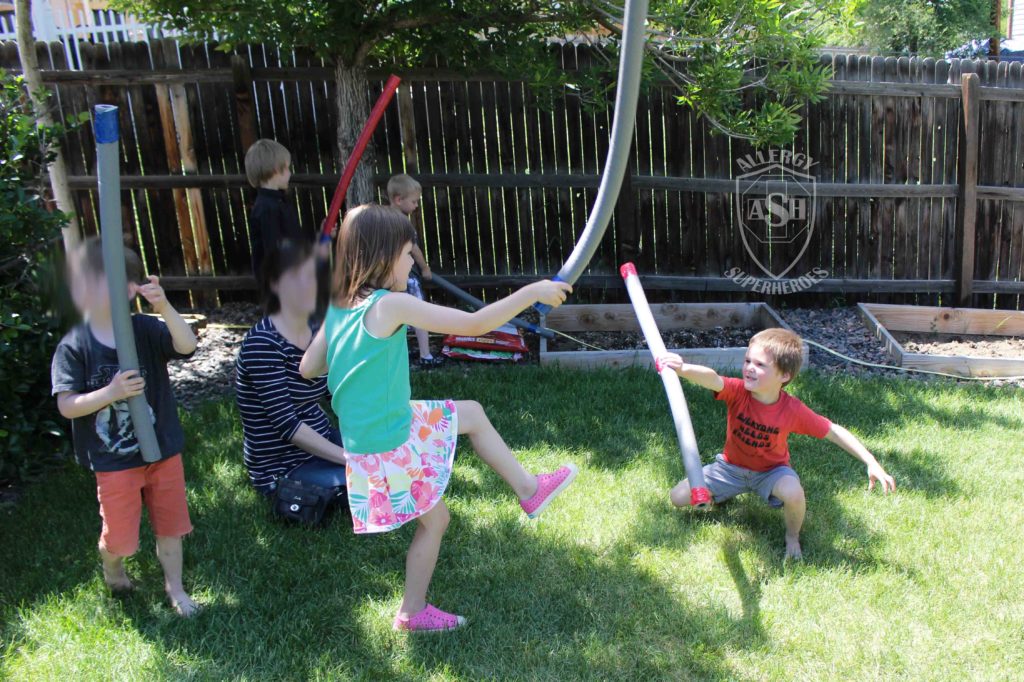 Our kids are still young enough to send them through guided activities at parties, so we did Jedi Training for this one. After saber practice, we sent them downstairs to whack at the Storm Troopers. The force was strong in this group, so needless to say, the balloon Troopers didn't last long.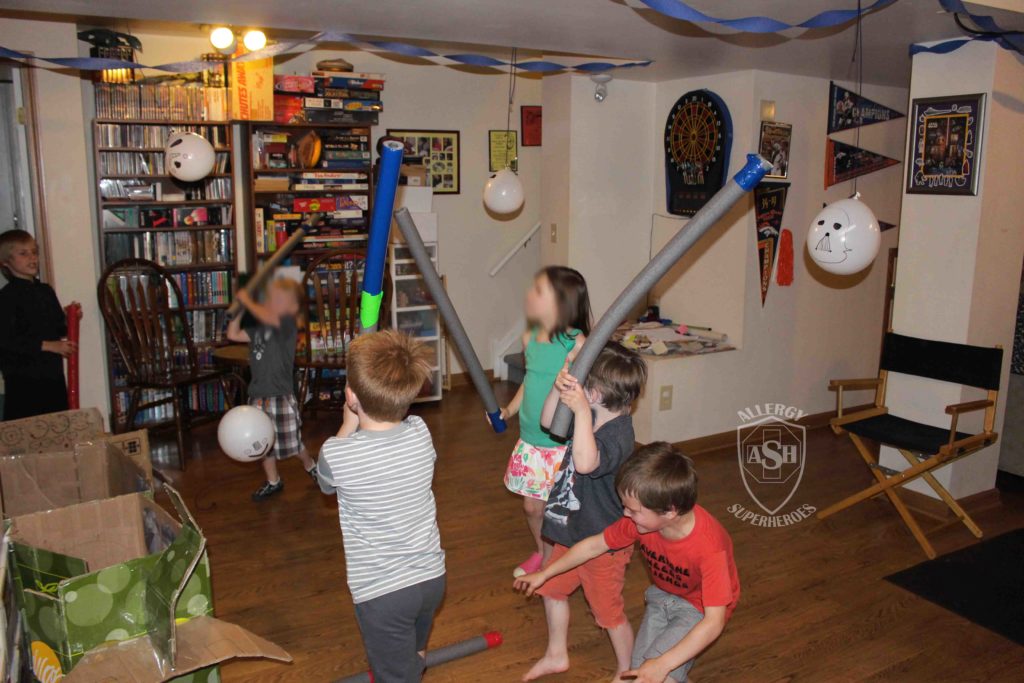 Then they went outside to practice using the force. It took several reminders to convince them that they'd be able to knock the Storm Troopers over using just their minds (my dad was pulling on their strings from under the deck) but they loved it and wanted to do it a second time, even though I don't think anybody was fooled regarding how it was really happening.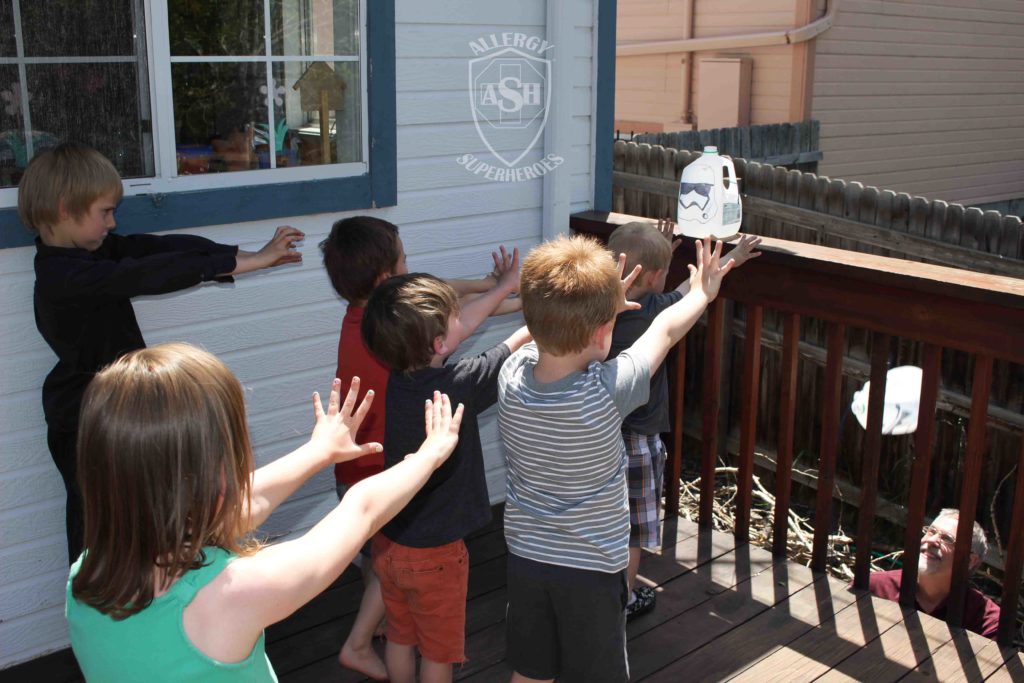 Then the kids paused and ate some snacks (allergy-friendly for all those assembled, of course!) while hubby and I activated the laser beams. Then the kids had to navigate their way through the lasers without touching or knocking them over. I should've put more of them closer to the ground, because most of them crawled through with no issue. My sister-in-law even had to navigate the path in order to check on my sleeping nephew in the next room!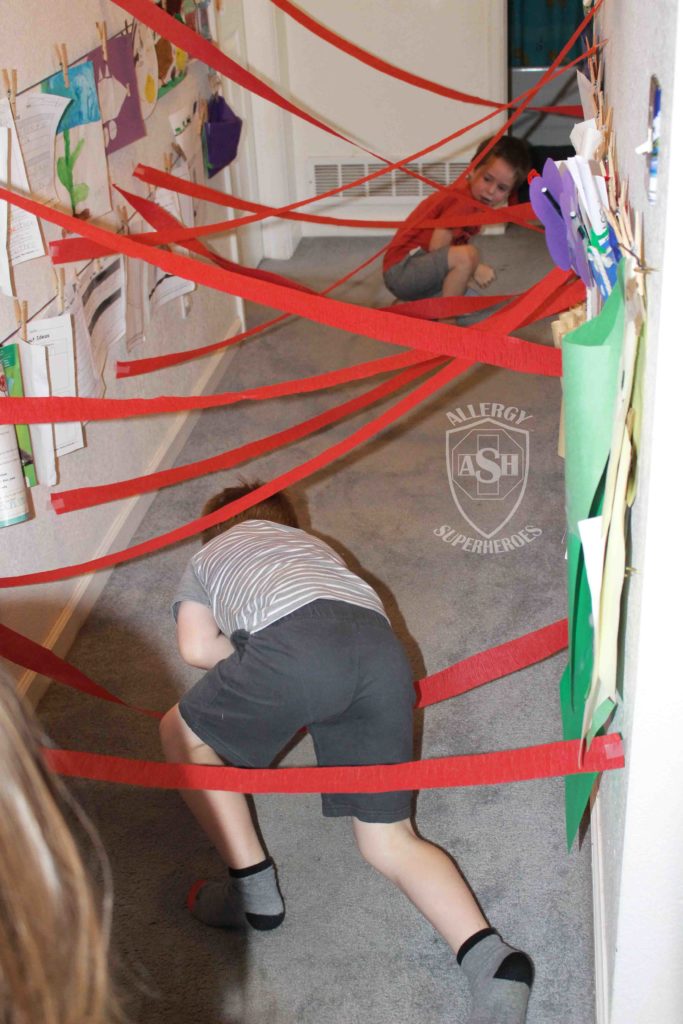 Next, we sent the kids back outside with their sabers and a ball to play saber golf. They had to use their saber like a golf club to get the balls to the bottom of the grass.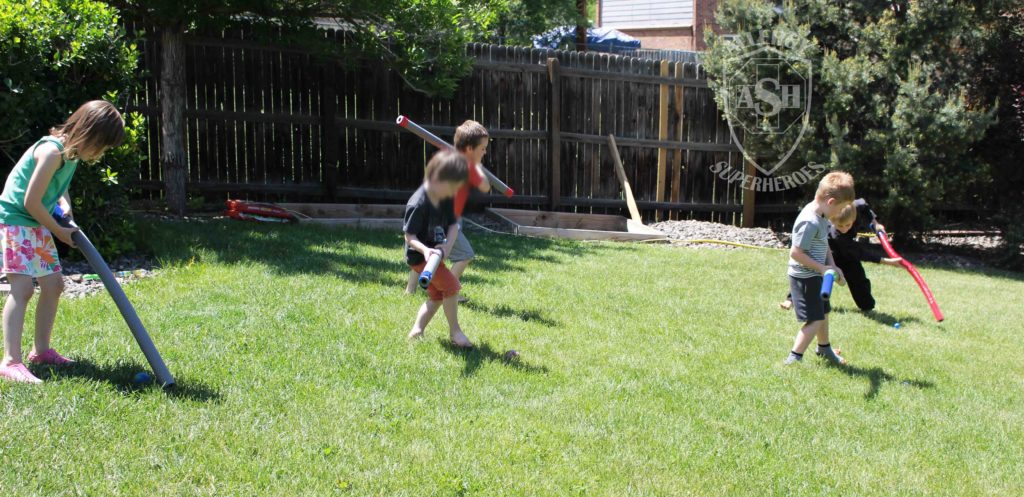 Finally, it was time to take on the Death Star! And let me tell you, this Death Star was one tough pinata to crack! Each kid got several turns, first with a plastic light saber and then with a baseball bat, before I helped the birthday boy swing until candy started to fly. And even then, we had to tear it open and dump the remaining candy out. (This was a beach-ball-shaped pinata that I covered in gray crepe paper. I used a strip of electrical tape around the middle and drew in the dish with a sharpie. We could've made our own (and it probably would have broken easier if we had) but we didn't have the time to invest beforehand.)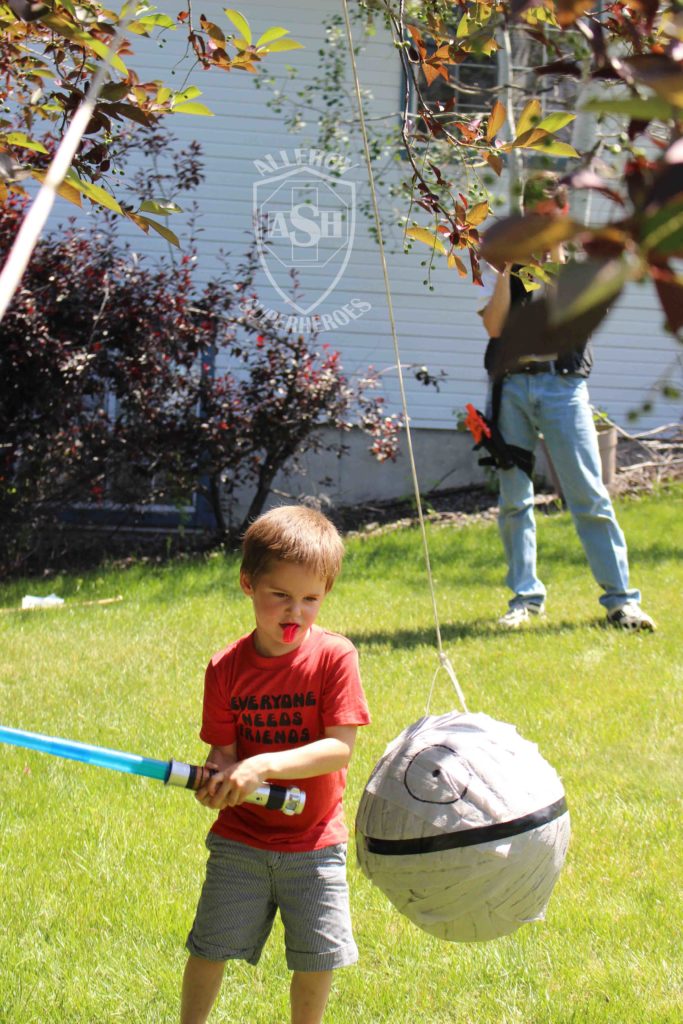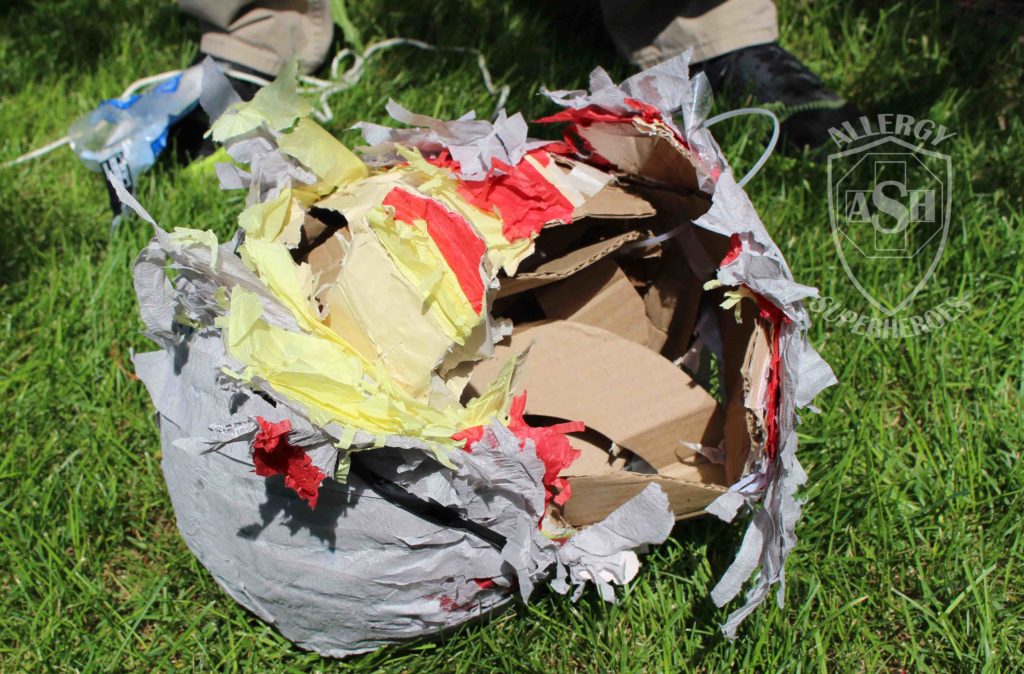 After vanquishing the Death Star, I handed out Jedi Knight Certificates, which can be downloaded from this site.
We celebrated with more food and then cake! These light saber napkins were easy to make using blue napkins and this free printable for the handles. There were all sorts of other food-related crafts I would have liked to have done, including light saber grape kabobs, but my priority was the cake, so I wisely bowed out of trying to do anything else themed with the food.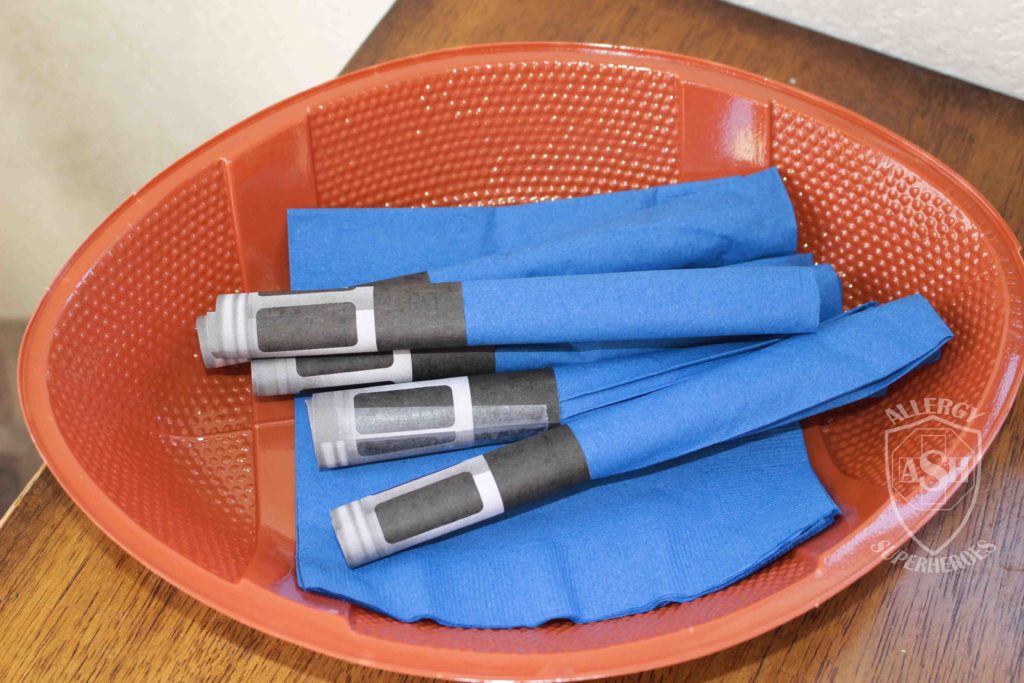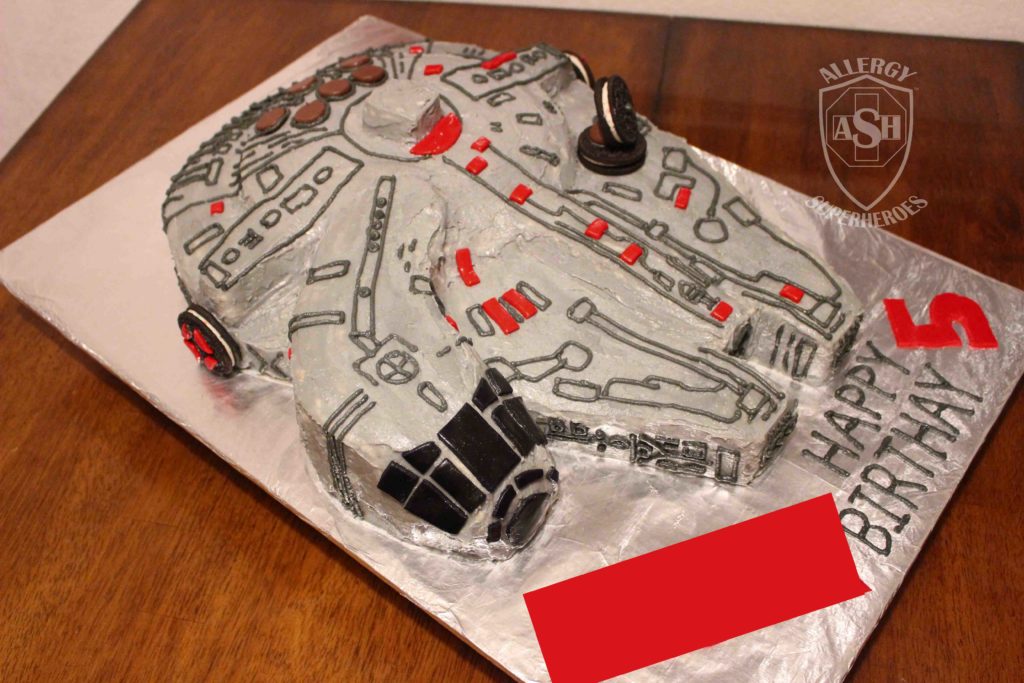 The cake only took me until 3am the night before the party, after all. And that was just to decorate. Designing and sculpting it took me until about 2am the night before the night before the party. I'm a bit crazy and masochistic about my sons' birthday cakes. I think I reached the point of no return when I made a pirate ship cake when Zax turned 4.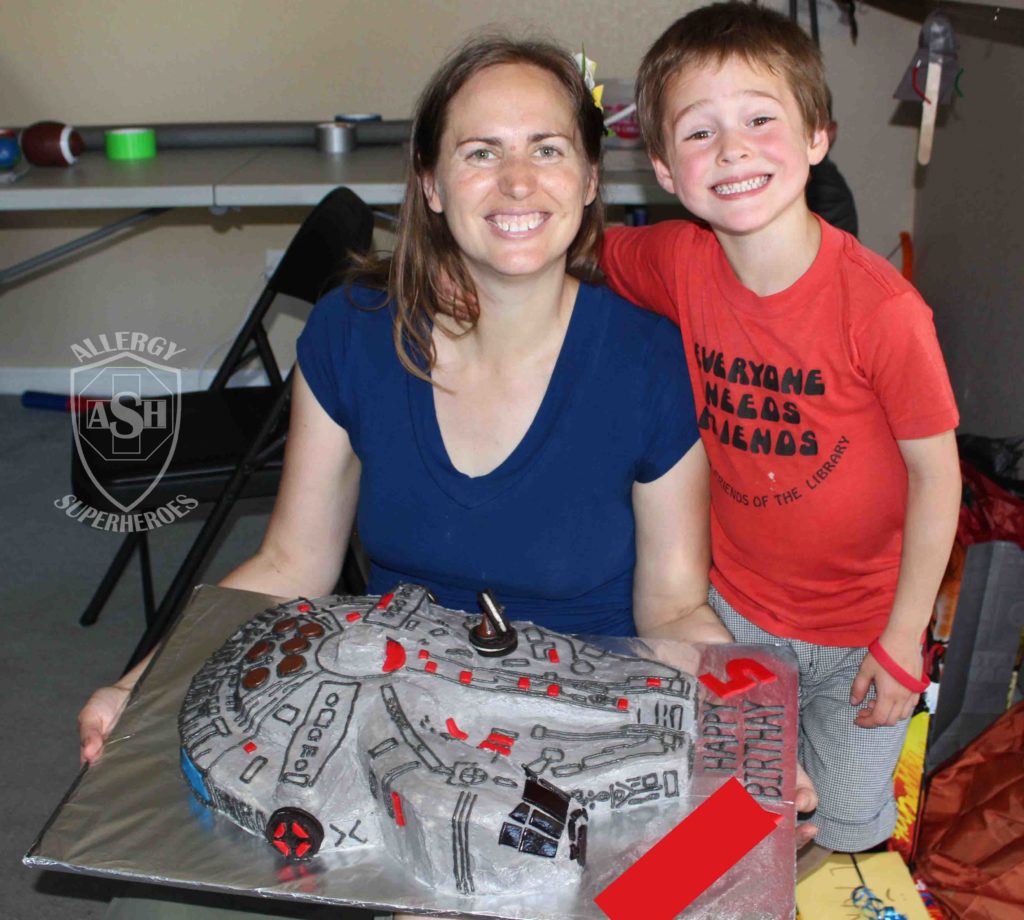 The Millennium Falcon was a first though, in that I pulled out a compass and ruler and drew a template for the cake instead of eyeballing its shape. Real math tools! How complicated will the next cake be?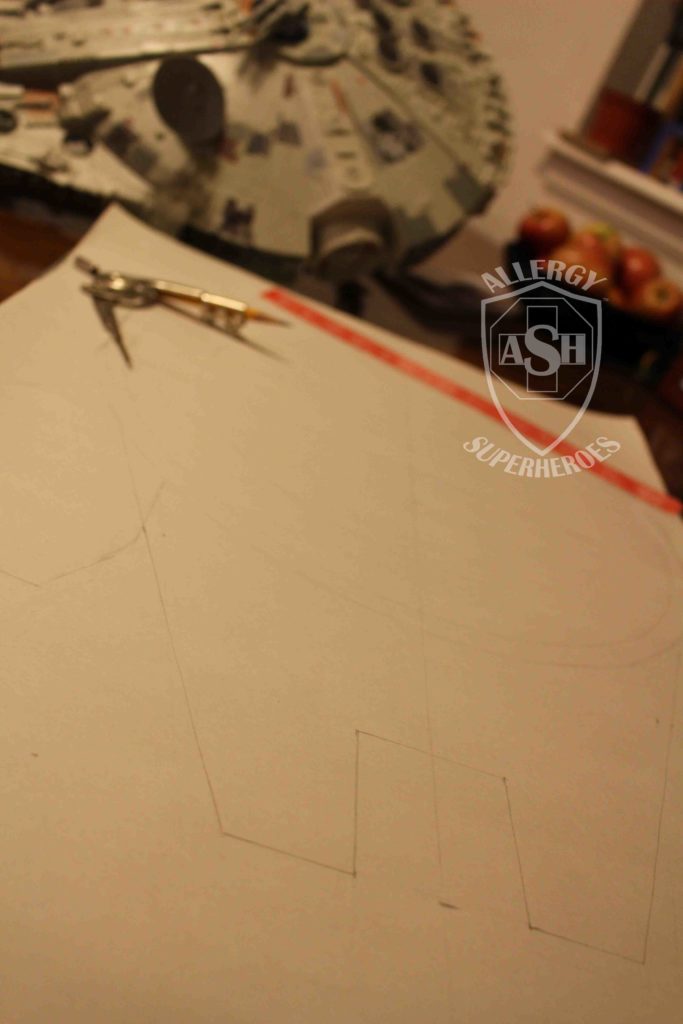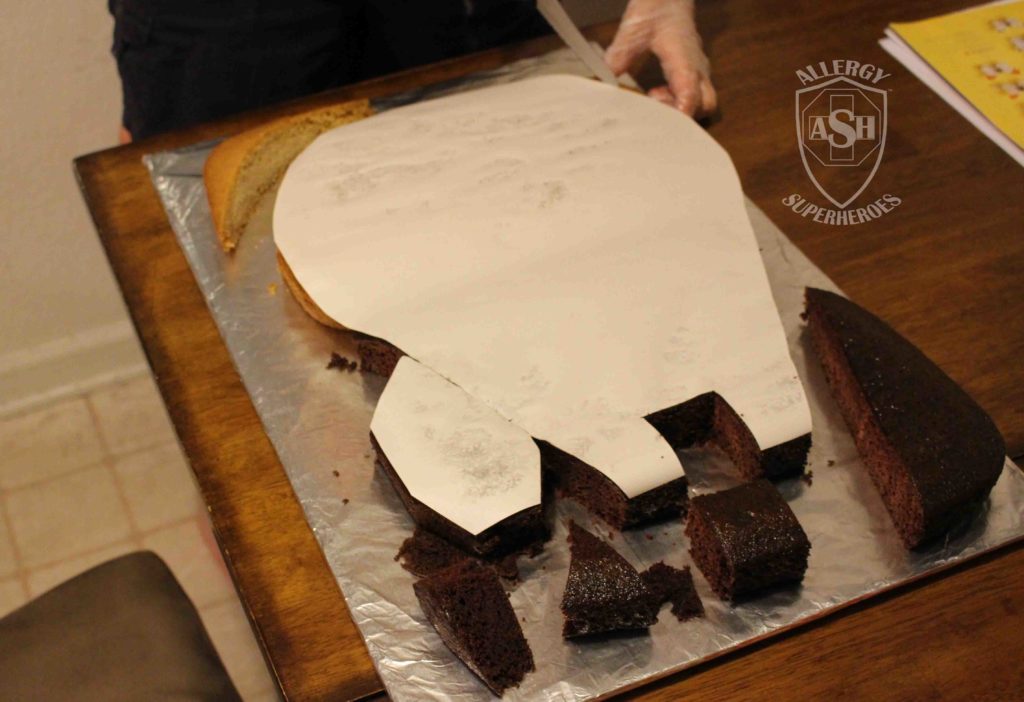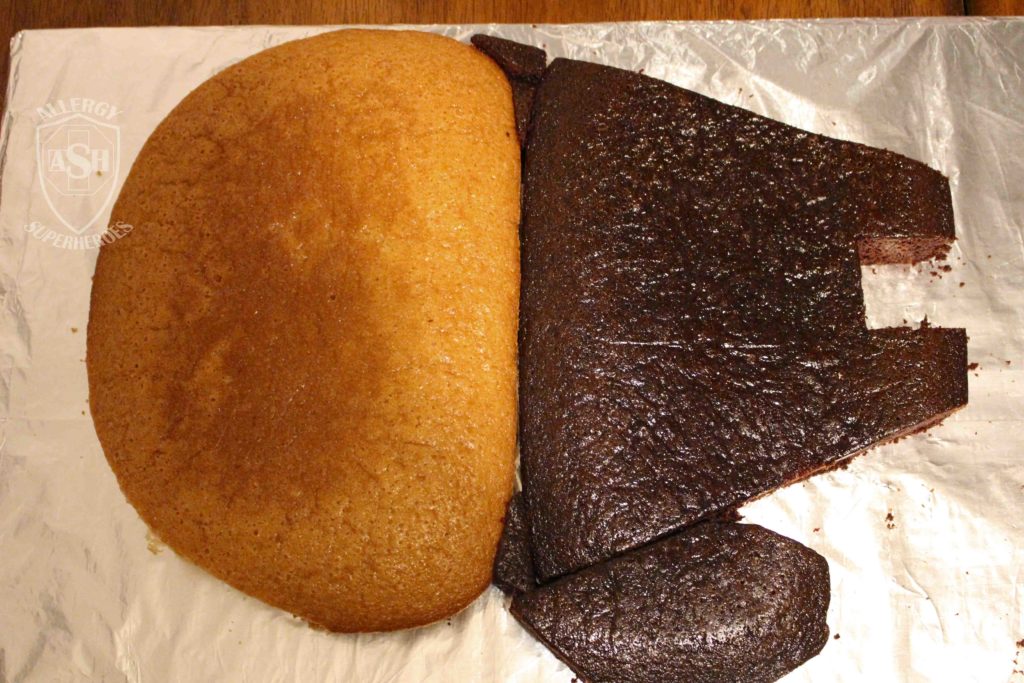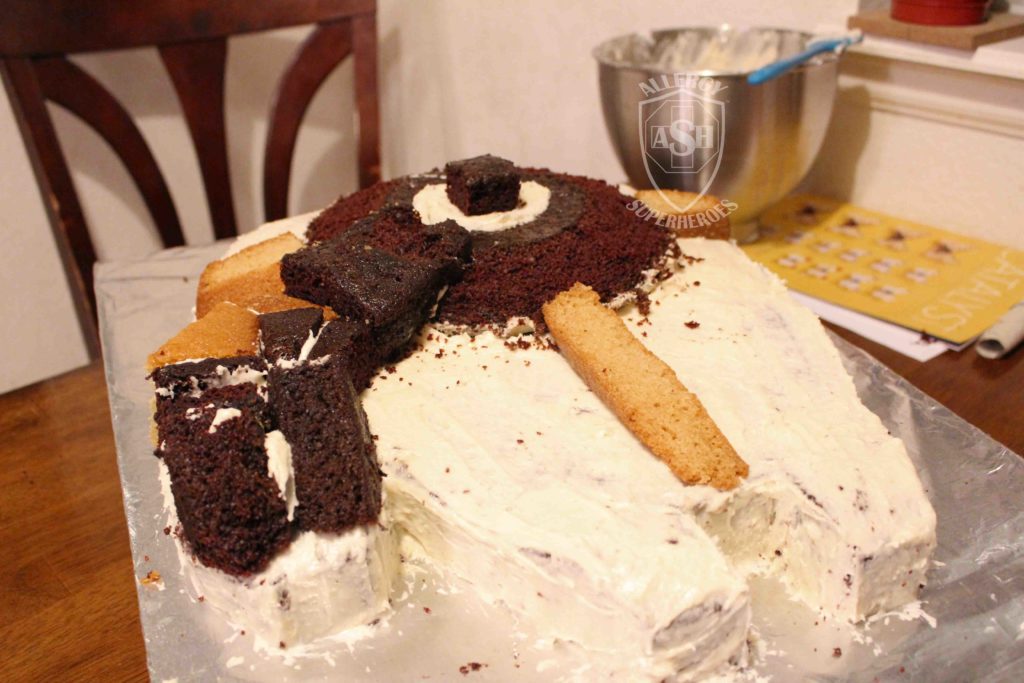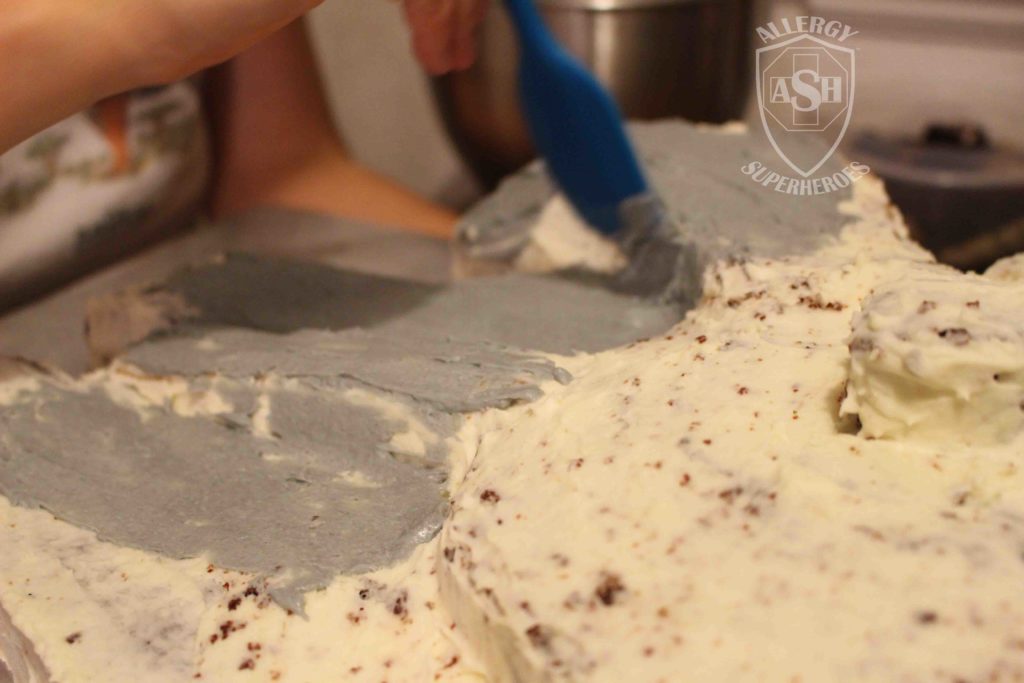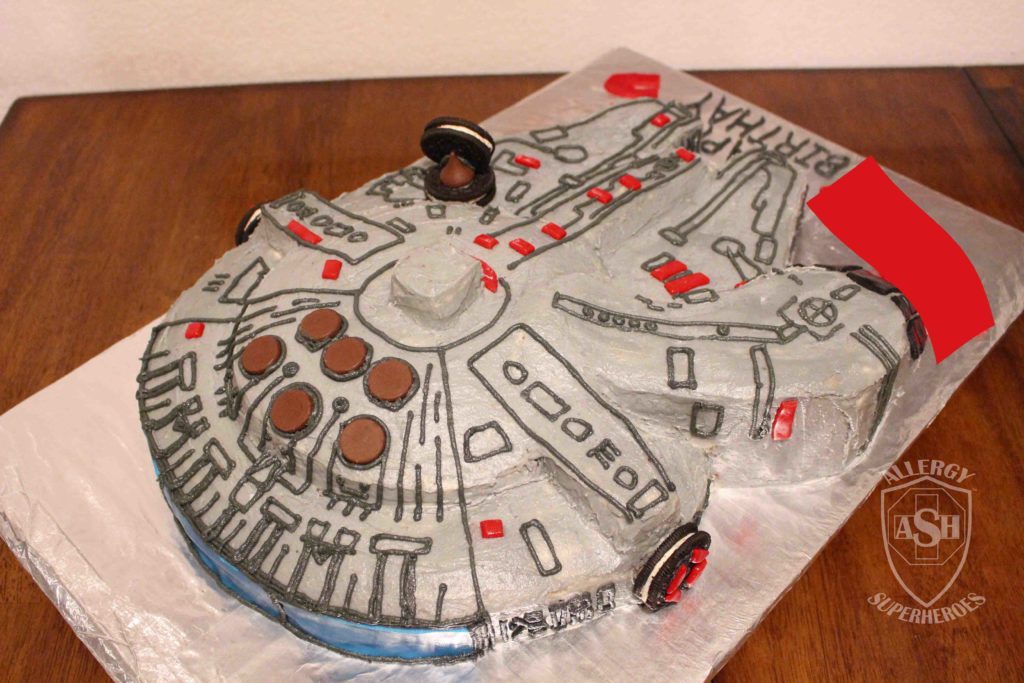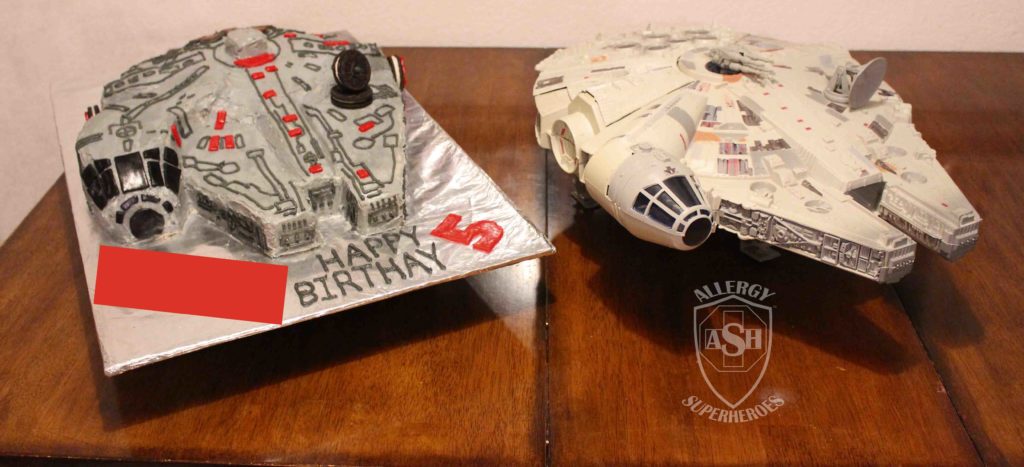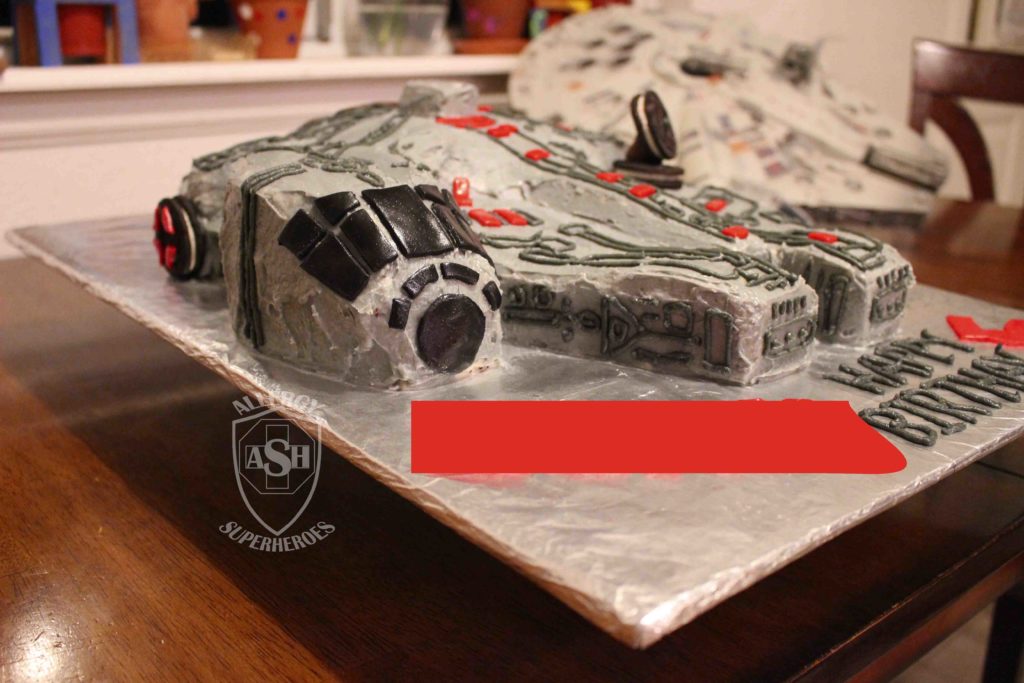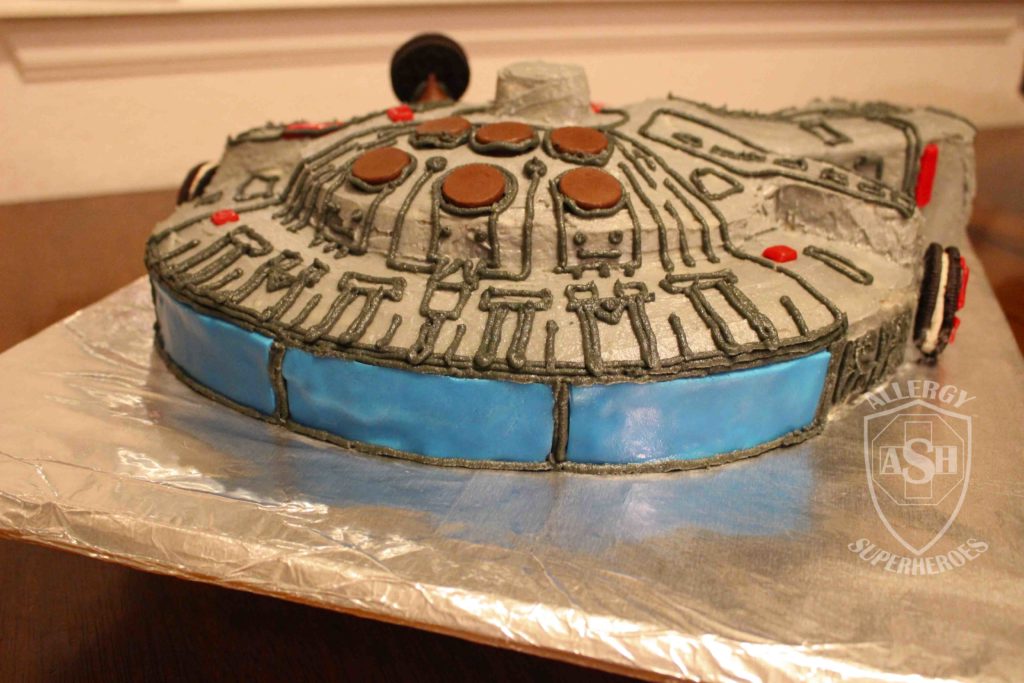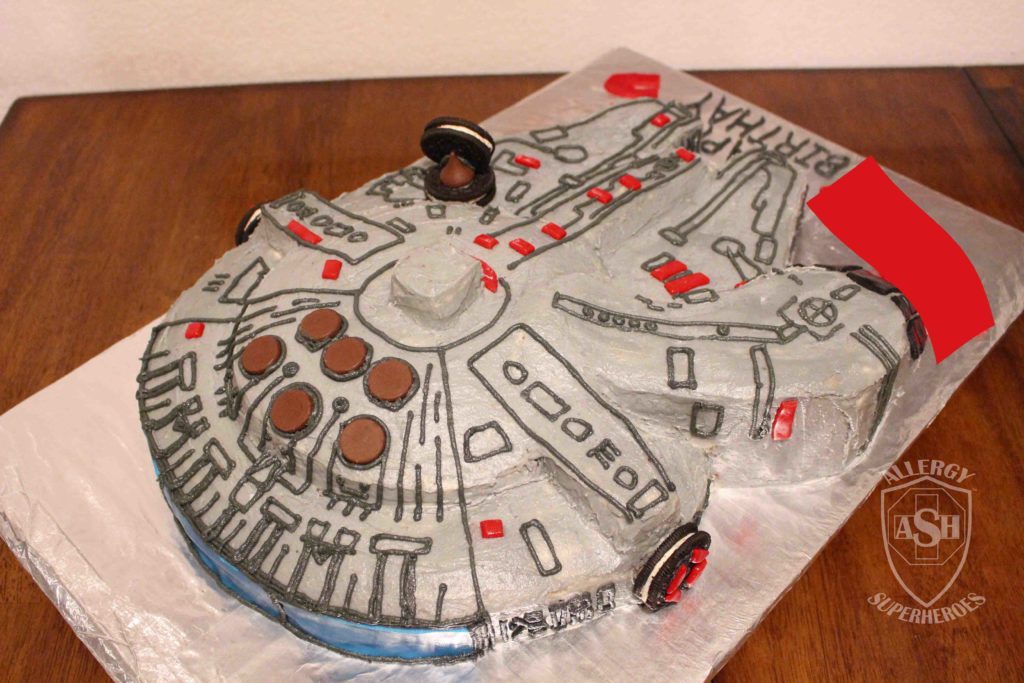 Cake. It has a dark side and a light side. Which will you choose?
I would call this party disorganized organized chaos. The kids came together to perform the activities but they were off following their own agendas between every game. Usually the kids stick closer to me, even back on Zax's 5th birthday. Each group is different!
Most of the activities and decorations we used were inspired by these two blog posts:
May the Force and Cake be with you, always. Especially Cake!
(And your Epinephrine!)