Everybody loves sugary birthday treats, but the fact is that in a school setting, those same treats can exclude–or even be downright dangerous to–kids who have food allergies.
Food allergy parents everywhere struggle balancing safety, inclusion, and fun when it comes to school celebrations–especially when it comes to negotiating with other kids (and their parents.) The Food Free Party is often suggested but usually rejected by parents (and educators) who declare that denying sugary treats ruins childhood. If you've suggested this yourself, there's a good chance you've encountered resistance or resentment.
Well, the next time someone tells you a Food-Free birthday celebration would be lame, tell them they're doing it wrong!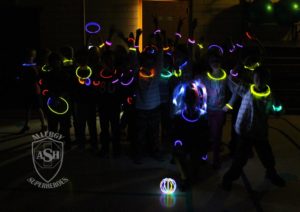 This party evolved after I joined our school's Health and Wellness Committee late last school year. I was surprised to see that a policy had been written (but seldom implemented) that said 50% of celebration time should involve a physical activity, and that food should be healthy snacks. Healthy snacks, especially if they involve single-ingredient fruits and veggies, tend to be more inclusive to most kids with food allergies, but it was the physical activity part that sparked this idea. I thought of how much our kids love playing with the glow sticks we buy for the 4th of July, and thought I'd apply that to the larger group.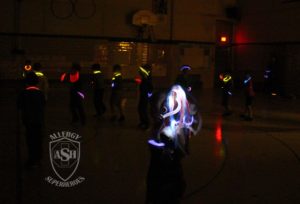 I first ran it past our PE teacher (who is the head of the Wellness Committee), and after confirming that she was willing to host and had a free period, I checked with my son's classroom teacher. Everybody was on board and thought it sounded like a fun idea. Our PE teacher kept calling it "Zax's Rave!"
After coming up with this idea but before throwing the party, I was approached by Oriental Trading to collaborate on food-free ways to include all kids in classroom and life celebrations. This was a great fit so I asked if they would sponsor this party, and they said yes! 🙂 I wanted each kid to have glow bracelets on each wrist and a necklace around their necks. This was not just for fun but also for safety, as it would allow them to see each other. My first plan was to just use four bracelets for each child, attaching two together to make the necklace. But then I saw that Oriental Trading has actual long necklaces. So we got both Glow Bracelets and Glow Necklaces for the class.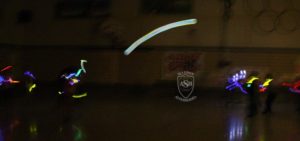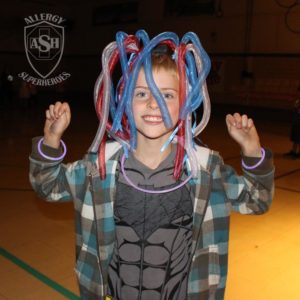 We also wanted something fun for the kids to throw around. My first thought was just to carefully insert glow sticks into balloons, but then I saw these fun Glow Balls from Oriental Trading, so we went with those. I also wanted to get something to set my son apart as the birthday child, and so decided to get him this flashing Noodle Headband.
Kal has a summer birthday and I was thinking of throwing another party in May for all of the summer birthday kids. I may get these Glow Glasses for all of the summer birthday kids. May is still a ways off though, so we'll see.
Oriental Trading has lots of fun Glow products, so there are way more items to choose from than the ones I received. If you're wanting to throw a Glow Party of your own but want something different to play with, check out their Glow Page for inspiration!
And don't forget that Oriental Trading has lots of Toys and Games if you're looking for party favors, or for other ways to celebrate your allergic child's birthday without food.
As I said, I'd like to do the same thing for Kal's class at the end of the school year, but I may not need to. Because something magical happened in the mean time. Our PE teacher has decided to fully implement the policy I mentioned above, and she chose the New Year as the time to do it. This note came home in January. Page 1 talks about sugar levels in traditional birthday sweets, and makes the request that treats be something healthy like carrots, cheese sticks, or grapes. But kids can also opt out of an individual celebration entirely in favor of this: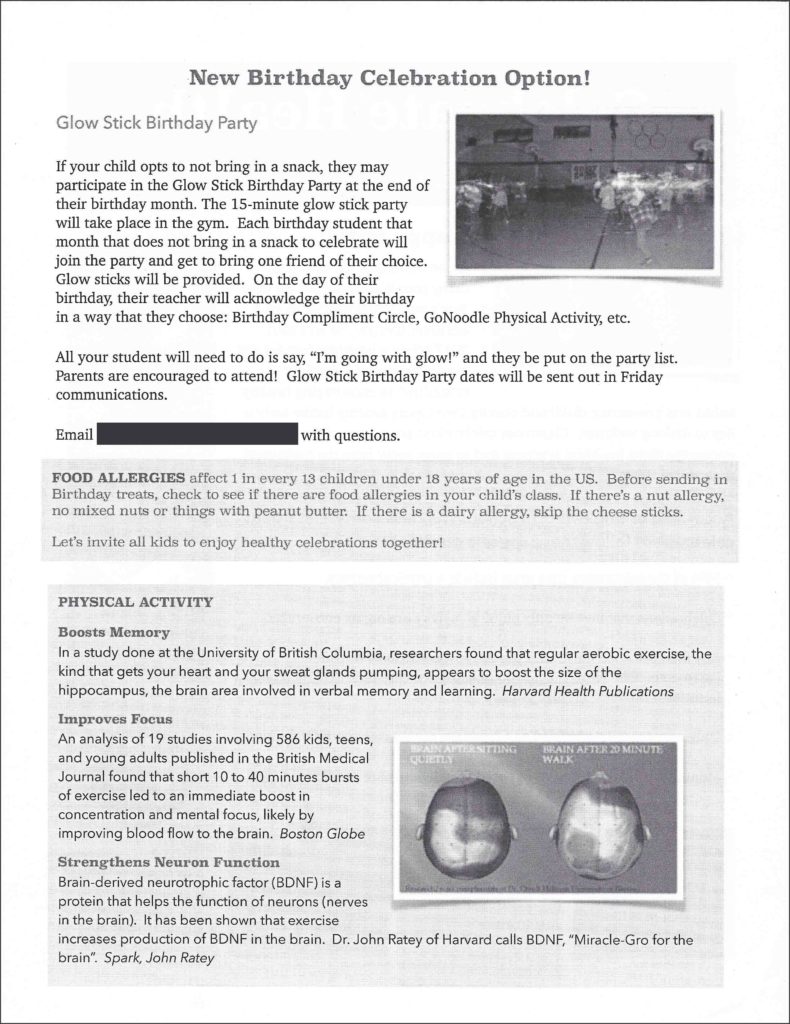 Is this cool, or what?! The school will now host monthly Glow Stick Parties! That was my idea! And see the food allergy note? Written by yours truly!

The first party is actually scheduled for later this week. How well the parents respond remains to be seen. But what great strides we've made!
FTC: I received all of the glow items appearing in this post for free, however all opinions are my own. I appreciate Oriental Trading's help in making this party possible, however, this party would have happened with or without their help.
This party will be share at the following Link Parties: Real Food Fridays, Healthy Living Link Party, Hearth and Soul, Inspire Me Monday, Tasty Tuesdays, Plant-Based Potluck Party, Healthy Happy Green & Natural Party Hop