The holiday goodies continue this week with homemade fudge!
This was pretty fast to prepare, but you have to do it in advance because it needs to chill for a couple hours. Chocolate is always a hit in our house, so I don't think these will last for very long!
This recipe contains milk and soy (it could be soy-free if you can find chocolate chips without soy lecithin.)
Dark Chocolate Cherry Fudge
Ingredients:
1 1/2 cups granulated sugar
2/3 cup (5 fl. oz. can) evaporated milk
2 Tbsp butter or margarine
1/4 tsp salt
2 cups mini marshmallows
1 2/3 cup (10oz package) dark chocolate morsels
3/4 cup dried cherries, coarsely chopped
1 tsp vanilla extract
Directions:
Line an 8 inch square baking pan with foil. Don't skip this step. Seriously.
Combine sugar, evaporated milk, butter, and salt in a medium, heavy-duty saucepan.
Bring to a full rolling boil over medium heat, stirring constantly. Boil 4-5 minutes. Remove from heat.
Stir in marshmallows, morsels, dried cherries, and vanilla extract. Stir vigorously for 1 minute or until marshmallows are melted. Pour into prepared baking pan.
Refrigerate 2 hours or until firm. Lift from pan, remove foil, and cut into 48 pieces. (I had to run hot water over the bottom of the pan in order to get them out.)
Yum! Wait, we're only allowed how many pieces?
Linking up at Allergy Free Wednesdays and Gluten Free Fridays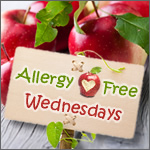 Are you getting into the holiday spirit? What are you baking this week?