My mom came to my rescue this weekend, doing some holiday baking with my kids and providing me with a Christmas recipe!
Sour Cream Cookies
(Contains wheat and dairy)
Ingredients:
1 cup margarine
1 1/2 cup sugar
1 Tbsp Energ-G egg replacer whipped with 4 Tbsp water (2 egg equivalent)
1 cup sour cream
1 1/2 tsp vanilla
5 1/4 cups flour
1 tsp baking soda
1 tsp baking powder
1 tsp salt (optional)
1/2 tsp nutmeg
Directions:
Cream margarine, sugar, and egg replacer. Add sour cream and vanilla and beat until smooth. Mix dry ingredients in a separate bowl, then add incrementally to wet ingredients. Mix well.
Cover dough and refrigerate for 1 hour.
Roll dough out on a floured surface and cut into shapes. Bake at 375 degrees for 8-12 minutes.
Ingredients:
1/4 cup butter or margarine
2 cups confectioners' sugar
1 tsp vanilla
2 Tbsp cream or evaporated milk (we used half and half)
Cream together butter or margarine and sugar. Stir in vanilla, add cream gradually and beat until frosting is of the right consistency for decorating or spreading.
This made for a great grandparent-grandson weekend activity!
Yum!!
Linking up at Allergy Free Wednesdays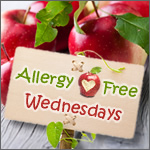 It's getting harder to squeeze in time for holiday baking. What kitchen endeavors are you still making time for?