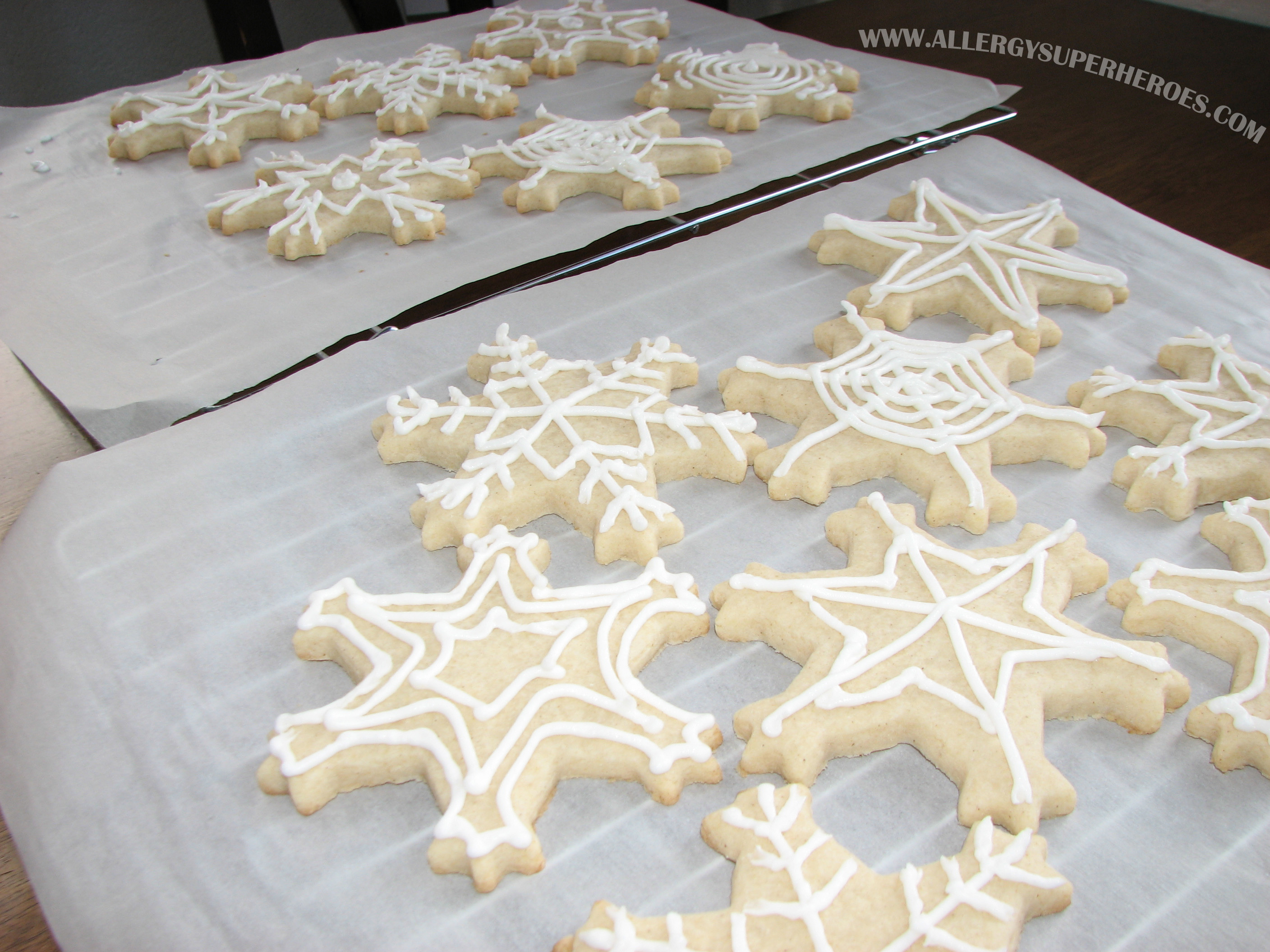 This pair of recipes came out of the need to provide safe food for my family at two different events. The first was for Zax's class Gingerbread Party. The sign-up sheet came home, asking for parents to provide icing or decorations for the party. I signed up for icing and then chatted with the teacher the next morning. I know that oftentimes, Royal Icing is used for gingerbread houses because it dries very hard and strong, making a good "glue" for the houses. Was the recipe going to involve egg?
Royal Icing was the original plan and Zax's teacher had been searching the internet trying to find a safe alternative. I told her I knew of a way (aquafaba) to make Royal Icing without the egg, and then I wound up volunteering to make a batch for each table in Zax's classroom, because I didn't want anyone in the classroom using a sticky frosting with egg in it.
The second event I needed safe food at was Kal's preschool's Winterfest–an evening winter carnival to celebrate the holidays. I signed up to bring gluten free cookies because I needed to make something also be egg free, and all of the regular cookie slots were filled. Plus, I had TONS of gluten free flour left over from my top 8 free Pumpkin Bundt Cake experiments, and some soy-free Earth Balance too, so I decided to make my cookies top 8 free for the benefit of anyone with allergies!
Gluten-Free Cut-Out Sugar Cookies
Top 8 free!
Ingredients
1 1/2 cups Soy-Free Earth Balance (3 sticks) or similar dairy-free "butter" substitute, softened
2 cups sugar
2 Tbsp Ener-G egg replacer + 8 Tbsp water (or 4 eggs equivalent of your favorite egg replacer)
1 tsp vanilla
5 cups gluten free flour
2 tsp baking powder
1 tsp salt
Directions
Cream Earth Balance and sugar.
Beat in Ener-G and vanilla. Stir in flour, baking powder, and salt. Mix until fully combined.
Cover/wrap and chill 1+ hours.
When ready to bake, heat oven to 400 degrees F.
Roll out cookies and cut. I would've dusted the surface with gluten free flour, but I tried rolling them out on the plastic wrap I had refrigerated the dough in, and it worked well to keep them from sticking to the table. I did dust my cutters with GF flour before cutting though.
Place 1 inch apart on cookie sheet. Since my cookie sheets normally bake things containing gluten and I needed these to be truly gluten free for others at the preschool party, I lined my baking sheets with parchment paper first. Just in case.
Bake for 6 minutes. Remove to a rack to cool completely.
I transferred the parchment paper directly to the cooling racks. I don't think my racks carried as much cross contact risk, but this was easier. It made clean-up easier too!
Now to decorate!
Aquafaba Royal Icing
Top 8 free and vegan!
Put together from multiple recipes shared on the fabulous Facebook group, Vegan Meringue Hits and Misses
Ingredients
1 can Chickpeas (Garbanzo beans) — you'll need 11 Tbsp of the liquid (aquafaba)
2 lbs (one full bag) powdered sugar
1 tsp cream of tartar
1/2 tsp clear vanilla
Directions
Drain the liquid (aquafaba) from your chickpeas, carefully reserving the liquid. Pack away the chickpeas for later use, you won't need them for this recipe.
Measure out 11 Tbsp of the liquid into the bowl of a stand mixer or a large mixing bowl.
Add the powdered sugar…
…cream of tartar…
…and vanilla.
Stir together at low speed until all ingredients are moistened, to prevent it from flying everywhere.
Once incorporated, increase speed to high and beat for 7-10 minutes, until stiff. A butter knife drawn through it should leave a line behind.
Spoon into a piping bag and remove all air. You can do the same with a ziploc bag for children, just snip off the corner. This is what I did with the frosting for Zax's class.
Be aware, this is very thick and hard to manipulate. This frosting is like cement!
And here's a trick for piping bags, if you haven't seen it already! This has made cleaning up frosting sooooo much easier for me!
Start by tearing off a large piece of plastic wrap and laying it flat on your counter. Place your icing in the middle of the piece.
Fold the plastic wrap over the frosting and squeeze any air out the ends. Then grab the ends and spin it around. This seals the icing inside a special little "pouch" of icing. Tie one end off to prevent the icing from leaking out.
Insert a coupler into your icing bag and then place this plastic wrap pouch into your icing bag. Grab the end of the plastic wrap and pull it through until the icing is in place.
Cut off the end of the plastic wrap and then insert a tip.
Pipe as usual. When you're done, you can pull the plastic wrap pouch right out, and there is very little mess inside the icing bag to clean up!
Use your icing to glue together a gingerbread house…
…to make flowers or other small designs to dry and use as decorations…
…or to make pretty designs on your cookies!
Happy baking and decorating! We're very close to Christmas, have a Merry and Bright, not to mention Safe, Holiday!
Linking up at Allergy Free Wednesdays and Gluten Free Fridays