Jump to recipe
Just in time for Valentine's Day!
Did you know that traditional Red Velvet cake uses a whole little squeeze bottle of red food coloring? You can use less if you have the super pigmented stuff, but still, that's a lot of artificial food pigment. Some people have documented allergic reactions to food dye, and there are also behavioral links to the stuff. It's definitely not the best for you.
Personally, I have not been able to move myself away from artificial colors entirely, though I've been limiting them except for my sons' birthday parties (when I tend to go to town on the frosting.) I have been looking at alternatives more often though, and toying with using beets as the color source for Red Velvet Cake.
I was worried it would taste like beets, and there was a bit on my first try, though I was the only one who seemed bothered by it. Zax even ate several of that batch without frosting, and he didn't make any complaints–and let me tell you, that kid is picky! I felt it was too beety though, so I reduced the amount, and now I don't taste beet anymore–and you won't either, especially once they're frosted with my tasty Cream Cheese Frosting. Here is what I came up with!
Dye-free Red Velvet Cupcakes

Did you know traditional Red Velvet cake uses a whole bottle of red food coloring? Cut the dye with these great cupcakes, colored with beets!

Prep Time
1 hour, 30 minutes
Total Time
1 hour, 30 minutes
Notes
Don't be put off by the prep time, most of it is passive while the beets bake. Do this step ahead of time so you're ready to roll when you're ready to bake. You could possibly save time by pureeing canned beets--but don't quote me on that, I haven't tried.
Contains dairy, wheat, and corn. Free from peanut, tree nuts, egg, soy, fish, shellfish, and seeds.

Ingredients
1/2 cup freshly pureed beets (2-3 medium beets)
1/4 cup applesauce
1/2 cup butter, softened
1/3 cup canola oil
6 Tbsp aquafaba (chickpea liquid) or 2 egg equivalent other egg replacer
1 1/4 cup sugar
1 1/2 tsp vanilla
1 1/4 cup flour
1 1/2 Tbsp cocoa powder (NOT dutch processed)
1/4 tsp salt
1 tsp baking powder
1/2 cup buttermilk
Instructions
Bake and puree your beets
Trim the ends off your beets, scrub the skin, and wrap unpeeled beets loosely in foil.
Bake at 400 degrees for approximately 1 hour. Allow to cool.
Peel cooled beets, chop into large pieces, and place them in a blender with 2 Tbsp water.
Puree until smooth.
Make the cupcakes!
Cream butter in mixer until smooth.
Add the beet puree, applesauce, and oil. Mix until incorporated.
Mix in aquafaba.
Add sugar and vanilla.
In a smaller bowl, whisk together flour, cocoa powder, salt, and baking powder.
With the mixer running, alternately add the flour mixture and buttermilk. Mix just until incorporated, do not over mix.
Divide among cupcake liners, filling them 3/4 full.
Bake for 20-25 minutes, until a toothpick inserted into the center comes out clean.
Cool, frost as desired, and enjoy!
© 2023 © Eileen Rhoadarmer - Allergy Superheroes, unless otherwise noted
If you don't have enough acid in this recipe, the beets will give it a brown color instead of red. Hence the buttermilk, and also why you don't want dutch-processed cocoa. Did you know that cocoa is an acid? This was new to me!
Unfortunately, these cupcakes came out pretty flat (though it was better than the craters on the first batch!) This is a recipe I'll definitely be revisiting, but who can resist safe and healthy(ish) Red Velvet for Valentine's Day? Flat cupcakes are just an excuse to add more frosting!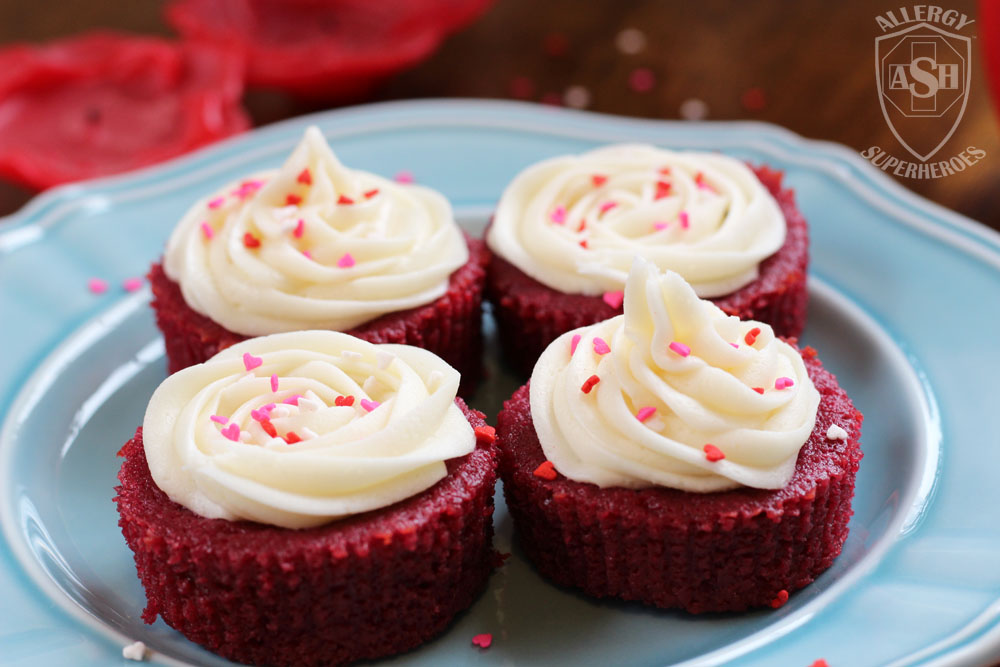 Do you avoid artificial colors? What do you use instead?
Linking up at the following Link Parties: Real Food Friday, Healthy Living Link Party, Hearth and Soul, Inspire Me Monday