The kids in Zax's kindergarten class agreed on foods they wanted at their Valentine's party, and the only potentially problematic food on the list was cupcakes. I decided to take matters into my own hands and sign up to bring those cupcakes, because I knew I could make some that everyone in the class could safely enjoy. There are a few other kids with allergies in Zax's class, but their allergies all overlap with Zax's, so that made my job easier!
Being Valentine's Day, I decided to do Red Velvet cupcakes. I've never made a red velvet cake before, except one that came from a box, but I found this recipe online and decided to give it a try.
Egg-free Red Velvet Cupcakes
Ingredients
1 cup milk (can be non-dairy, if you wish)
1 tsp Apple Cider Vinegar
1 1/4 cups all-purpose flour
1 cup sugar
2 Tbsp cocoa powder
1/2 tsp baking powder (corn free, if needed)
1/2 tsp baking soda
1/2 tsp salt
1/3 cup oil (I use canola)
2 Tbsp red food coloring (I use the super-pigmented gel stuff, so I didn't add this much. I just gave it a good squirt or two)
2 tsp vanilla
In a medium size bowl, mix together the milk and vinegar, allowing it to curdle. This will take about 5 minutes
Meanwhile, in a large bowl sift together the flour, cocoa powder, baking powder, baking soda, and salt. Stir in the sugar.
Once the milk has curdled, stir in the oil, food coloring, and the extracts. Whisk it well to combine.
Make a well in the dry ingredients and slowly add the wet ingredients to it, stirring it until all the ingredients come together. Small lumps are okay. Take care not to over mix it.
Fill each muffin cup 1/2 full of the batter. Seriously, don't fill them more than a fraction over 1/2 full. Why? Because this recipe rises quite a bit, but does not "set" until late in the baking process (and it's a very liquid batter.) My first attempt at these cupcakes overflowed the liners and went everywhere! (I'm baking at high altitude in Denver, so the lack of atmospheric pressure may have played into this. However, I still urge you to be conservative in how much you fill your liners!)
Bake for about 25 minutes at 350 degrees, or until a toothpick inserted in the center comes out clean. It can be red from the coloring, but not goopy.
Here's the first attempt. Kitchen fail! I like to call this batch Red Velvet Lava Cupcakes! This is how I learned that overfilling the cupcake liners is a big mistake!
These cupcakes taste heavenly, but they aren't as pretty as I'd hoped. The batter is very liquidy, and even though it rises to almost twice it's original size, it doesn't fluff up in the center like we expect cake to do. They turned out to be completely flat on top. They're light and airy on the inside, though, so I don't think anyone will be complaining. And then I frosted with Cream Cheese frosting!
Linking up at Allergy Free Wednesdays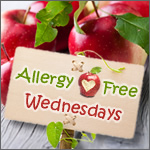 This recipe was adapted from one I found here.  And mine don't look anything like hers.
What are you baking for Valentine's Day?