Jump to recipe
Updated March 2022!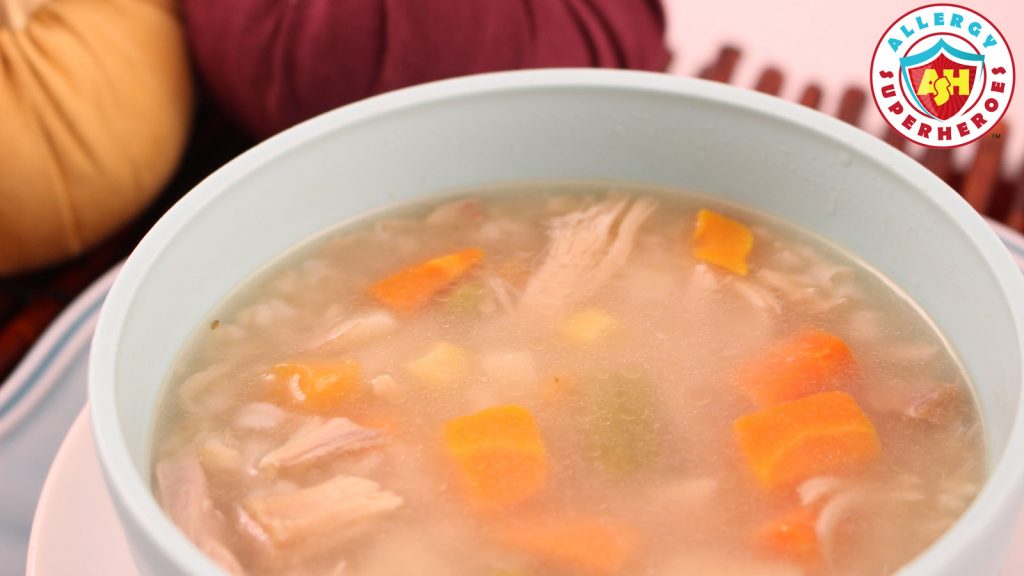 After you're finished with your Thanksgiving celebration, don't throw away that turkey carcass! In fact, don't bother picking the bones completely clean. With a little work (and a few hours, in which your home will warm up and smell divine) you can get a few more meals out of that bird with my Turkey and Rice Soup! Free of the top 9 allergens!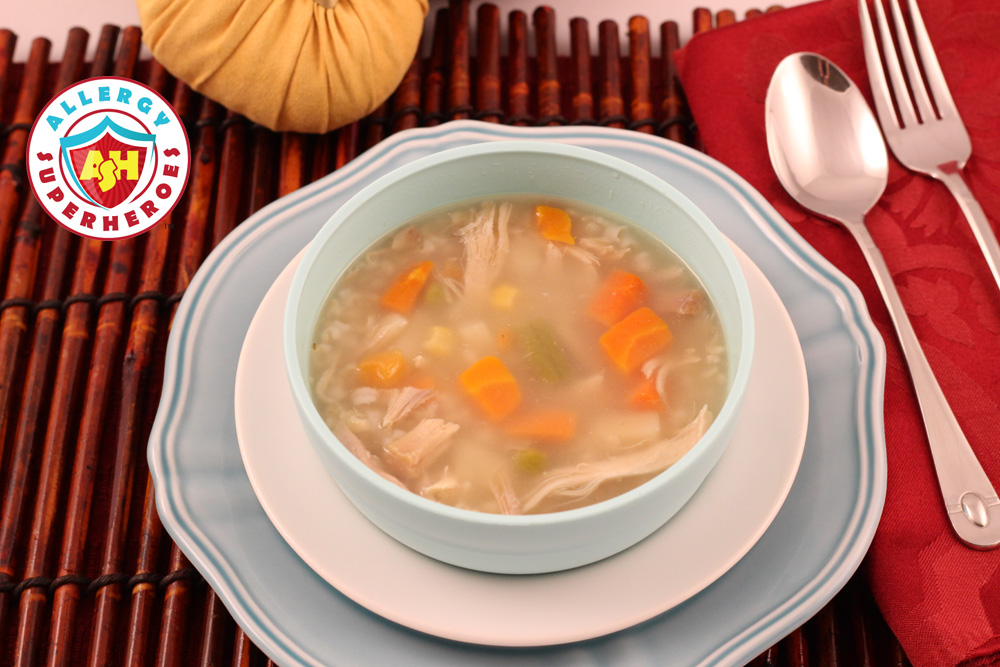 I made this a few weeks ago with a leftover turkey carcass I had in the freezer. We had a major cold snap and I was in the mood for soup week after week. I don't make homemade soup often enough and so the boys usually spurn this soup, but Zax actually liked it this time! He even chose to eat it over the simple "Letter Soup" I'd made for the two of them! It warms a Mama's heart!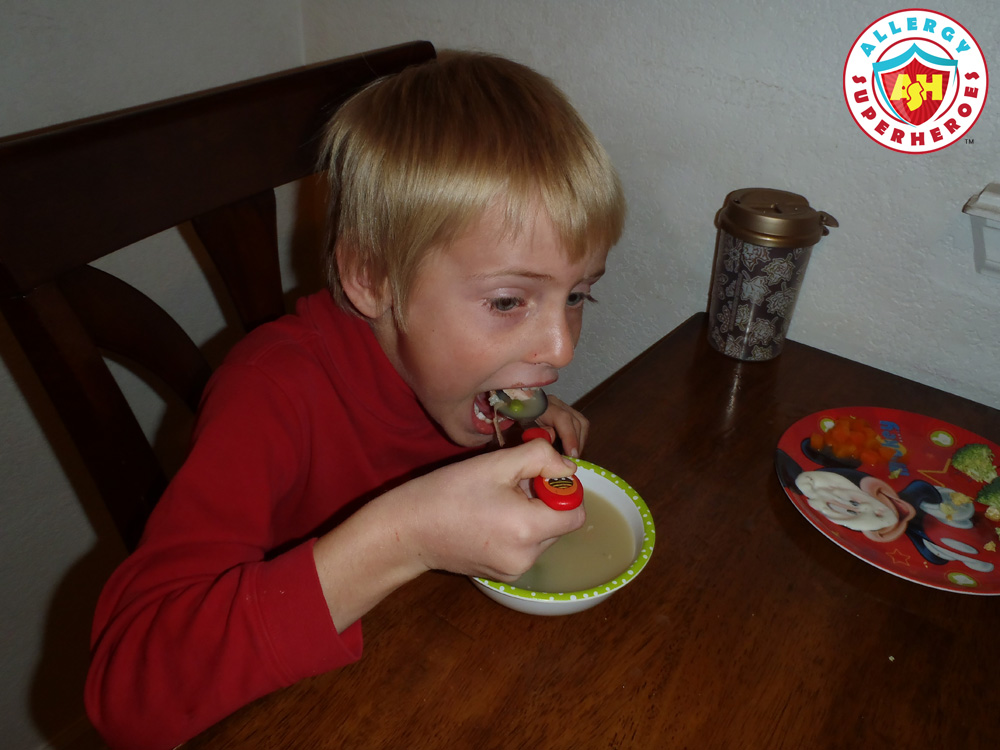 This soup works just as well with chicken. You can make this soup after roasting a chicken, eating a store-bought rotisserie, or even make it with a few raw chicken breasts or thighs (you'd get more meat that way.) You could also substitute your choice of chopped, fresh veggies rather than use frozen, but you'd have to cook them for longer. And of course, make sure your bird is allergy-friendly to begin with!
And if you still haven't decided how you'll handle Thanksgiving this year, perhaps my Thanksgiving Turkey in a Crockpot will make your holiday easier?
Turkey and Rice Soup

This hearty soup, made with the bones of your leftover chicken or turkey, will stretch your grocery budget in a delicious way!

Cook Time
2 hours, 35 minutes
Total Time
3 hours, 5 minutes
Notes
Does not contain any of the top 8 allergens and more! Free of peanut, tree nuts, egg, dairy, wheat/gluten, soy, fish, and shellfish, plus corn and seeds!

Ingredients
Turkey Broth Ingredients:
1 leftover turkey carcass
1 medium onion, quartered
1 large carrot, sliced
2 cloves garlic
1 tsp. oregano
1 large bay leaf
salt and pepper to taste
Turkey Soup Ingredients:
Freshly made turkey broth
3/4 cup brown rice
2 bags frozen mixed vegetables
3 Tbsp. parsley
Instructions
Broth Instructions
Place the turkey carcass (breaking to fit, if necessary), onion, carrot, and garlic in a large soup pot and cover with cold water. Bring to a boil.
Add oregano, bay leaf, and salt and pepper to taste.
Reduce heat to simmer and cook, covered, about 2 hours. Replenish with water when necessary.
Strain the broth. Refrigerate for a short time and skim off the fat.
Meanwhile, remove the meat from the bones and save for the soup. Discard bones, skin, and cooked vegetables.
Soup Instructions
Return skimmed broth to the soup pot with the turkey meat. Add additional water, if necessary, and adjust seasonings. Bring to a boil.
Add rice and simmer, covered, for 25 minutes.
Add frozen veggies and parsley. Return to boiling. Simmer another 10 minutes.
Nutrition Facts
Turkey and Rice Soup
Serves: 6 bowls
Amount Per Serving:

1 bowl

Calories

536

% Daily Value*
Total Fat

14g

21.5%
Saturated Fat

1g

5%
Trans Fat
Cholesterol

33mg

11%
Sodium

1500mg

62.5%
Total Carbohydrate

84g

28%
Dietary Fiber

9g

36%
Sugars

10g

Protein

43g
Vitamin A

5,274iu

Vitamin C

13mg

Calcium

82mg

Iron

5.3mg
* Percent Daily Values are based on a 2,000 calorie diet. Your daily values may be higher or lower depending on your calorie needs.
© 2023 © Eileen Rhoadarmer – Allergy Superheroes, unless otherwise noted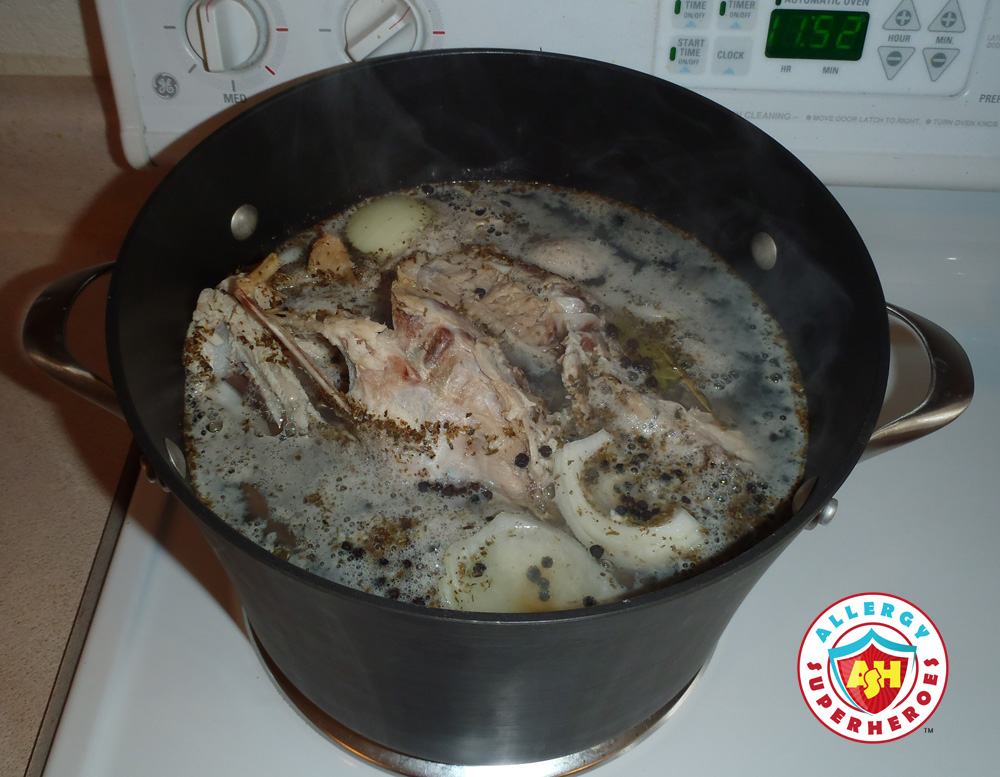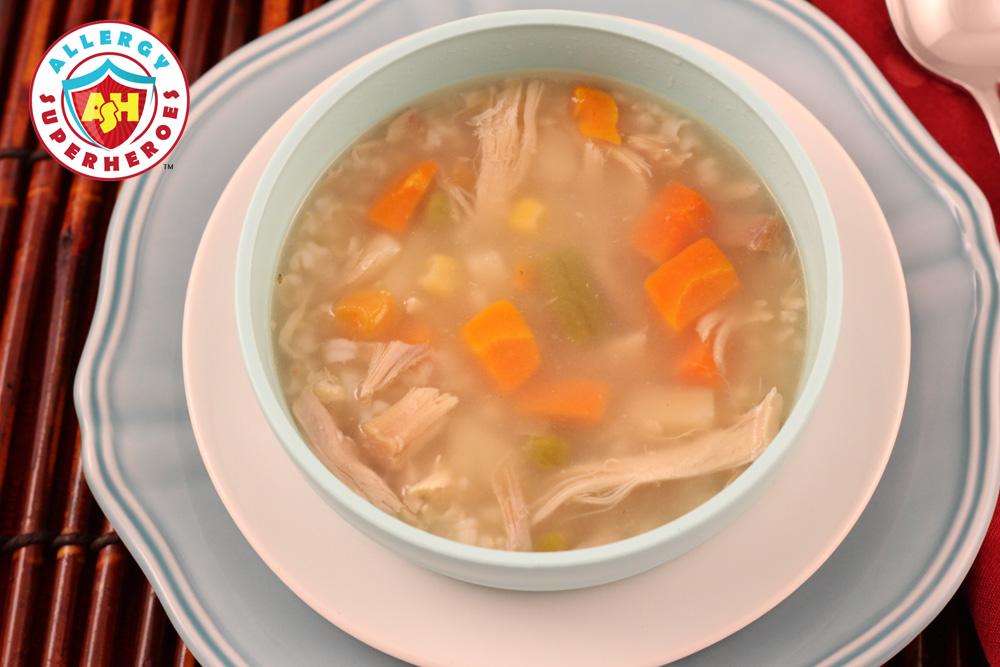 ***ETA: If you're coming over from the Corn-Free Everyday link party, you may notice that there is corn floating in this soup. I'm including it in the linky because that is the only corn-derived ingredient. Simply add the safe vegetables of your choosing, and you, too, can enjoy this scrumptious soup!
I also made Pumpkin Biscuits to eat with the soup. I had 1/2 cup of pumpkin left in the fridge, and so I added it to 2 1/4 cups of Bisquick, and had to add about 1/4 cup of milk as well. To add more of a fall flavor, I also added 1/2 tsp cinnamon and 1/4 tsp nutmeg.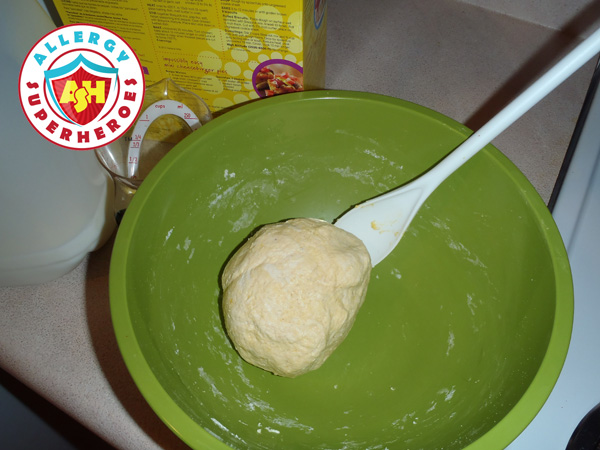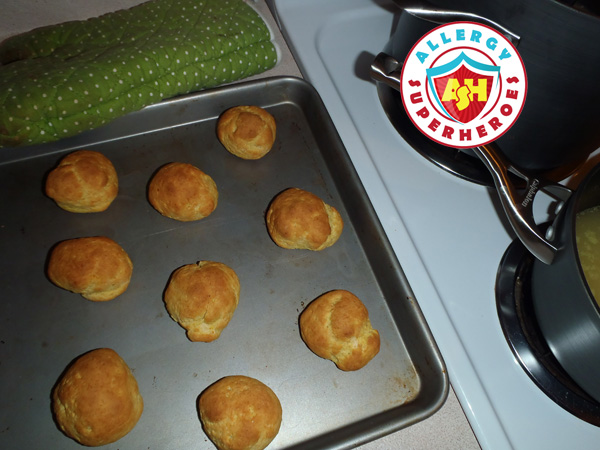 These were okay. We mostly just tasted the cinnamon, and it was a mild flavor at that. I think I would need more of each ingredient if I were to do it again.
If not soup, do you do anything special with your leftover turkey?
Linking up at Allergy Free Wednesdays, Gluten Free Fridays, and Corn-free Everyday