After you're finished with your Thanksgiving celebration, don't throw away that turkey carcass! In fact, don't bother picking the bones completely clean. With a little work (and a few hours, in which your home will warm up and smell divine) you can get a few more meals out of that bird with my Turkey and Rice Soup! Free of the Big 8!
Turkey and Rice Soup
Turkey Broth Ingredients:
1 leftover turkey carcass
1 medium onion, quartered
1 large carrot, sliced
2 cloves garlic
1 tsp. oregano
1 large bay leaf
salt and pepper to taste
Directions:
Place the turkey carcass (breaking to fit, if necessary), onion, carrot, and garlic in a large soup pot and cover with cold water. Bring to a boil.

Add oregano, bay leaf, and salt and pepper to taste.

Reduce heat to simmer and cook, covered, about 2 hours.
Strain the broth. Refrigerate for a short time and skim off the fat.
Meanwhile, remove the meat from the bones and save for the soup. Discard bones, skin, and cooked vegetables.
Turkey Soup Ingredients:
Freshly made turkey broth
1/2 to 1 cup brown rice
1-2 bags frozen mixed vegetables
3 Tbsp. parsley
Directions:
Return skimmed broth to the soup pot with the turkey meat and bring to a boil. Add additional water, if necessary, and additional salt and pepper if the diluted broth is too bland. (This is an inexact science, just get the broth to the level you want.)
Add rice and simmer, covered, for 25 minutes.
This soup works just as well with chicken. You can make this soup after roasting a chicken, or even make it with a whole, raw chicken or a few raw chicken breasts or thighs (you'd get more meat that way.) You could also substitute your choice of chopped, fresh veggies rather than use frozen, but you'd have to cook them for longer. And of course, make sure your bird is allergy-friendly to begin with!
***ETA: If you're coming over from the Corn-Free Everyday link party, you may notice that there is corn floating in this soup. I'm including it in the linky because that is the only corn-derived ingredient. Simply add the safe vegetables of your choosing, and you, too, can enjoy this scrumptious soup!
Yum!
I made this a few weeks ago with a leftover turkey carcass I had in the freezer. We had a major cold snap and I was in the mood for soup week after week. I don't make homemade soup often enough and so the boys usually spurn this soup, but Zax actually liked it this time! He even chose to eat it over the simple "Letter Soup" I'd made for the two of them! It warms a Mama's heart!
Can't smile. Eating soup!
I also made Pumpkin Biscuits to eat with the soup. I had 1/2 cup of
pumpkin
left in the fridge, and so I added it to 2 1/4 cups of Bisquick, and had to add about 1/4 cup of milk as well. I also added 1/2 tsp cinnamon and 1/4 tsp nutmeg.
These were okay. We mostly just tasted the cinnamon, and it was a mild flavor at that. I think I would need more of each ingredient if I were to do it again.
Linking up at Allergy Free Wednesdays, Gluten Free Fridays, and Corn-free Everyday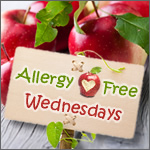 If not soup, do you do anything special with your leftover turkey?