Jump to recipe
Thanksgiving just got a whole lot easier!
Ever since last year, when I learned that I could roast a chicken in my crock pot, I wondered if I could do the same thing with a turkey. After trading out my decades-old 4 quart machine for a new 6 quart, I gave it a try. And guess what? IT WORKED!
Thanksgiving Turkey in a Crock Pot

This turkey-roasting method will simplify your holiday, save you time, and leave your oven free for other dishes!

Notes
Top 8 and more free! Free from peanut, tree nut, egg, dairy, soy, wheat, fish, shellfish, corn, and soy!

Ingredients
1 turkey (12 pound max, thawed)
1 onion
salt
pepper
(additional spices or a dry rub can be used if you desire)
Instructions
Unwrap your turkey. Remove neck, heart, giblets, and any extras (like a gravy bag.) Rinse and pat dry.
Dust inside of cavity with salt and pepper. Place peeled onion inside body cavity.
Carefully transfer turkey to a 6 quart or larger slow cooker. Gently rearrange turkey's limbs so that they do not stick up too high.
Rub skin all over with salt and pepper.
Place lid on slow cooker. You will need a full seal. If lid is propped up, attach lid clamps if you have them. If no clamps, weigh down the lid or tie it to the slow cooker. After an hour or two, the bird will cook down and soften enough that any extra accessories you used to hold the lid shut should no longer be necessary.
Roast on low for 7 hours.
Remove lid and siphon off juices, leaving about a half-inch of liquid at the bottom, so it won't dry out.
Replace lid and roast for 1 more hour.
Save juice for a soup base, or turn it into gravy during the final hour of cooking.
Carefully remove the turkey to a serving platter. It will be quite fragile and ready to fall apart, so be careful.
If you desire (and if your turkey survived the lift intact), you can broil it for about 5 minutes to make the skin golden and crisp. However, I decided not to.
Allow turkey to rest for a few minutes, then carve and enjoy!
© 2023 © Eileen Rhoadarmer - Allergy Superheroes, unless otherwise noted
Note: I would not stuff this turkey. It self-bastes and sits in a small space in its own juices for so long, I think you'd end up with Stuffing Bread Pudding instead, and it might not even cook properly. But your oven is empty, so there's plenty of room to bake stuffing an hour or so before meal time! And if you wait until the last hour before serving to cook the stuffing, you can even use some turkey juice to moisten it!
As you can see, my 11.23 pound bird barely fit into my 6 quart slow cooker. Anything larger and it wouldn't have worked. My Crock Pot came with lid clasps to make transporting food easier, and I had to use them to hold the lid down at the beginning of cook time. If you don't have clasps, find a way to weigh the lid down or even tie it together, if necessary. This won't cook properly if too much heat can escape.
You can use a dry rub on your turkey if you prefer to add additional flavors, but I decided to keep it simple. Just salt, pepper, and an onion in the cavity.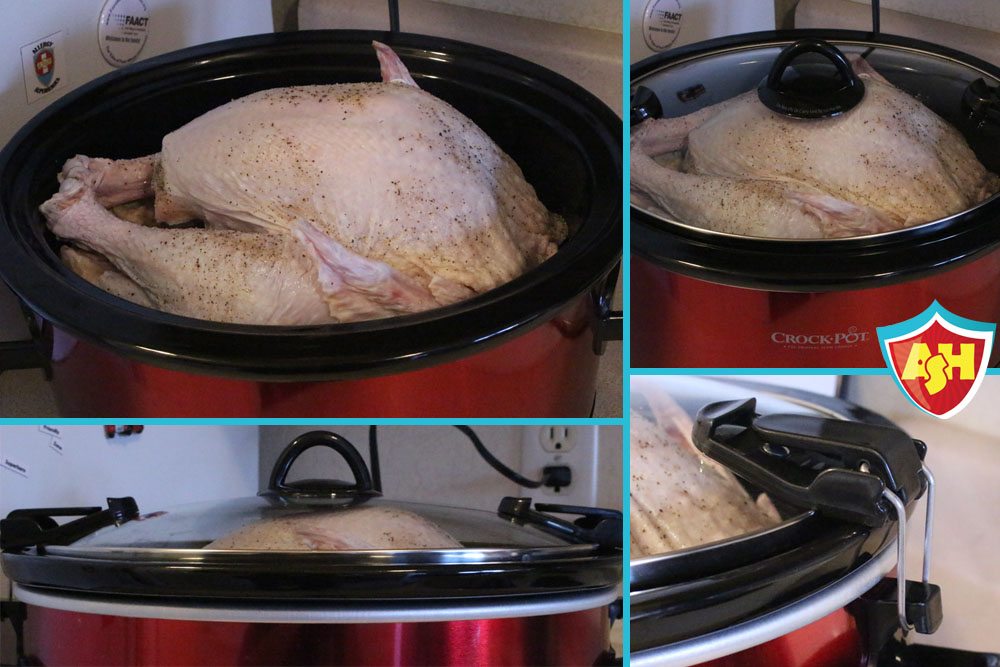 This picture was taken about halfway through the cook time.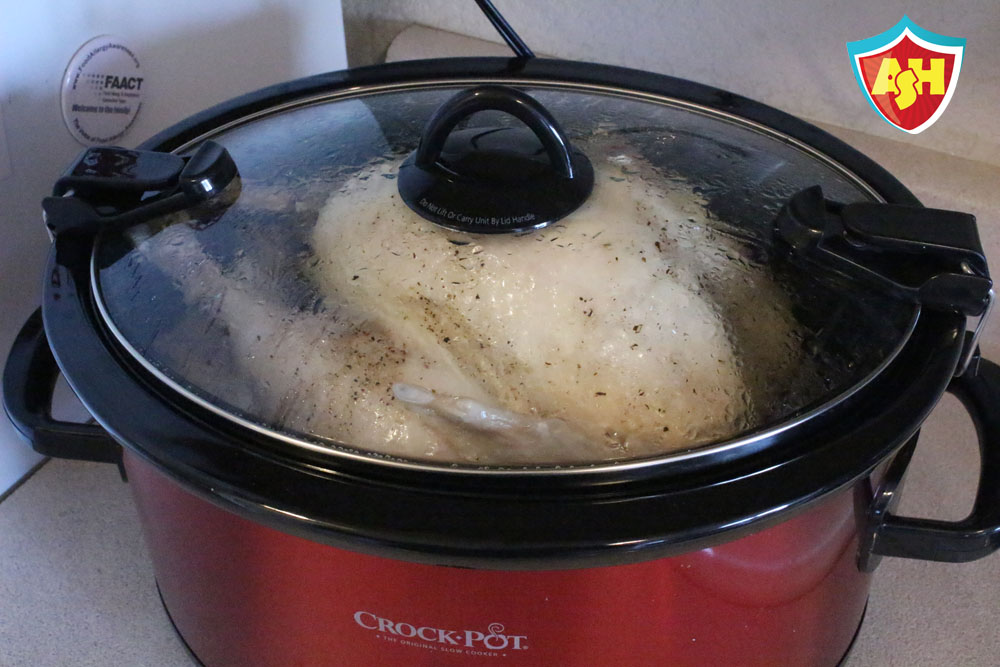 After 7 hours. As you can see in this picture, the pot is almost halfway full of juices. While this is great for self-basting, it was time for the juice to come out so the bird could crisp up a bit. Leave a half inch or so of juice in the bottom though, because you don't want it to totally dry out.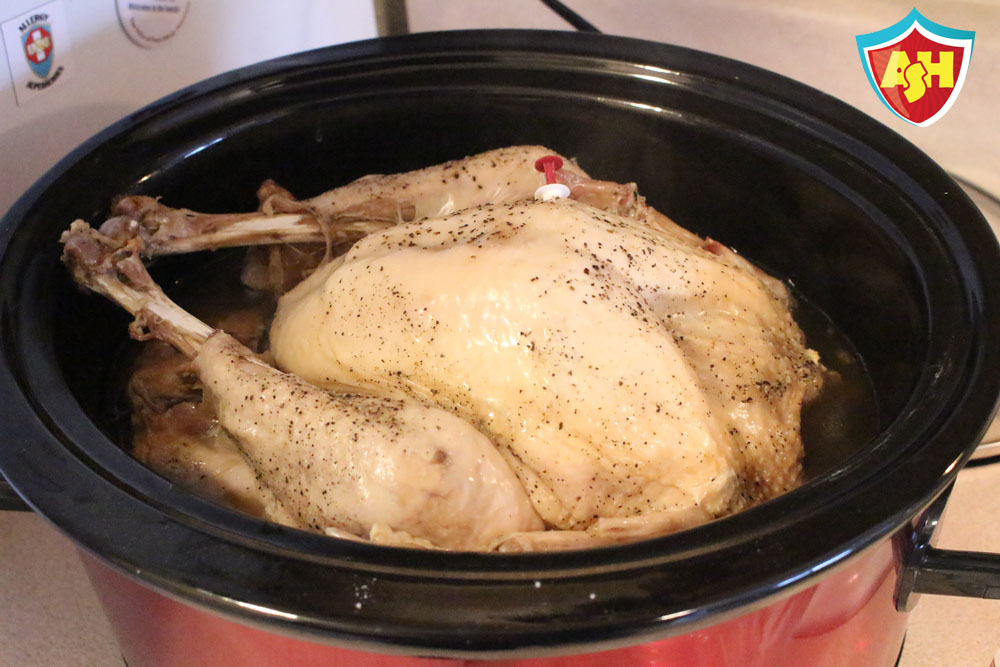 Got enough juice to make a nice big pot of gravy! I also used some for the liquid in my stuffing!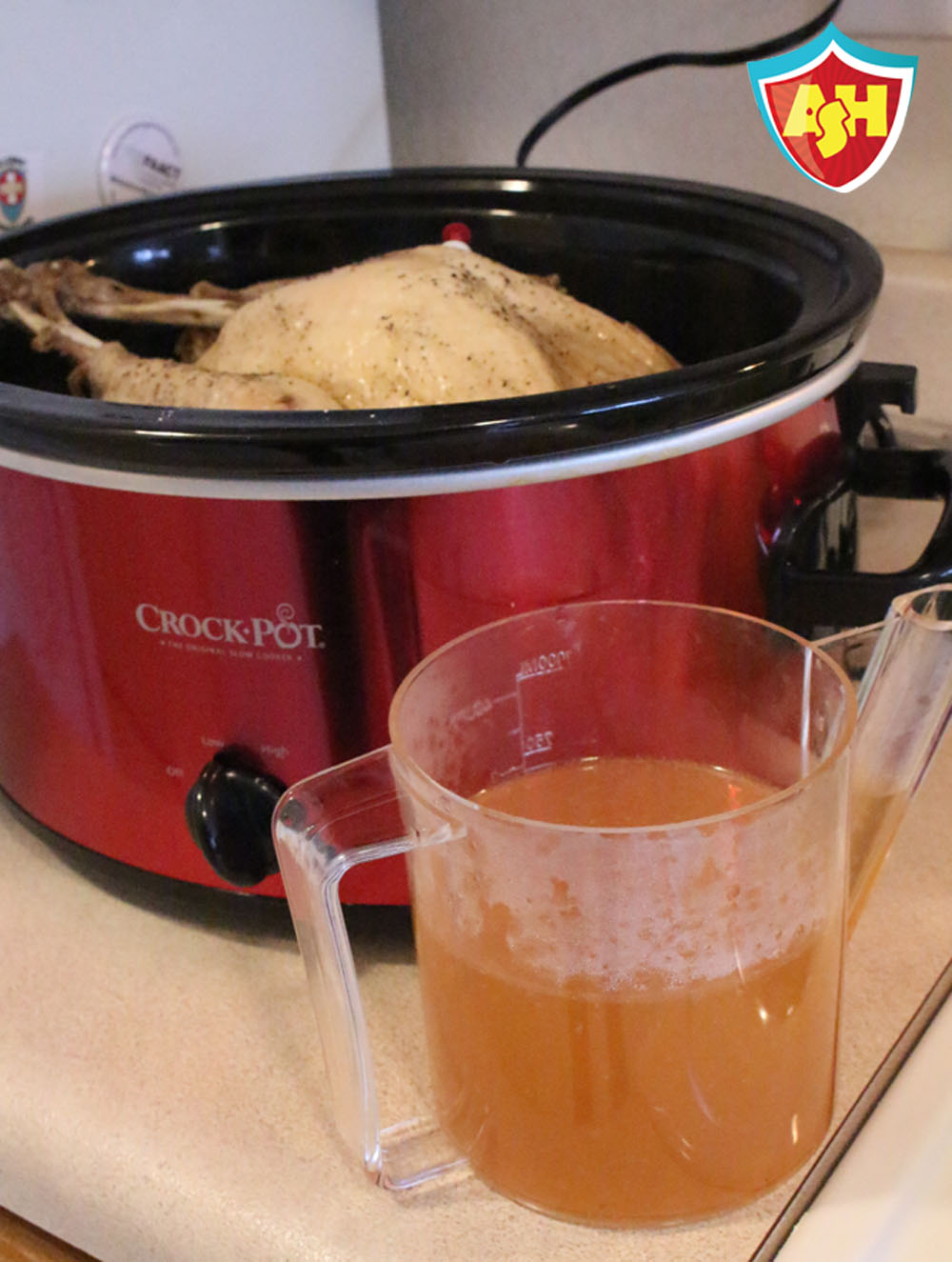 The pop up timer actually popped up an hour or two prior to being done, but I didn't trust it–especially since I think it got pushed sideways by the lid when I squashed it down. I just used my regular meat thermometer to confirm the temperature before declaring the bird fully cooked.
If you've ever played Tetris in your oven to bake your side dishes…
If your food-laden guests have ever asked if they can heat their dish, but your turkey is still in the oven…
If you've ever wished for space to bake more than one turkey…
If you have food allergies and just know the host's turkey will be seasoned/stuffed with unsafe ingredients…
Then baking a turkey in a slow cooker is the way to go this Thanksgiving!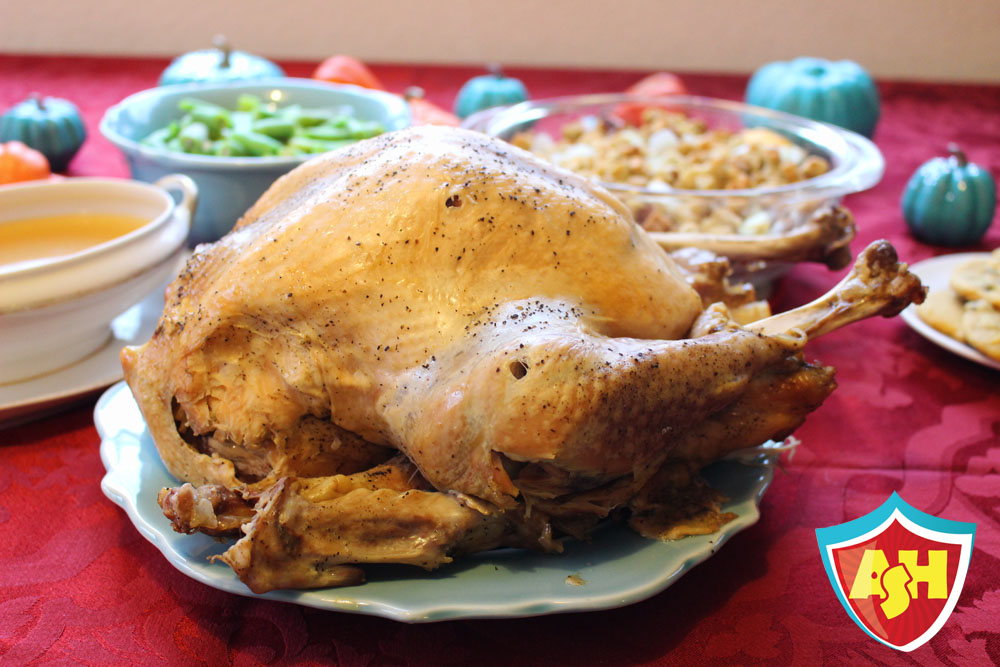 If you want to crisp the skin you could broil the turkey for 5 minutes after removing it from the slow cooker, but it's fragile. I didn't. I thought it might fall apart if I handled it too much and besides, I thought it looked just fine. It tasted delish and was fall-off-the-bone tender! No real amount of carving required–just shred and eat!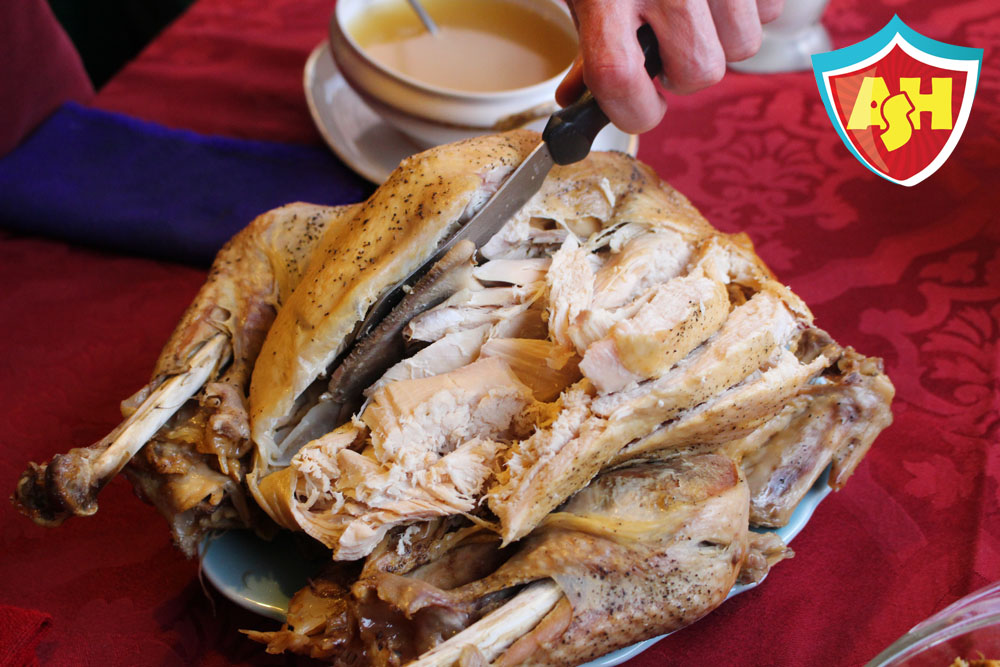 As a matter of fact, I even saved myself cleaning time at the end, because after dinner I placed the bones and some of the meat back in the crock pot and made the broth for my favorite Turkey Soup overnight. Gotta love multi-tasking!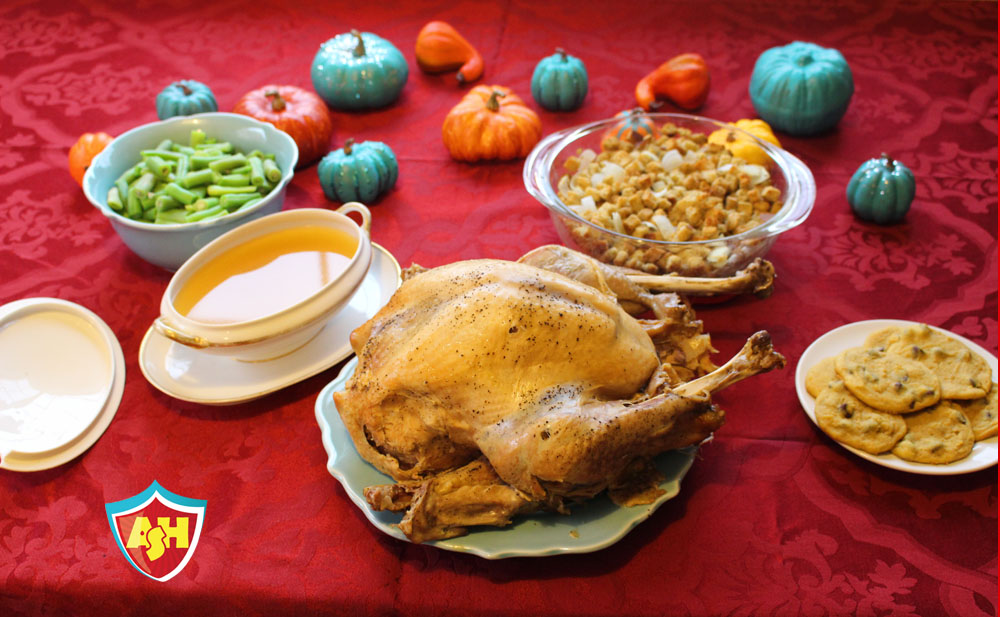 If you want to serve your meal early in the day, you could start your turkey the evening before. It should survive a few extra hours in the slow cooker, especially if you have a "Keep Warm" setting you can turn it to as soon as you wake up. Just be careful–if it goes for more than 8 hours, you may not get a complete bird out of the pot for your pictures.
Happy Thanksgiving!