Jump to recipe
I first made this recipe for hubby years ago on his birthday. It was a side dish for a larger recipe, but we both decided this was the only part of the recipe worth repeating! If you like onions, check out this delicious way to serve them as a side dish for your next killer meal!
Stuffed Onions

These stuffed onions make a great side dish for many entrees! Spice up your next elegant meal!

Notes
Contains wheat and dairy (substitutions would easily make it free of those as well.) Free of peanut, tree nut, egg, soy, fish, shellfish, corn, and seeds.

Ingredients
2 medium onions
2 Tbsp butter, dairy-free alternative, or olive oil
1/2 tsp salt
1/4 tsp pepper
2 Tbsp grated Parmesan Cheese (omit for dairy allergy)
1 cup croutons, crushed
Instructions
Peel your onions and chop off the bottom and the top (be careful not to cut too much.)
Using a combination of a sharp knife, a spoon, and a grapefruit knife if you have one, hollow out the center of each onion leaving roughly 1/4 inch all around.
Finely chop the center pieces of onion (you'll probably have about 1 cup.)
Heat your butter or oil in a skillet over medium heat. Add the chopped onion and saute for about 3 minutes.
Remove the pan from the heat and mix the salt, pepper, Parmesan, and crushed croutons into the onions.
Stuff the mixture into the hollow onions, mounding it on the top.
Wrap your stuffed onions in foil and bake upright at 350 degrees for 45-50 minutes.
Serve warm. Delicious!
Easily double (or more) the recipe to serve more people.
© 2023 © Eileen Rhoadarmer - Allergy Superheroes, unless otherwise noted
Hollowing out the onions does take some practice. You need to be particularly careful not to cut all the way through to the bottom. Just go slow and be careful.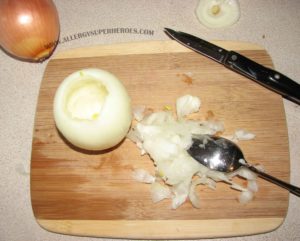 Sauteeing the onions.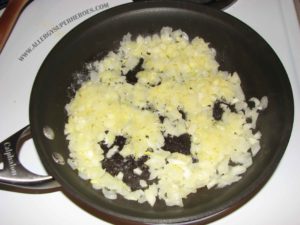 Make sure you chop or crush your croutons before mixing them in. Onions aren't big enough to handle large chunks of breading.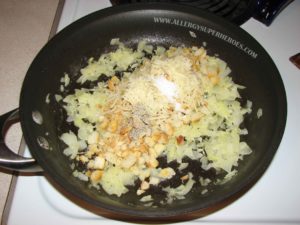 Pack your onions as tightly as you can. Even so, you will have some stuffing leftover. Bake it alone wrapped in foil, or just allow the moisture to penetrate the croutons and you've got another great side dish for the next day!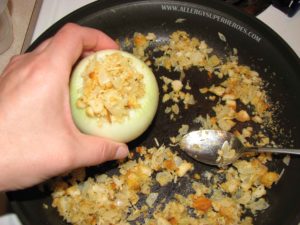 I bake these in my toaster oven when I'm only making two. The actual stuffed onions don't keep as well as leftovers, so I tend to only make as much as we'll eat in one night. If you increase the recipe to make more you'll need to put them in your regular oven.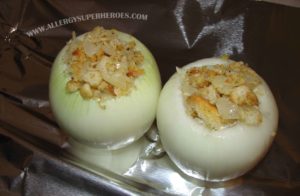 You can add them to the oven with other items like turkeys or roasts. You may need to increase baking time by up to a half hour if they're sharing the heat.
Wrap them in foil to protect them from burning or spilling while they bake.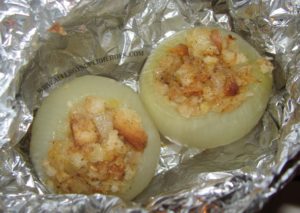 Look at those delicious beauties!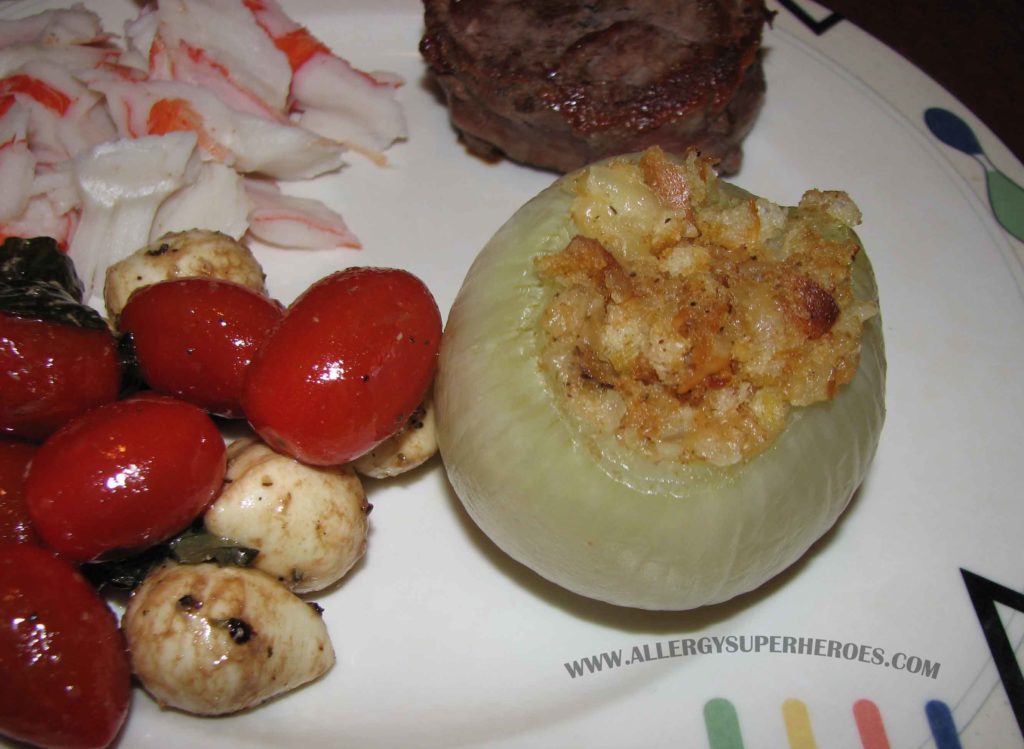 This was a perfect accompaniment to our late-night, much-delayed Valentine's dinner. What will you pair them with?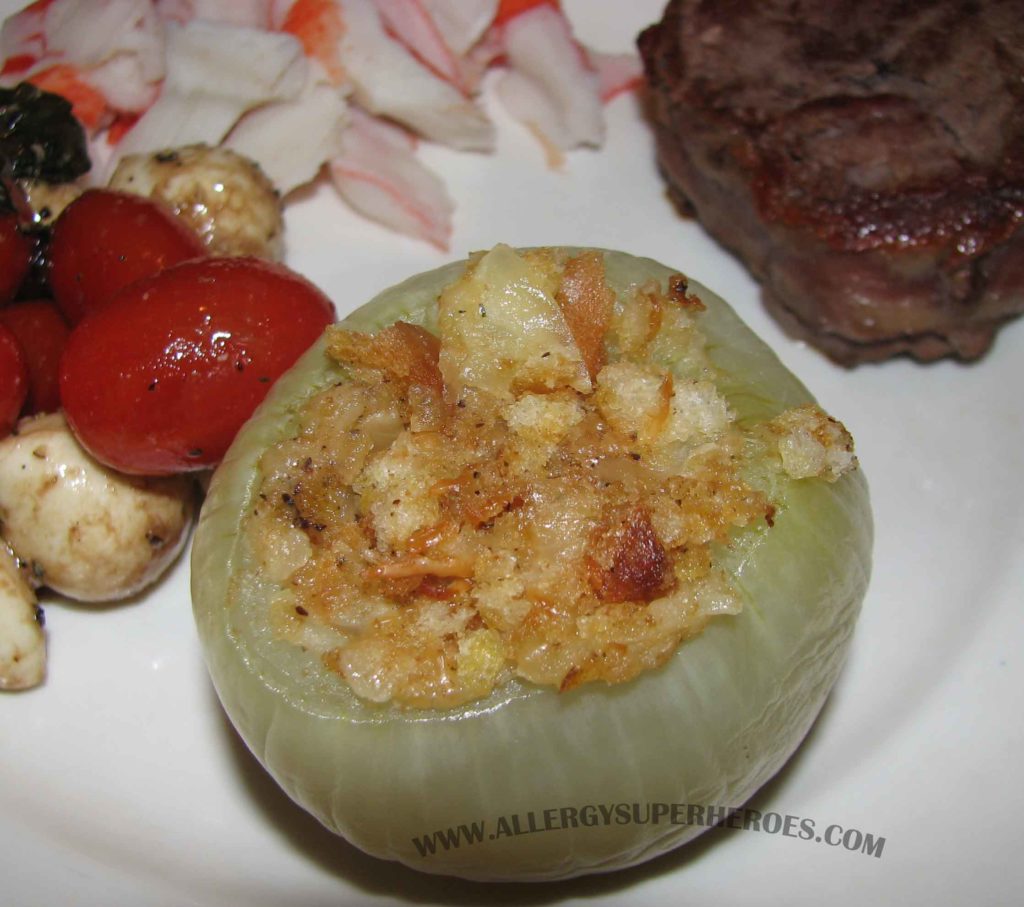 Linking up at Allergy Free Wednesdays and Gluten Free Fridays
(Adapted from a recipe originally found in McCall's Cooking School.)