Jump to recipe
Here's the thing about having a tree nut allergy: for me, most of the time, I don't feel left out at all. Having spent my whole life knowing not only that nuts are off limits but potentially deadly, they truly don't have any allure. If I see nuts in the grocery store, on a table, or at a fair, I generally give them a wide berth and carry on with my day. It's rare for me to see a food with nuts and think "man, I wish I could have that!" It's only when the nuts are well-hidden, they're the only food option nearby, or I'm extremely hungry that I feel any resentment towards foods with nuts (or the people serving them.) I know everyone is different and this is not a universal attitude, but that's how it is for me.
Except for Pesto. I don't know precisely what it is; maybe it's the fact that the nuts are well-hidden in pesto, maybe it's the tantalizing aromas of garlic and basil that come with it, or maybe it's just that I'm attracted to the foods pesto is generally put onto. Regardless, pesto sauce is one of the few nut-containing foods that I regularly salivate at and wish it didn't contain those dang nuts.
Despite the attraction, I'd never actually tried to make pesto myself before. I guess it didn't occur to me. But this fall, two things happened. One, my mother-in-law told me she'd seen a recipe suggesting that you use hemp seeds instead of nuts, and two, I had more basil on my hands than I knew what to do with.
My parents gave us a basil seedling this year, and it turned into a bush! We were putting basil on every salad, pairing it with every vegetable, sauteeing it into every sauce, and giving it to everyone who even smiled at us, but we still couldn't keep up with the thing!
It was when I was (unsuccessfully) trying to give some basil to one of the moms on the school playground that she told me I should make a giant batch of pesto and freeze it. My first thought was "obviously, I can't do that!"
And then it hit me.
I could do that!
Off I went to the internet to find suggestions and proportions, plus a trip to Natural Grocers to get hemp seeds, and I was off and running!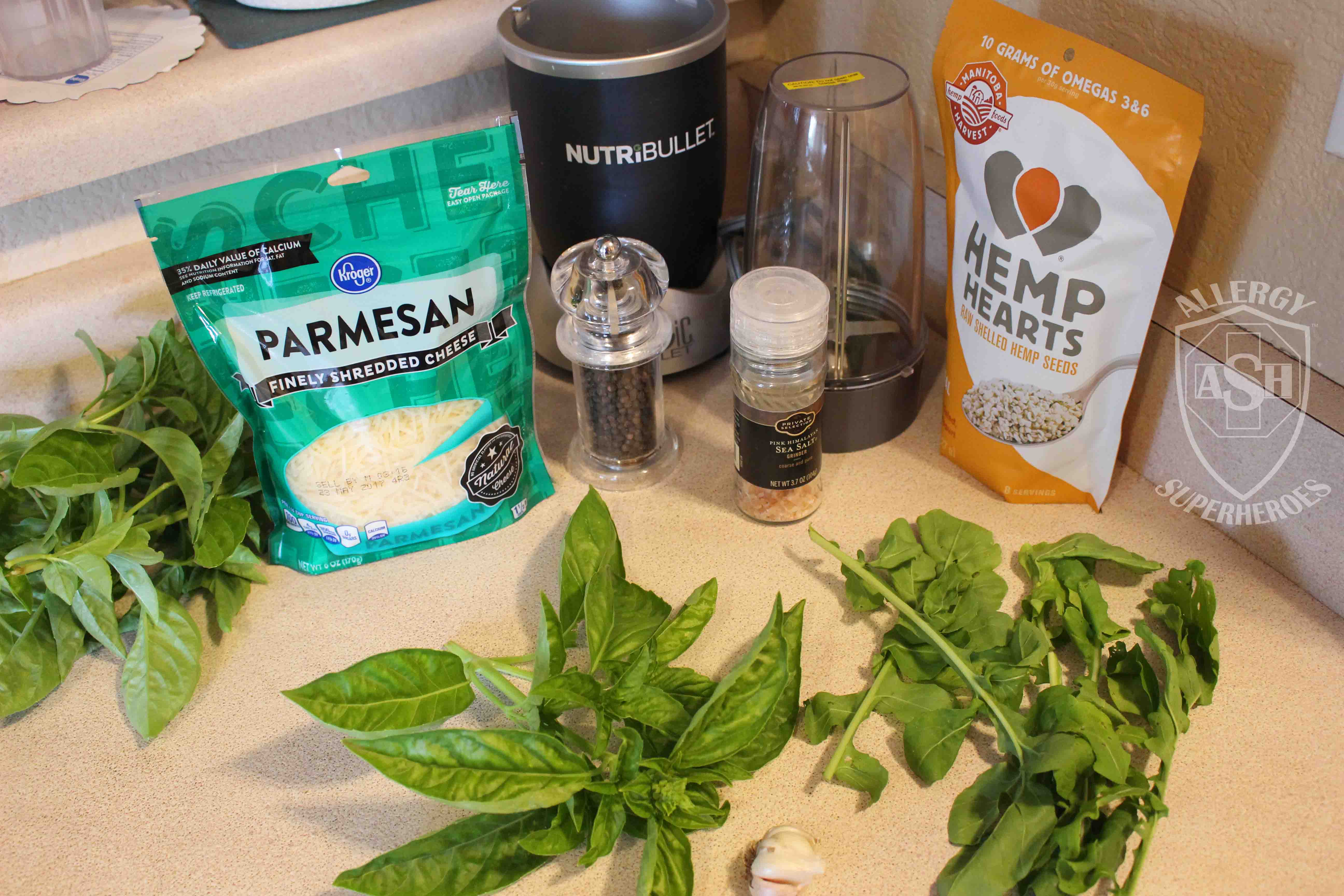 I made it for dinner one night, and let me tell you, it was good! I was happy–I had pesto! And hubby, who hasn't eaten pesto in years but confesses that pesto is goooood, declared that my recipe tasted pretty accurate. The boys think it's too spicy (probably the uncooked garlic, and it is a bit strong and could be reduced a tad) but that just means more for me.
I can make pesto without nuts! Who knew?
Nut Free Pesto

If you've ever wanted pesto but can't have nuts, here is your answer! Tasty and with a little bite, this aromatic sauce will have you celebrating!

Notes
Contains dairy and seeds. Free from TREE NUTS!, peanuts, egg, soy, wheat/gluten, fish, shellfish, and corn.

Ingredients
2-3 cloves of garlic
1 1/2 cups basil
1/2 cup arugula
1/4-1/3 cup hemp seeds
1/2 cup Parmesan cheese
1/2 tsp salt
freshly ground black pepper
1/2 cup olive oil
Instructions
Chop the garlic in a food processor until it's well-minced.
Add the greens to the food processor and pulse until they're finely chopped.
Add the seeds, cheese, salt, and a few grinds of pepper and pulse until you get a paste.
Slowly add the olive oil while the food processor is on and continue chopping until it is well-combined.
Keep it covered until ready to serve, as the air will start to brown it quickly. Use a layer of plastic wrap when storing it in the fridge, or cover the surface with a coating of olive oil. You can also freeze it at this point, using ice cube trays or small containers. Cover the surface with a thin layer of olive oil before freezing if you can't get all the air out.
© 2023 © Eileen Rhoadarmer - Allergy Superheroes, unless otherwise noted
If you don't have any arugula, just use 2 cups of basil (but for me, I was happy to have a recipe to help me use up all my arugula, too!)
To make this, I used my Nutribullet blender, but adding the ingredients separately didn't work very well. However, it's an immersion-style blender, so once I added the liquid base of olive oil, everything mixed up just fine, without leaving any big chunks.
My intention had been to make multiple batches, and also try it using sunflower seeds. I really like sunflower seeds, so I think it would taste good–but alas, I got so busy that I had to dry the rest of my basil so it wouldn't rot. If you try it that way, let me know what you think!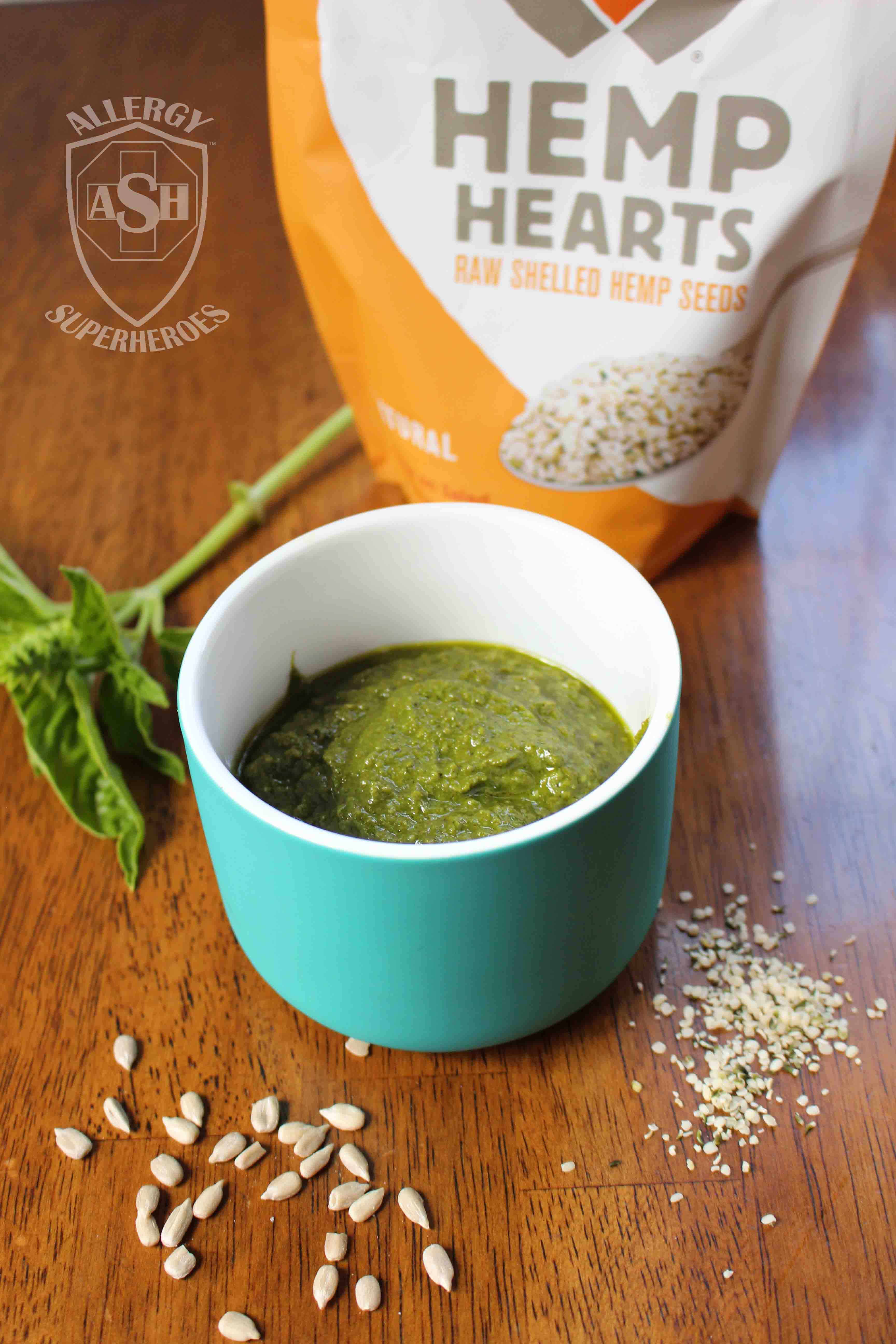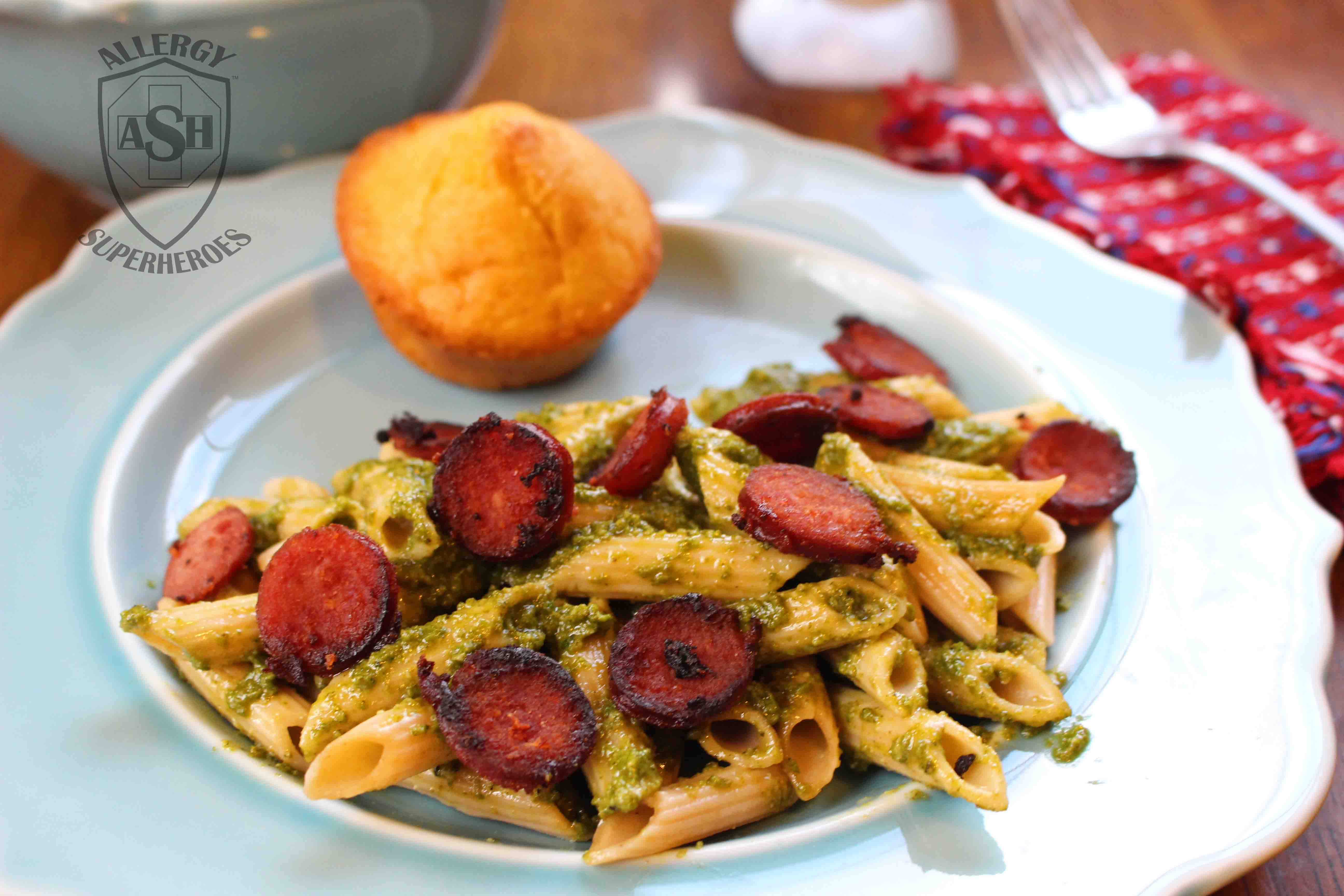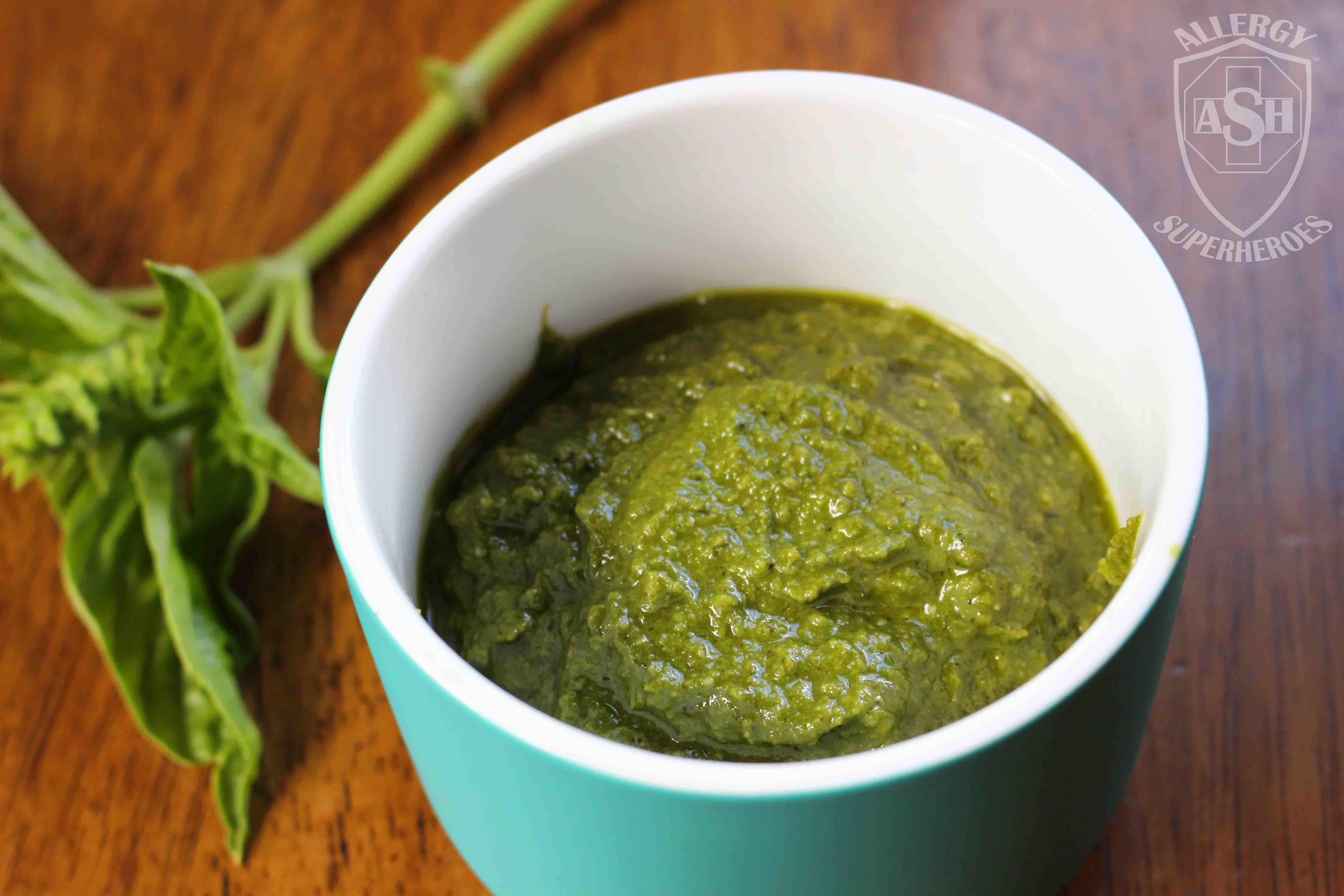 What are you making for dinner tonight?
Linking up at Allergy Free Thursdays and Gluten Free Fridays