Jump to recipe
I'll be straight up honest with you. When I first tried Sunbutter I didn't like it. Not at all. (Both my peanut allergic boys loved it.) It wasn't peanut butter, it was different. And that was my problem. It's not supposed to be peanut butter. After I came to terms that it's supposed to taste like sunflower seeds (you know because that's what it's actually made from) I began to like it.
Now I love the spread and I wanted to experiment more with using it instead of peanut butter in different recipes. Chocolate Sunbutter Pie is my first. But I wanted this to be a top 8 free treat and the problem is the crust. Usually I would use a graham cracker crust, but it has gluten. And the gluten-free ones I've seen has egg. Ugh.
I was having a quick breakfast of Enjoy Life Foods Chocolate Sunseed Crunch bars and I thought this would be a perfect match. You can't get enough chocolate or sunflower seeds. But it was a soft baked bar, not a crust. But would it work?
Yes. It's not a perfect crust, but it's still delicious and fits perfectly with the chocolate Sunbutter pie. It also makes it top 8 free.
I wanted to make this really easy by using instant pudding mix. It doesn't contain dairy and it would be quick to mix it all together. Since this had to be dairy free I couldn't use regular milk, so I tried some different types. Coconut milk has a high fat count, we had some rice milk on hand so I tried that, even though I know it's a lot thinner.
We recently discovered Good Karma Flaxmilk. It's the richest and creamiest of the alt-milks we've tried so far. It also tastes good – be it original or vanilla flavored. It's different from milk, but it's a good different. It's another great alternative if you have nut allergies (like Eileen) or don't like coconut – see below, or want something thicker and creamier than rice milk.
Survey says: they all failed. All of them were too runny and by adding some guar gum to thicken it up they became gummy.
Then we heard about a friend of ours on Instagram (FoodAllergyMama) who used Cook and Serve for her dairy (and lots more) allergic family and it worked. So I tried it with Flaxmilk and it was a success! (Note: The Kroger brand pudding mix DOES contain dairy, but the Jell-O brand does not. Choose carefully, and be sure to call on any brand that you are uncertain about. We know our dairy-free friend used the Jell-O brand, but we did not actually call to see if there was a CC risk.)
A note about So Delicious Coconut milk. I love it, but I love coconut and so does my youngest son. But the other half of the family does not. So I didn't use it. But if you love coconut, I'm sure this would work as well. That's why I added their Coco Whip at the end, so it's just for me and my youngest.
After putting it all together even my very-picky-eater oldest son liked the pie. Score one for Dad! I really liked it. It's a savory blend of Sunbutter and chocolate. Until my next blog post, don't forget how super you are! Now on to the recipe.
Chocolate Sunbutter Pie (with Enjoy Life Foods Chocolate Sunseed Crunch Crust)

This Chocolate Sunbutter Pie with Enjoy Life Foods Chocolate Sunseed Crunch crust is the perfect match of sweet chocolate and creamy Sunbutter!

Notes
Contains corn and flax seed. Top 8 free (free from peanut, tree nut, egg, dairy, soy, wheat/gluten, fish, and shellfish).

Ingredients
Pie:
Crust:
Optional:
Instructions
For the crust:
Spray or grease your pie pan
Microwave each crunch bar (one at a time) for about 30-35 seconds, until soft.
Press each bar into a pie pan until covered.
Bake at 350 degrees for 10 minutes.
For the pie filling:
In a medium sauce pan mix flaxmilk, pudding mix and Sunbutter over medium heat. Constantly stir (or risk it burning on the bottom) until just boiling, about 6 minutes. I used our electric hand mixer to keep it smooth.
Remove from heat and let cool.
Pour into pie pan and chill in the refrigerator for about 1 hour.
Optional:
top with Coco whip and chocolate chips.
© 2023 © Eileen Rhoadarmer - Allergy Superheroes, unless otherwise noted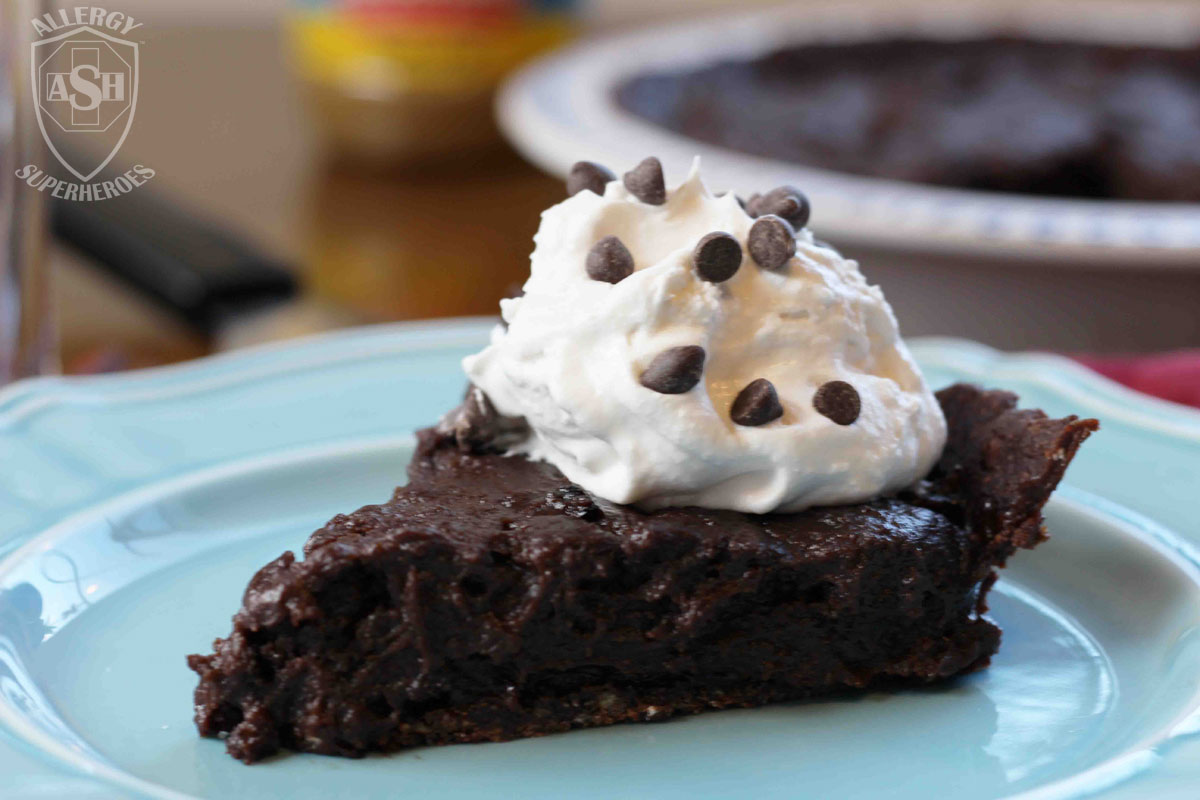 Linking up at Gluten Free Fridays