Jump to recipe
So it was the end of the year and our boys were about to embark on that time-honored tradition of driving their parents crazy for two weeks. Otherwise known as winter school break. As we went through the Lost and Found there was a nearby basket teeming with overripe bananas, for free.
I picked up a bunch and Eileen asked me what I was going to do with a bunch of rotten bananas. I didn't know, but I knew they were free. Then it hit me, banana bread! She looked at me quizzically or maybe rolled her eyes, and we went home.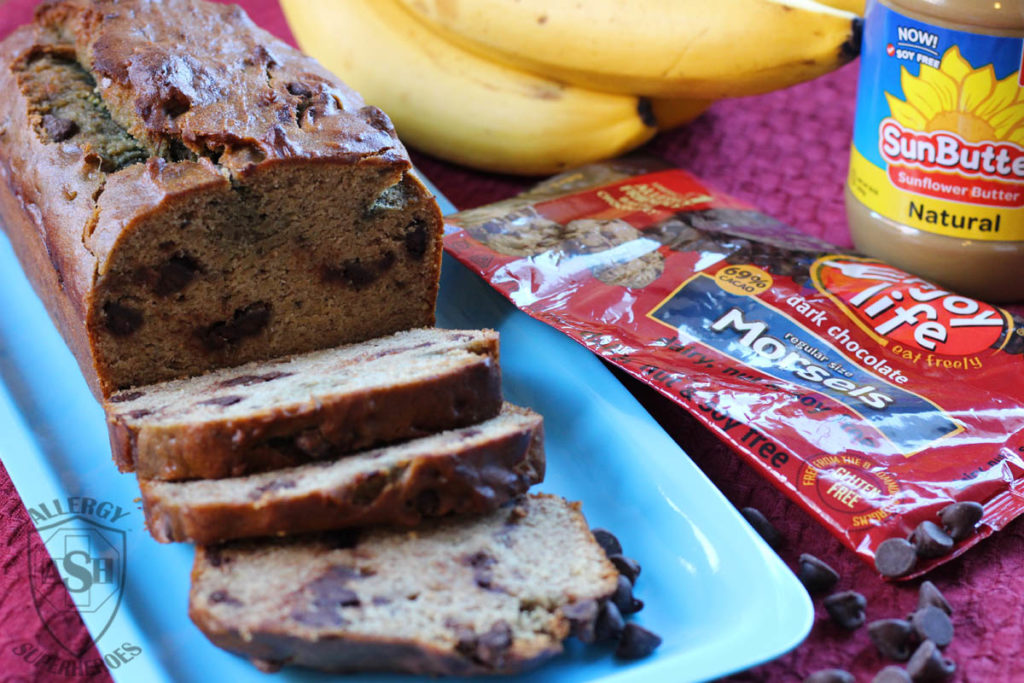 Now, I've had banana bread, but I've never made it. Usually it has walnuts in it, which is a big no-no in our tree-nut allergic house. So out went the walnuts. I wanted to try more baking with Sunbutter since both our boys love it and I thought bananas and Sunbutter go together, so why not?
Of course I had to add some Enjoy Life Dark Chocolate Morsels because–well I think no explanation is necessary. I was also determined to make this a top 8 free bread. We think it turned out great and we even had some for breakfast. Probably not the healthiest, but it does have Sunbutter and bananas, so not the worst either!
I used the miracle egg replacer of Aquafaba. Haven't heard of it before? Read all about it here!
Sunbutter Banana Bread

Sunbutter, Bananas, and Enjoy Life Chocolate--and it's Top 8 Free! What more could you want?

Notes
Top 8 free! Peanut free, tree nut free, egg free, dairy free, soy free, wheat/gluten free, fish free, shellfish free. Contains sunflower seeds.

Ingredients
1 ½ cups gluten-free flour (we used Lillabee Everyday All Purpose Flour, but I'm not sure it's available anymore)
¾ cup Creamy Sunbutter
3 Ripe Bananas (about 1 ½ cups) - mashed
½ tsp salt
½ tsp Ground Cinnamon
½ tsp Baking Soda
¼ tsp Baking Powder
¼ tsp Ground Nutmeg
¼ cup Dairy-Free butter (we used Earth Balance spread)
½ cup Sugar
6 tbsp Aquafaba (or other egg replacer equivalent to 2 eggs)
1 tsp Vanilla Extract
Instructions
Pre-heat (or is it just heat?) oven to 350 degrees F.
Use your favorite cooking spray on an 8x4 inch loaf pan.
In a separate bowl mix together flour, salt, cinnamon, baking soda and powder, and nutmeg.
Combine the Sunbutter spread, Dairy-Free butter, and sugar together. Mix until creamy, about a couple of minutes.
While continuing to mix add half of the Aquafaba for a minute, then the other half, then the vanilla.
Add in the dry mixture until combined, then the bananas, and lastly the chocolate morsels.
Pour it into the pan and bake for about 50 minutes (or until that trusty toothpick comes out clean). Cool it in the pan for about 10 minutes, then transfer it to a cooling rack.
Take breathtaking photos, then devour!
© 2023 © Eileen Rhoadarmer - Allergy Superheroes, unless otherwise noted
Linking up at the following Link Parties: Healthy Living Link Party, Hearth and Soul, Inspire Me Monday, Tasty Tuesdays, Plant-Based Potluck Party, Healthy Happy Green & Natural Party Hop, Smell Good Sunday