Jump to recipe
It's the return of Allergy Superheroes Allergy-Friendly Recipes! And what tastier way to return than with a timeless classic and family favorite, Chocolate Chip Cookies!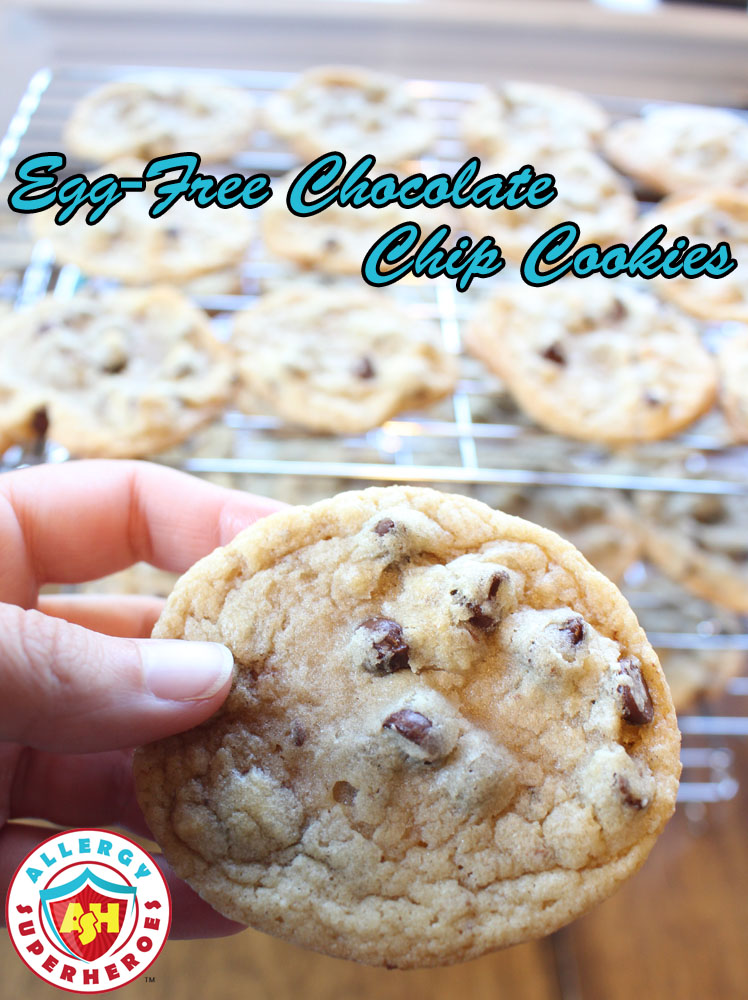 I have to tell you guys, I have not been feeling the cooking/baking mojo for a long time. Not just 2020, but for a few years. I think it has to do with overall life stresses, and these things got pushed to the back burner of my mind–pun intended.
I have continued to cook of course. After all, the family has to eat. However, I have fallen back on familiar and easy meals for quite a long time now. And for desserts lately, we have been sticking to candy, ice cream, and other things we have on hand.
But I will also tell you that I have missed it! Despite not feeling motivated to make more complex dishes, I also felt a small sense of loss by not doing so. I enjoy creating things in the kitchen. The time commitment drives me batty sometimes, but I still enjoy it. Which is why I'm excited to announce that I have been getting back into the groove!
I have been amassing recipes for a little while now. I didn't want to just post one recipe and then stop again for months. So I gathered a stockpile to draw from while I get back in the habit of making new things AND blogging about them.
I'm so excited for this to be the first recipe I post in my newest wave! I know it can be extremely difficult for people new to a food allergy diagnosis to re-learn how to feed their families. That's why I love sharing my allergy-friendly favorites, and teaching people that cooking and baking doesn't have to be intimidating. At least, not very intimidating 😉
I grew up with this chocolate chip cookie recipe, although my mom and I have made changes along the way. The most striking change was when Zax was diagnosed with his egg allergy and I had to substitute eggs.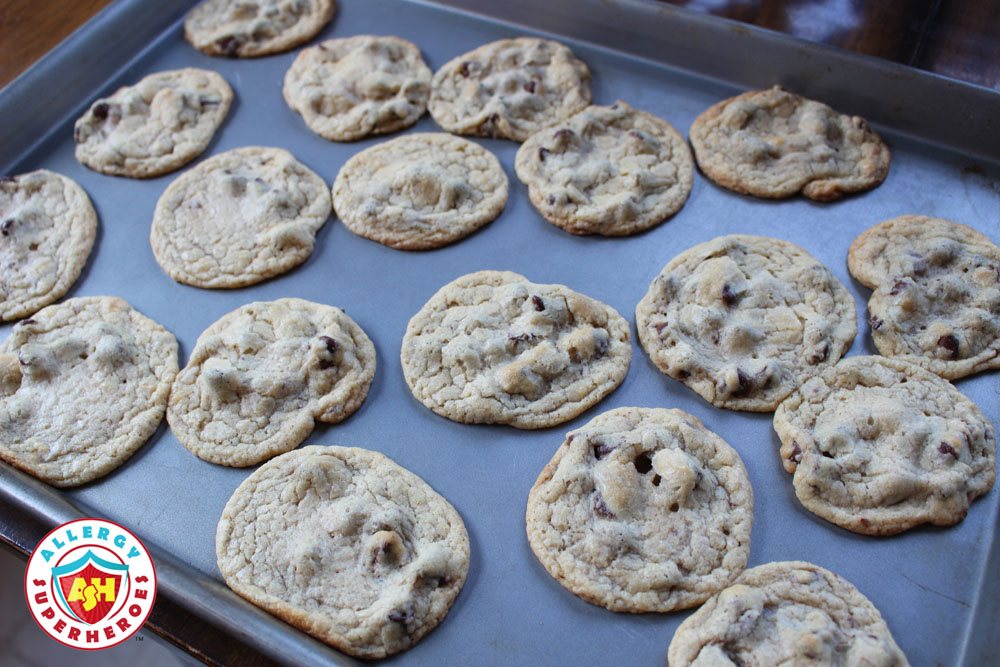 There's just something about a soft, chewy chocolate chip cookie that feels like home. It's the ultimate in comfort food. This was my favorite dessert as a child. Sometimes my Mom would even have them ready for an after-school snack. She would time her batches so that one tray came out of the oven right when my friends and I arrived. That way we could eat those warm, delicious cookies with the chocolate still melted.
I love making this recipe allergy-safe for us and treating my sons to the same sensation. Cookies fresh from the oven are the best!
Egg-Free Chocolate Chip Cookies

There's nothing quite like fresh chocolate chip cookies. They're the ultimate comfort food! Enjoy this delicious classic, egg and nut free!

Notes
Contains wheat* and dairy**. Free from peanut, tree nuts, egg, soy, seeds, corn, fish, and shellfish.
*Try a cup-for-cup gluten free flour for celiac or wheat allergy.
**Use Earth Balance sticks for dairy allergy.

Ingredients
2 1/2 cups flour
1 tsp baking soda
1 tsp salt
1 cup butter
3/4 cup sugar
3/4 cup firmly packed brown sugar
1 tsp vanilla
6 Tbsp aquafaba
2 cups allergy-friendly chocolate chips such as Enjoy Life
Instructions
In a small bowl, combine flour, baking soda, and salt. Set aside.
In large bowl or stand mixer, cream the butter, sugar, brown sugar, and vanilla.
Add in the aquafaba and mix.
Add the flour mixture while mixing, a little bit at a time, until fully incorporated.
Stir in chocolate chips until evenly distributed.
Pull out spoonfuls and form into balls on a cookie sheet.
Bake at 375 degrees for 7 minutes.
Cool, then enjoy!
© 2023 © Eileen Rhoadarmer – Allergy Superheroes, unless otherwise noted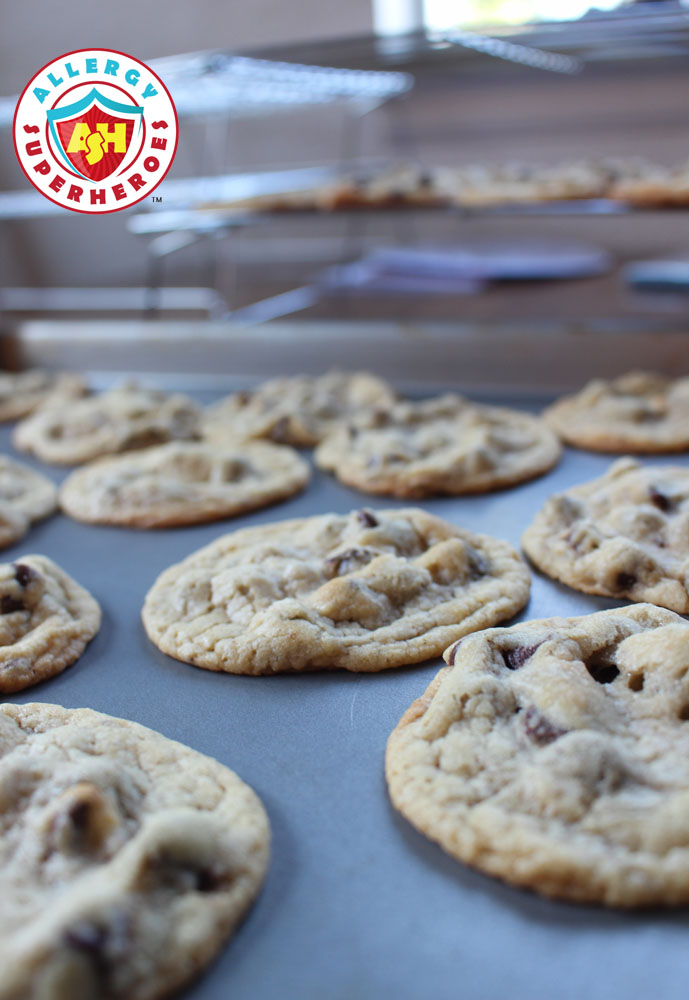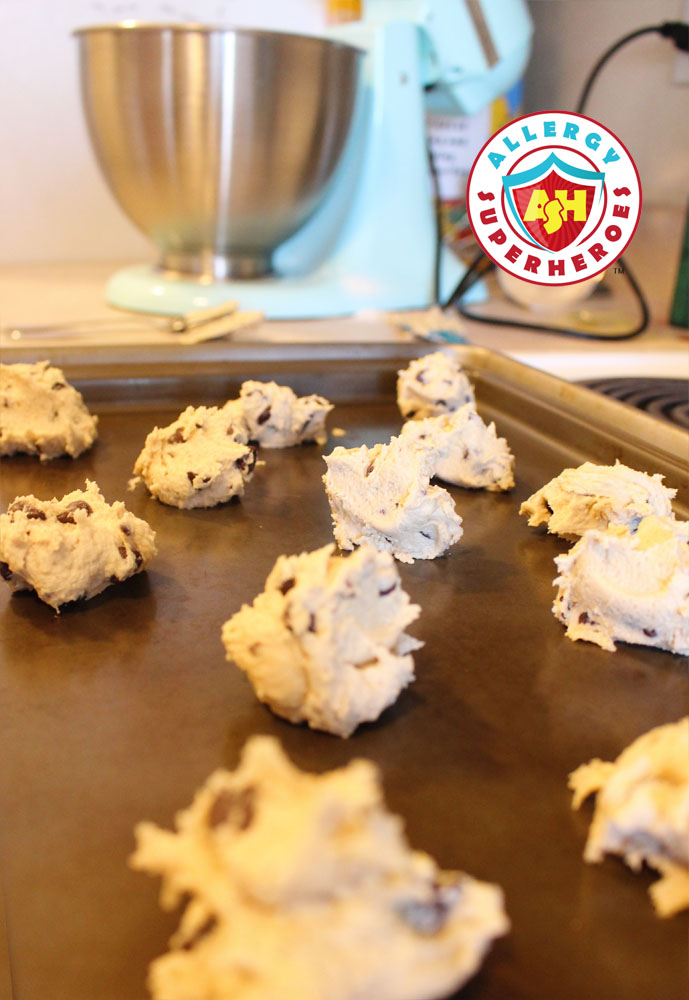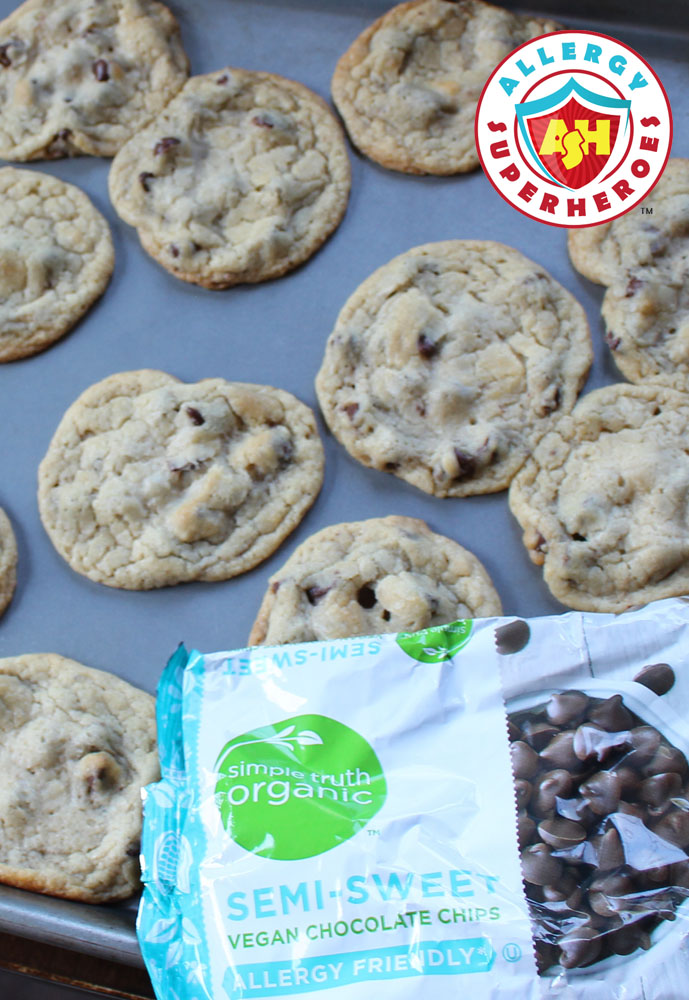 And if you like chocolate chip cookies, try some of my other varieties, like Chocolate Chocolate Chip Cookies or Sunbutter Chocolate Chip Cookies!