Dinner last weekend was nice and fast, thanks to my old slowcooker chicken burrito recipe! I love the simplicity of this recipe, and it tastes so amazing that it's hard to believe it's so simple! All you need is:
1 lb (give or take) chicken breasts
1 cup chicken broth (we use Better Than Bouillon)
1 packet (or equivalent) taco seasoning
Directions:
Place raw chicken into the bottom of a crockpot. Mix taco seasoning into the chicken broth, and then pour the mixture over the chicken. Cook on low all day. (You can do it on high for just a few hours, but add at least 1/2 cup water to the broth because the liquid will boil off this way.)
The chicken comes out very tender by the time it's done cooking, so all you need to do in the evening is shred it with two forks and you're good to go! Serve with your choice of tortillas and toppings!
Note: Because of the broth and taco seasoning I used, my meat was free of all the main allergens except for milk and soy (we used flour tortillas too, so wheat/gluten appeared in our final meal.) Conceivably, you could make this dish free of the top 8, depending on the contents of your broth and seasoning. Homemade stock and seasoning would work just as well! (And of course, if you want it dairy free, you'd have to substitute or omit the cheese and sour cream.)
The boys used to spurn all Mexican foods, but have recently taken a liking to quesadillas. I'm glad, because this opens up a whole new category of safe restaurant dining, since many Mexican restaurants use little to no peanuts/tree nuts!
Linking up again at Allergy Free Wednesdays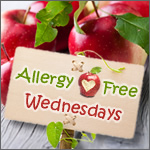 These leftovers will last us through much of this week, with more to pack in the freezer. What are you cooking this week?