Jump to recipe
This chicken salad makes for a great one-dish meal. Change it up by swapping out your favorite complimentary vegetables. The best part is that it's top 8 free!
Mediterranean Chicken Salad

This refreshing summer salad will tickle anyone's palate! Light yet filling, this is a one-dish meal anyone can get behind!

Notes
This recipe is top 8 free and gluten free! Free of peanut, tree nut, fish, shellfish, wheat/gluten, soy, egg, dairy, corn, and seeds!

Ingredients
2 cups uncooked quinoa
1 pound chicken breasts or tenders
1-2 Tbsp olive oil
1 cup chopped tomato
1 cup chopped fresh parsley
1 cup chopped greens (kale, spinach, etc)
2 green onions, sliced
Black or greek olives
Chopped avocado
2 Tbsp lemon juice
Salt and pepper (optional)
Instructions
Rinse your quinoa, if not pre-rinsed, and then cook according to package directions.
While quinoa cooks, cut your chicken into small chunks.
Heal olive oil in a skillet. Add chicken and cook 5-10 minutes, until it is still juicy but no longer pink in the center. Remove from heat.
Combine cooked quinoa, chicken, veggies, and lemon juice in a large bowl. Toss to combine.
Season with salt and pepper to taste, and enjoy!
© 2023 © Eileen Rhoadarmer - Allergy Superheroes, unless otherwise noted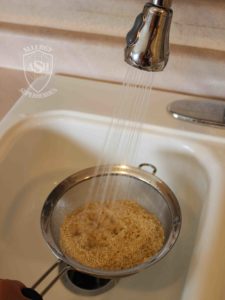 When I first tried making quinoa, I struggled with how to rinse it. Getting an extra-large strainer has proven to be the easiest way.
I've found that the best way to chop up fresh herbs is with kitchen shears. Make sure your parsley is clean and dry, then hold a bunch over your bowl and snip with scissors.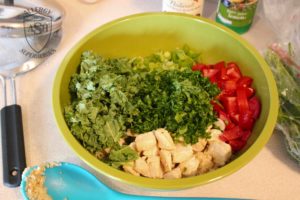 Combine cooked quinoa, chicken, all your veggies, and lemon juice in a large bowl. Toss to combine.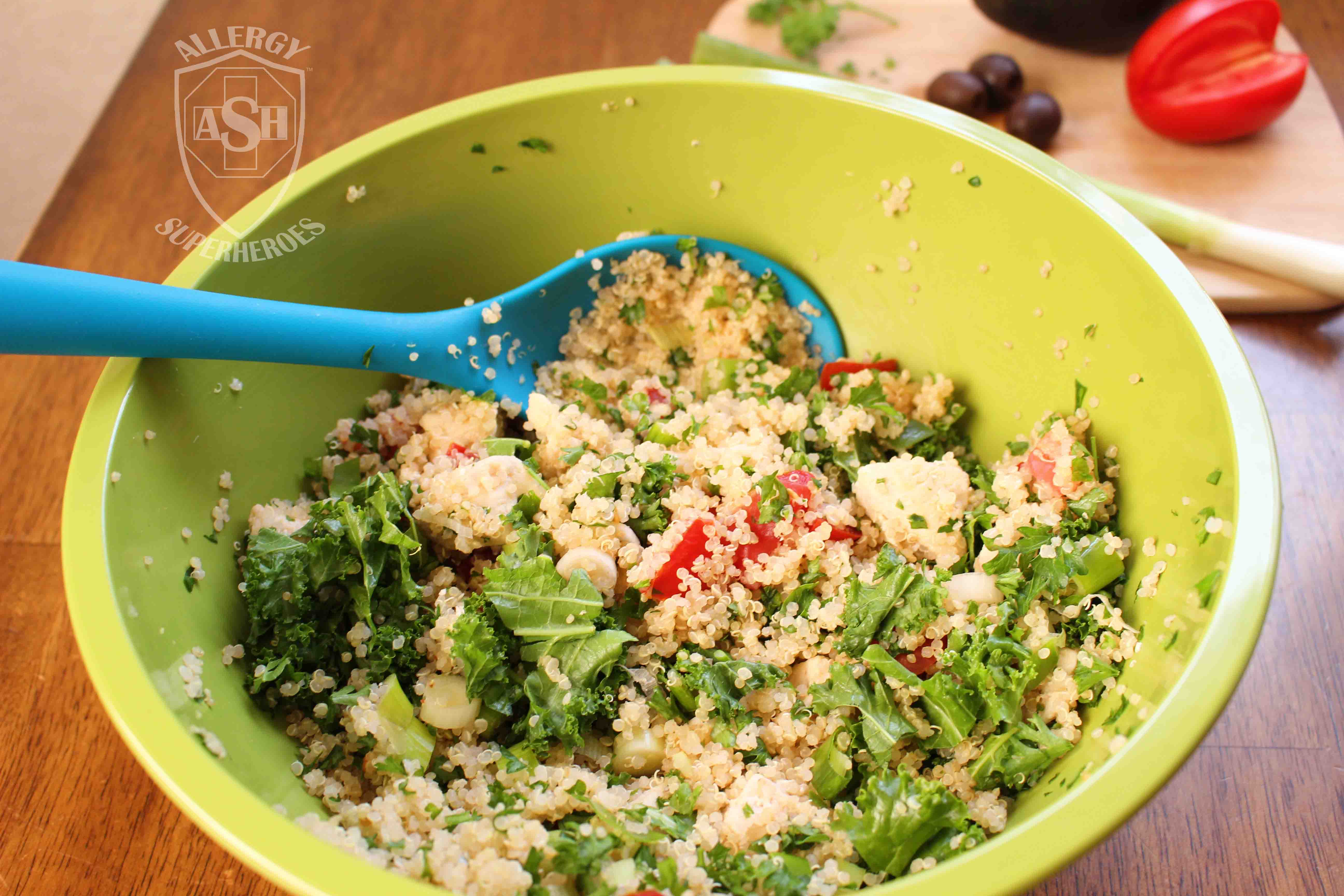 Not everybody likes avocados or olives in our house, so we added them to individual bowls instead of to the full mixture. Avocado can go bad quickly anyway, so this is the best method if you're counting on leftovers as another meal!
That's it! A quick and easy dish, with the most time-consuming part being the chopping of the veggies. Get yourself some kitchen helpers to get it done faster–chopping is a great way to involve kids in the kitchen!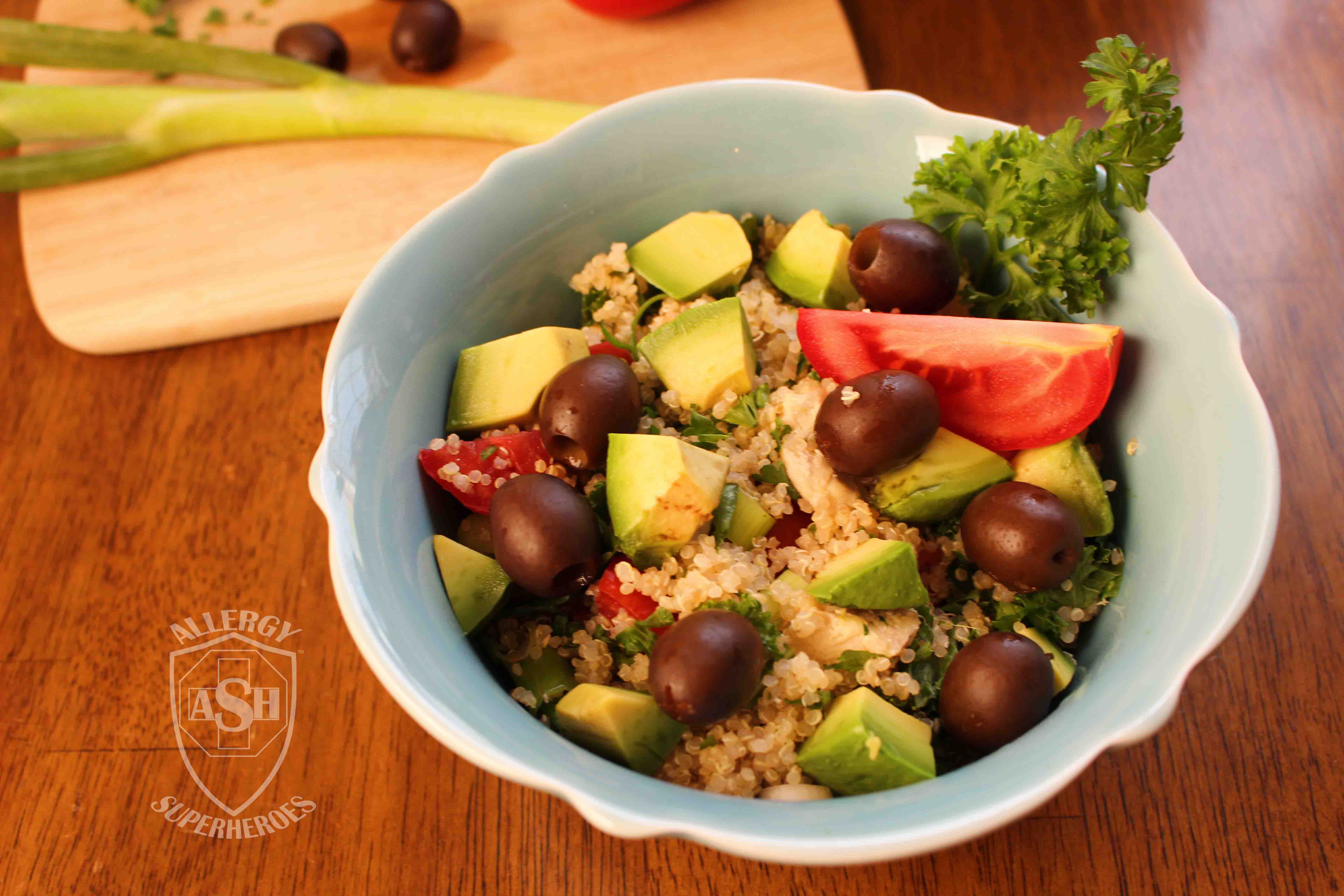 Linking up at Allergy Free Thursdays and Gluten Free Fridays