Jump to recipe
I decided to make muffins the other day, but discovered I was completely out of regular flour. I was already committed though, so I subbed in one of the gluten free flour mixes we had, and decided to make it top 8 free as well. And they turned out great!
Gluten Free Muffins

These muffins, which I usually make with wheat flour and cow milk, came out great as a gluten-free and top 8 free variety!

Notes
Contains corn. Free from peanut, tree nut, egg, soy, dairy, wheat/gluten, fish, shellfish, and seeds.

Ingredients
1 cup gluten-free flour
1/4 tsp cinnamon
1/4 tsp salt
1 tsp baking powder
1/2 cup sugar
1/2 cup rice milk
1 Tbsp Ener-G egg Replacer (two egg equivalent)
4 Tbsp water
1/2 tsp vanilla
1/2 cup applesauce
1/4 cup canola oil
chocolate chips (optional)
Instructions
Heat oven to 350 degrees.
Mix together GF flour, cinnamon, salt, baking powder, and sugar.
Whisk together the Ener-G and water, mixing as fast as you can, until frothy. (An electric mixer and whisk attachment works really well here.)
Add the Ener-G concoction to the dry ingredients.
Add the rice milk, vanilla, applesauce, and canola oil, and mix until combined.
Pour into lined or greased muffin tins.
Add a sprinkling of chocolate chips to each muffin, if desired.
Bake for 35 minutes, or until golden brown and an inserted toothpick comes out clean.
© 2023 © Eileen Rhoadarmer - Allergy Superheroes, unless otherwise noted
I used Pamela's Artisan Blend All-Purpose Flour and Kirkland Rice Milk for these muffins.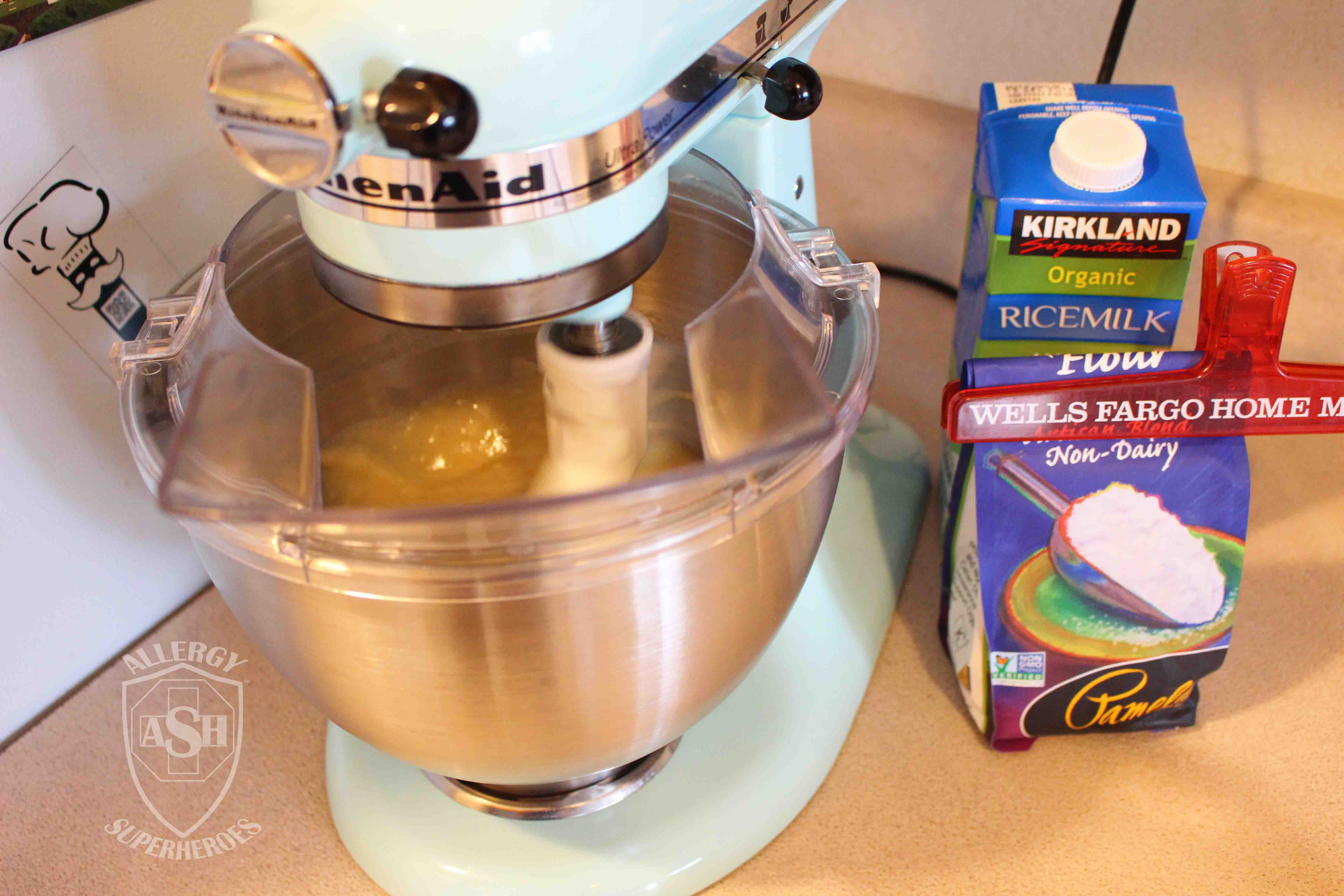 I typically don't add chocolate chips directly to the batter, as they sometimes sink to the bottom and aren't evenly distributed between the muffins. They didn't sink much this time though, maybe it was the difference in the flour.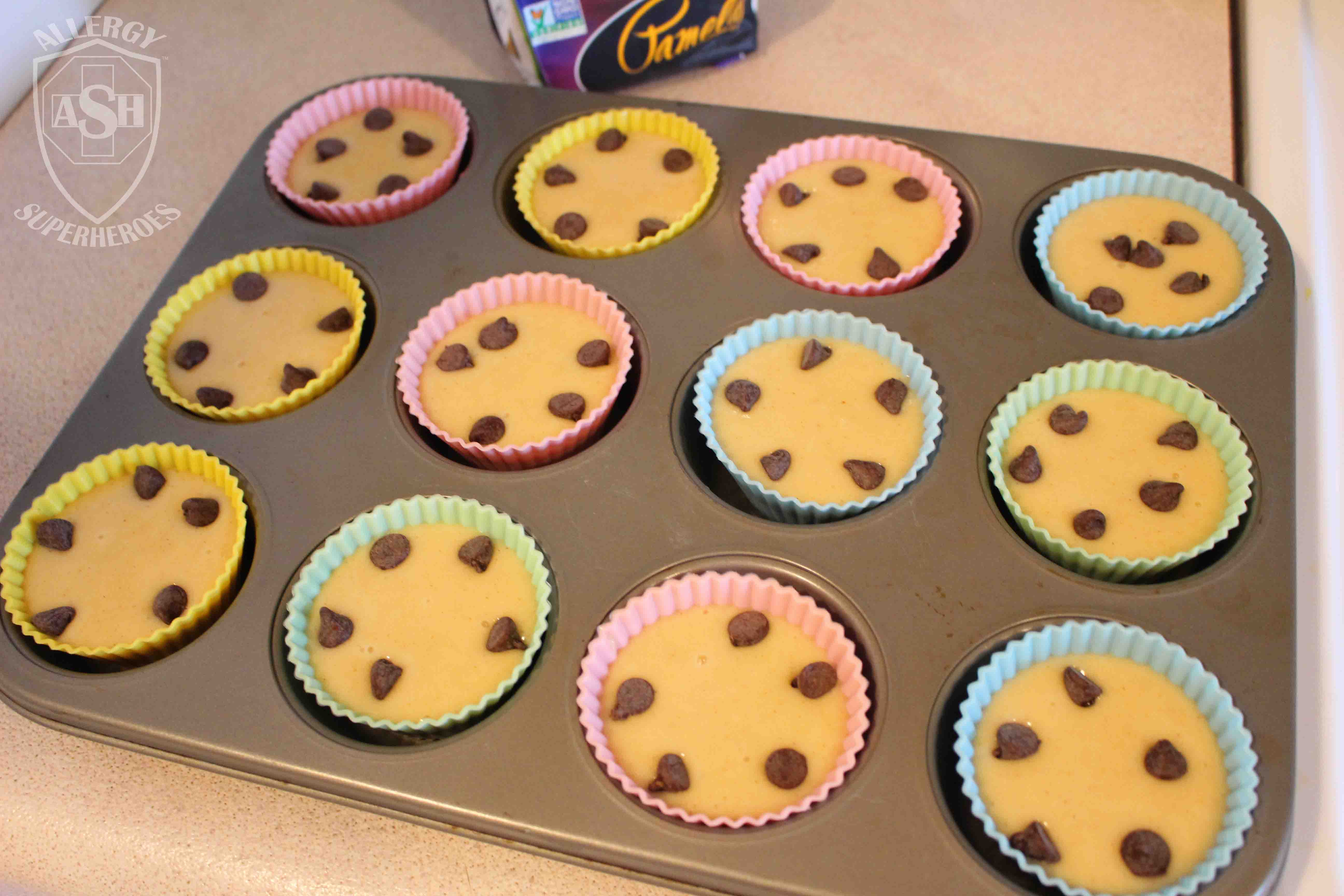 I also decided to add a single pumpkin-shaped marshmallow to the top of each muffin during the last 5 minutes of baking–basically because I needed to use up the marshmallows. They aren't particularly attractive after baking, but they added some fun variety to our muffins!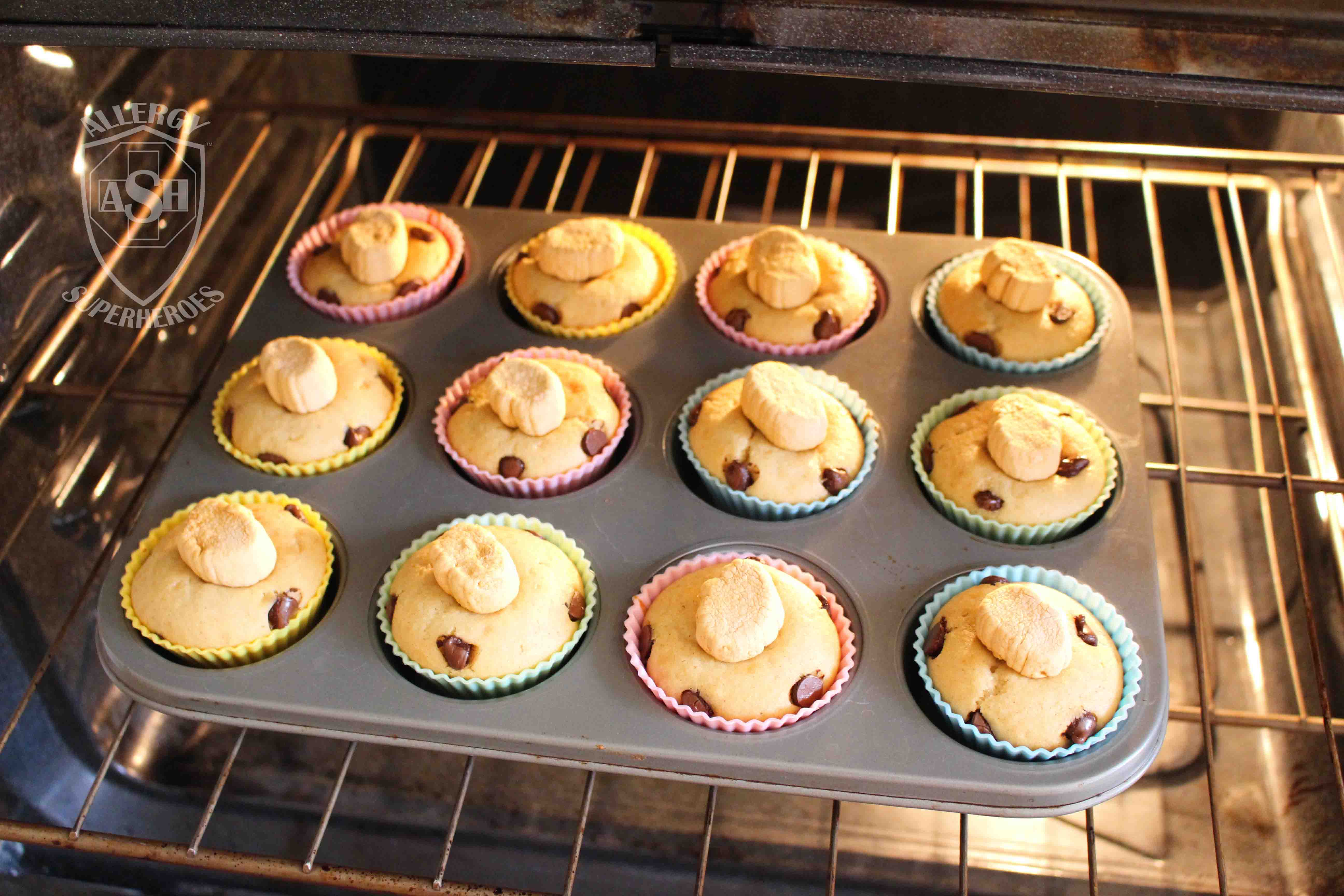 Yummy! What are you having for breakfast this week?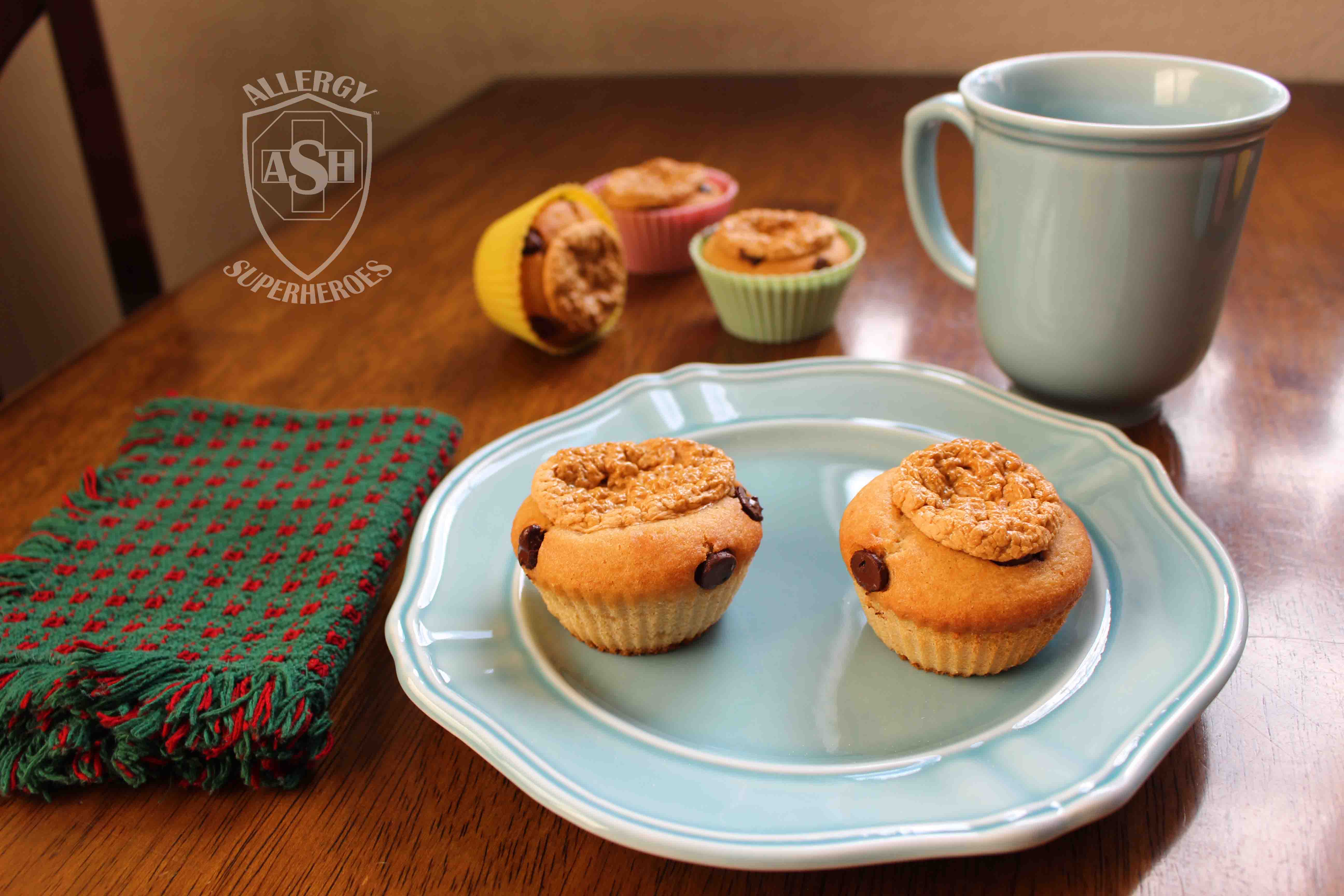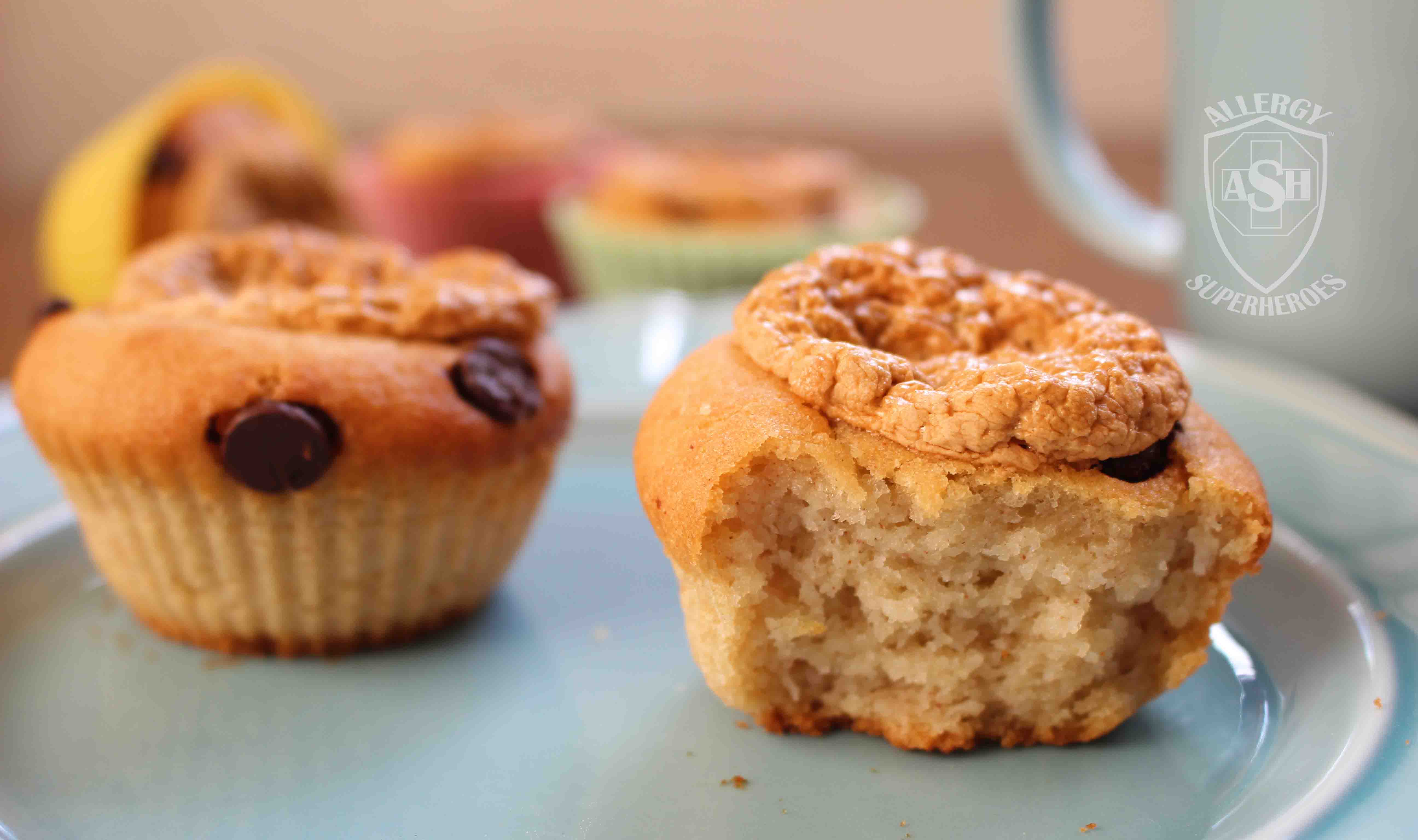 Linking up at Allergy Free Thursdays and Gluten Free Fridays