Jump to recipe
Beans. I like them. But I'm the only one in my household who does. That means I don't have many dishes that has beans in them. I'll open up a can of black beans to go on burritos or nachos once in a while, or a can of chili to go on a potato, but a full blown meal doesn't really happen since I would be the only one eating it.
My in-laws took us out to eat recently and everyone had leftovers but me. That seemed like the perfect opportunity for me to make a pot of chili. Plus, I saw a recent ad for our local grocery store about chili, so I thought it was meant to be.
I have fond memories of chili going back to being in grade school when Friday's lunch would be chili day complete with a warm tortilla for dipping and a cinnamon roll for desert. I had never made my own chili before and I was excited to try it out and recapture those fond memories.
What I love about this is how easily adaptable it is. The original recipe called for ground beef, but I used ground turkey. Or you don't have to add any meat at all; I'll bet tofu would work well in this too or use beans only. I decided to use three different types of beans instead of one, but you can easily swap out one type for your favorite or double up on one that you like more.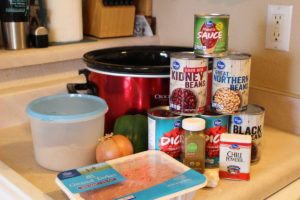 But the best part of this recipe I think is the slow cooker. Just put everything into it and it's ready to go for dinner. (I love easy!)
Super Easy Three Bean Chili

Enjoy this easy and warming chili before the weather gets too hot--or even after it gets hot, because the slow cooker won't heat up your kitchen!

Notes
Top 8+ free! Peanut free, tree nut free, egg free, dairy free, soy free, wheat/gluten free, fish free, shellfish free, seed free, and corn free.

Ingredients
2 (14 oz) cans of diced tomatoes
1 (8 oz) can of tomato sauce
1 (15 oz) can of black beans
1 (15 oz) can of kidney beans
1 (15 oz) can of great northern beans
1 lb of ground turkey
1 medium yellow onion
1 bell pepper
2 tbsp brown sugar
1 tbsp chili powder
1 tsp cumin
4 cloves of garlic, minced
Instructions
Put all of the ingredients into the slow cooker on low for 8 hours. Mix and enjoy! I told you it was super easy!
© 2023 © Eileen Rhoadarmer - Allergy Superheroes, unless otherwise noted
Linking up at the following Link Parties: Real Food Fridays, Healthy Living Link Party, Hearth and Soul, Inspire Me Monday, Tasty Tuesdays