Jump to recipe
Breakfast. I love it. I really love starting our morning off with a nice, big breakfast. Sunday's around here are known as Pancake Day. It's a nice treat to make something more fun and a little more time consuming for a lazy Sunday morning.
Once in a while I'll make waffles to mix it up a bit. One thing I have always wanted to try for my kids is French toast. There's just something about the thick bread coated in an egg mixture and covered in syrup and powdered sugar that sends my taste buds tingling.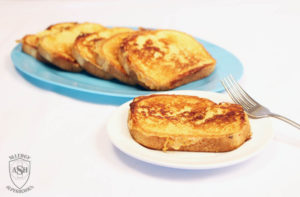 But the problem is, my oldest son is allergic to egg and you can't  just take any egg replacer and make French toast out of it. In fact, when I was first learning about egg substitutions and we started using Ener-G, I asked if we could use that in French toast. My wife laughed a little and said "no."
I've seen recipes trying to circumvent that such as using a banana mixture, but he's not that fond of bananas anymore and I wanted something that was going to be more like real French toast. Enter VeganEgg.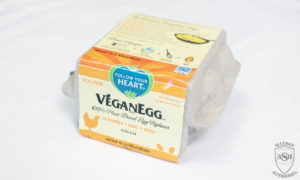 Check out my review of VeganEgg here. VeganEgg is more than an egg replacer, it actually resembles an egg, and not something you just substitute with for baking. I was excited when using it for the first time thinking it might work for French toast.
Whisking up the ingredients together, you can tell right away that it looks a lot like a regular French toast mixture made with eggs.
I was surprised at how much it looked and acted like the usual egg variety. Everything blended together nicely and I'm not sure that I would be able to tell the difference between the VeganEgg on the griddle vs. the egg type.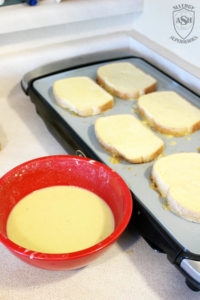 Even the finished product looked like French toast. So it looked like French toast, but how did it taste?
VeganEgg French Toast

Notes
Contains wheat and milk. Peanut free, tree nut free, egg free, soy free, fish free, shellfish free, seed free, corn free. You could certainly use a bread and milk substitute that is safe for you.

Ingredients
Use one loaf of thick bread or about 15 slices.
4 VeganEggs
½ cup milk
¼ teaspoon cinnamon
¼ teaspoon nutmeg
1 teaspoon vanilla extract
Instructions
Make the Vegan Egg according to package directions.
Whisk together all ingredients until combined.
Quickly dip each piece of bread (don't soak it) and place it on a hot griddle or pan.
Flip after lightly browned (although really, don't most people know how to make French toast?)
Enjoy the eggless French toast!
© 2023 © Eileen Rhoadarmer - Allergy Superheroes, unless otherwise noted
Everybody loved this! Even our two kids thought it was delicious and wanted more. It was a nice treat for them to enjoy a new dish and an old favorite of mine. We'll be making this again.
If you try VeganEgg French toast, let me know how it turned out! What's your favorite egg free French toast recipe?