Jump to recipe
Updated November 2021!
I fell in love with pumpkins several years ago. My obsession includes growing them, decorating with them, and of course, baking with them! I don't think I've purchased a can of pumpkin puree in over a decade, because I always make my own puree.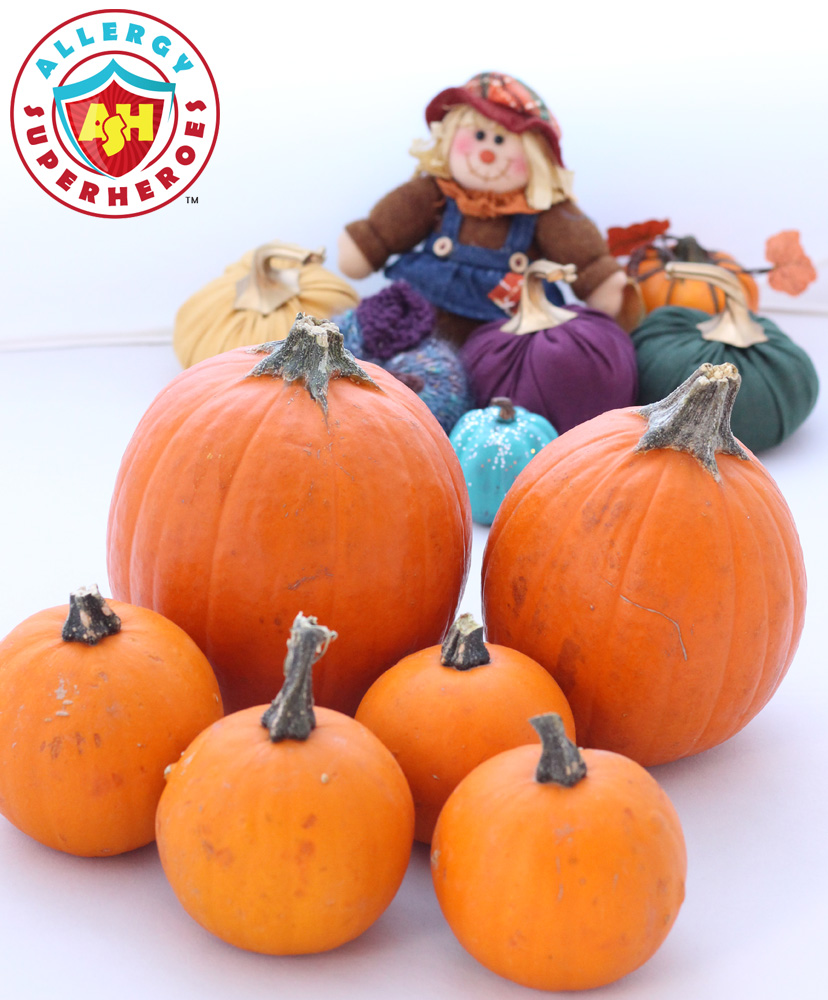 Usually I have to make puree with farmer's market pumpkins because, despite my enthusiasm, pumpkins just don't grow in my back yard. My female flowers wither and die before opening, so they never get pollinated, and the squirrels make off with the few that beat the odds. I finally figured out that they don't get enough sunlight in the back, and I planted them in the front yard this year. What a difference! I got 8 pie pumpkins, and two very large carving pumpkins! Then someone stole our carving pumpkins right from the planter! 😢😠 We received 4 more as gifts from people who felt bad for us, and we still had the 8 small pumpkins to paint, so we still had a happy Halloween.
Once Halloween was over, it was time to turn those pie pumpkins into puree!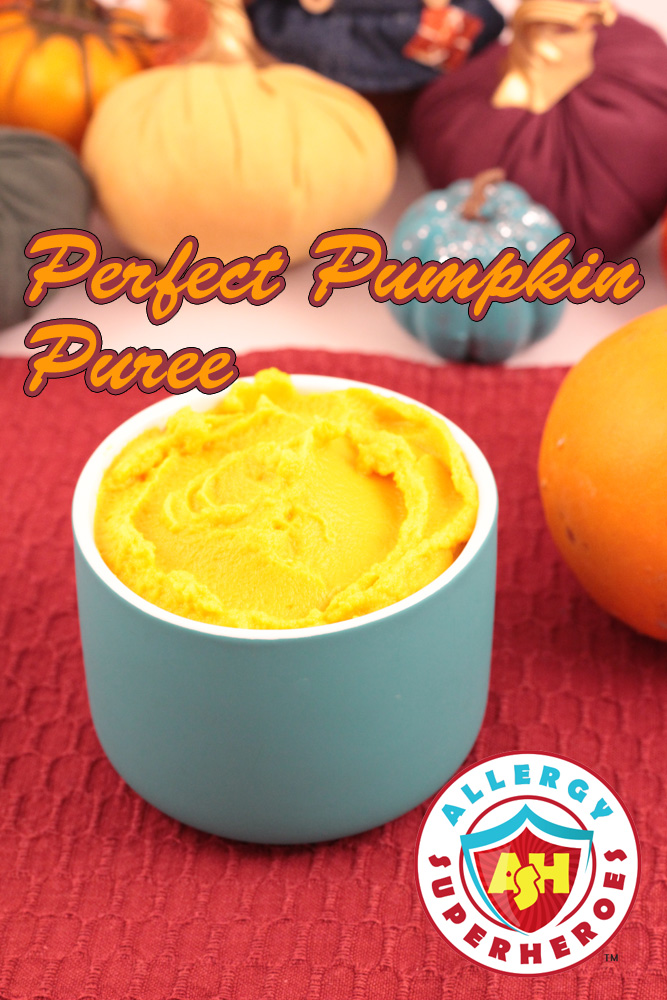 Let me tell you, I have used numerous techniques over the years, and this one is my favorite by far! Boiling makes the puree runnier and makes a massive mess on the stove, and dry baking creates a tough skin on the cut surface of the pumpkin, which gets discarded. But this gives me a perfect puree every time!
Making your own pumpkin puree is a bit time-consuming, but don't worry because most of it is passive time. Do it on a cool day, so the heat and humidity can warm your home!
Perfect Pumpkin Puree

Making your own pumpkin puree for autumn dishes is easy and makes the most delicious puree available!

Total Time
2 hours, 20 minutes
Notes
Contains no major allergens. Free of peanuts, tree nuts, eggs, dairy, wheat/gluten, soy, fish, shellfish, seeds, and corn.

Ingredients
1 or more pie pumpkins
olive oil or oil of choice
Instructions
Rinse and dry the pumpkin.
Cut the pumpkin in half. Remove and discard the stem and innards, saving the seeds for roasting, if you like.
Rub the cut surfaces with olive oil. Place them, cut side down, in a roasting pan.
Add water to the pan to a depth of about 1 inch.
Bake in the oven at 350 degrees until the flesh is tender when pierced with a fork. This takes between 90 minutes and 2 hours. Monitor your pan to make sure it doesn't boil dry.
Remove from oven. Once cool enough to handle, scoop out the pumpkin flesh.
Puree the pumpkin in a blender, food processor, or with a hand blender.
Pumpkin holds a lot of moisture. If you want a thick puree like you'd get from a can, line a sieve or fine mesh colander with a paper towel or coffee filter and set over a bowl. Let drain for about 2 hours, stirring occasionally.
Use in your favorite pumpkin recipe! Alternately, refrigerate or freeze in individual portions.
Nutrition Facts
Perfect Pumpkin Puree
Serves: varies
Amount Per Serving:

1/2 cup

Calories

42

% Daily Value*
Total Fat

0.4 g

0%
Saturated Fat

0.2 g

0%
Trans Fat

0

Cholesterol

0

0
Sodium

6 mg

0.3%
Total Carbohydrate

10 g

3.3%
Dietary Fiber

3.5 g

12%
Sugars

4 g

Protein

1.4 g
Vitamin A

19000 IU

Vitamin C

5.1 mg

Calcium

31.5 mg

Iron

1.7 mg
* Percent Daily Values are based on a 2,000 calorie diet. Your daily values may be higher or lower depending on your calorie needs.
© 2023 © Eileen Rhoadarmer – Allergy Superheroes, unless otherwise noted
I use my turkey roaster for this recipe and bake two or three pumpkins at a time, so I have to use about 6 cups of water. If you're using a smaller pan and only baking one pumpkin, you probably only need about 3-4 cups of water. Possibly less, just make sure you monitor that it isn't boiling dry.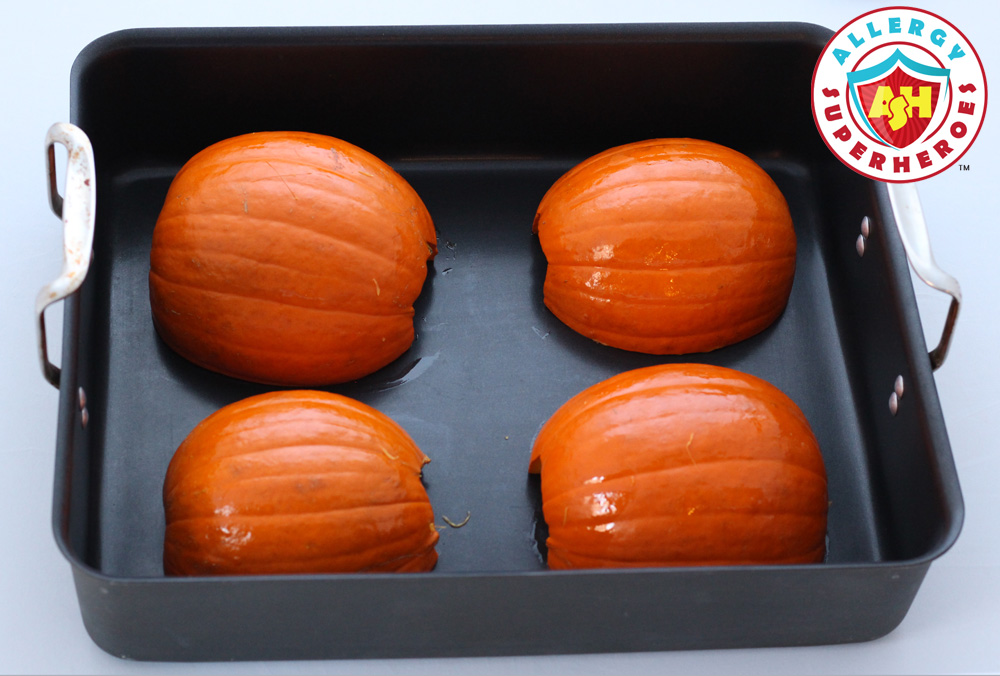 I prefer the uniformity of using a blender to make my pumpkin puree, so that's what I use most of the time. However before I got a good blender, I often just used a hand mixer. If you bake the pumpkin long enough, the skin just lifts right off and the flesh is so tender that you can get a good puree no matter what tool you use!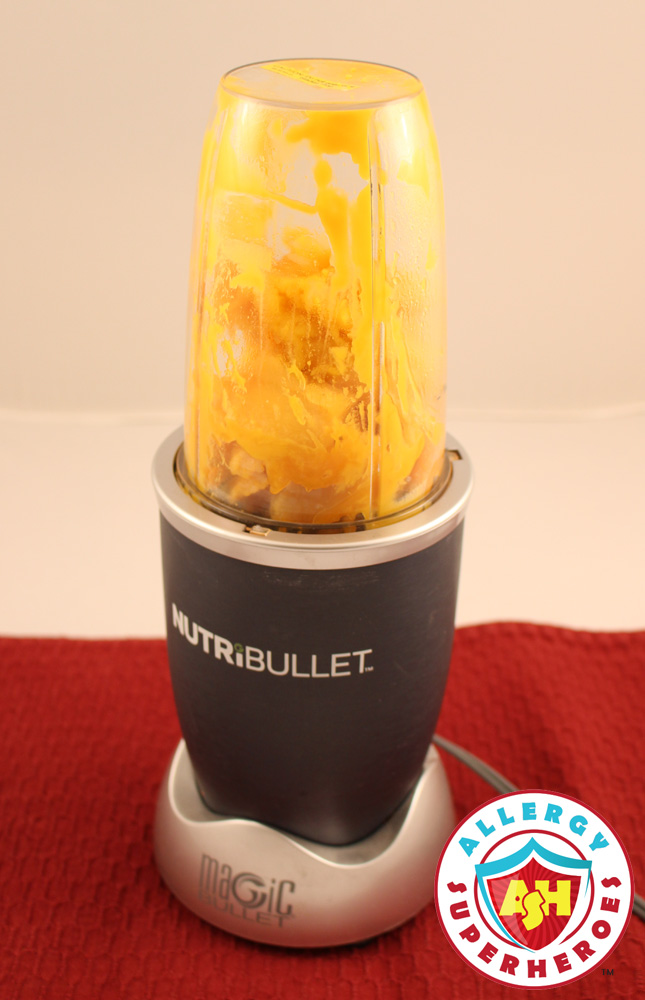 Pumpkin is 90% water. So the puree you get after blending will be runnier than you're used to. You can use it in recipes as-is, which is what I did for years. However if you want a thick puree like you'd get from a can, you need to drain the excess moisture. Line a sieve or fine mesh colander with a paper towel or coffee filter and set it over a bowl. Spoon the puree in and let it drain for about 2 hours. Stir every time you pass by.
You can simply discard the drained "pumpkin juice," or try to sweeten it for a Harry Potter treat. (I tried this last summer; it did not taste great. I think the proportions were all wrong. But I will try again!)
I freeze this puree in 2 cup increments, which is what most of my recipes call for. With all the baking pumpkins I got this year, I told all of my family not to purchase any. I would provide pumpkin for all of their Thanksgiving baking needs!
Now we're set for pumpkin pies, pumpkin chocolate chip cookies, pumpkin soup, pumpkin pasta, pumpkin muffins, pumpkin pancakes, etc, etc, etc! I love eating pumpkin at this time of year!
What pumpkin dishes do you like to eat during the holidays?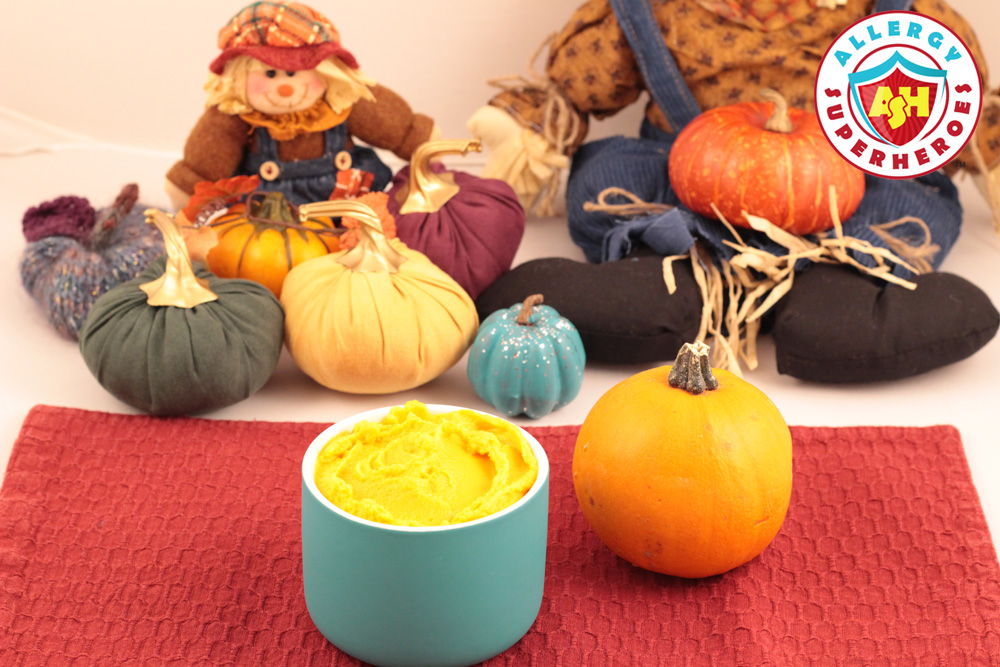 Linking up at Allergy Free Wednesdays, Gluten Free Fridays, and Corn-free Everyday