I fell in love with pumpkins several years ago. I have no idea why, but I've become obsessed with growing them, decorating with them, and of course, baking with them. I don't think I've purchased a can of pumpkin in over a decade, because I always make my own puree.
Usually I have to make puree with farmer's market pumpkins because, despite my enthusiasm, pumpkins just don't grow in my back yard. My female flowers wither and die before opening, so they never get pollinated, and the squirrels make off with the few that beat the odds. I finally figured out that they don't get enough sunlight in the back, and I planted them in the front yard this year. What a difference! I got 8 pie pumpkins, and two very large carving pumpkins! Then someone stole our carving pumpkins right from the planter! (*sniff, *growl!) We received 4 more as gifts from people who felt bad for us, and we still had the 8 small pumpkins to paint, so we still had a happy Halloween.
Once Halloween was over, it was time to turn those pie pumpkins into puree!
Let me tell you, I have used numerous techniques over the years, and this one is my favorite by far! Other methods are messier or more wasteful, but this gives me a perfect puree every time!
Perfect Pumpkin Puree
Rinse and dry the pumpkin.
Cut the pumpkin in half. Remove and discard the stem and innards, saving the seeds for roasting, if you like.

Rub the cut surfaces with oil (I use olive oil.) Place them, cut side down, in a roasting pan and add water to the pan. I use my turkey roaster and bake two or three pumpkins at a time, so I have to use about 6 cups of water. If you're using a smaller pan and for one pumpkin, you would probably only need about 3-4 cups of water. Possibly less, just make sure you monitor that it isn't boiling dry.
Bake in the oven at 350 degrees until the flesh is tender when pierced with a fork. This takes between 90 minutes and 2 hours. (Do it on a cool day, where the heat and humidity will warm your home.)

Once cool enough to handle, scoop out the pumpkin flesh.

Puree the pumpkin in a food processor, in a food mill, with a hand blender or by hand. (One of the things that I like about this method is that if I let the pumpkin bake for 2 hours, the skin just lifts right off and the pumpkin is so tender that I can get a good puree just by using my hand mixer. That dirties fewer dishes and is much easier to clean than a blender!)
Pumpkin can hold a lot of moisture. If you want a really thick puree you can line a sieve or fine mesh collander with a paper towel or coffee filter and set over a bowl. Let drain for about 2 hours and stir occasionally. (I've never actually done this, it's just a tip I heard somewhere.)
I freeze this puree in 2 cup increments, which is what most of my recipes call for. I got 12 cups of pumpkin just from the first three pumpkins I baked this year! With five more pumpkins to go, plus another 5 or 6 cups of puree left over from last year, I told all of my family not to purchase any pumpkin this year. I would provide the pumpkin for all of their Thanksgiving baking needs!
Linking up at Allergy Free Wednesdays, Gluten Free Fridays, and Corn-free Everyday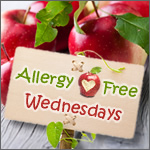 What pumpkin dishes do you like to eat during the holidays?