Jump to recipe
As you may recall, I've posted a recipe for homemade chai latte before. I'm not a coffee shop person–nor a coffee person, for that matter–but I do love a good chai latte. Making my own has made this drink more affordable–and more fun!
Now that it's pumpkin season, I decided to try mixing up my recipe and making it pumpkin flavored. It took me a few tries to get the proportions right, but the result was delicious!
Pumpkin Chai Latte

This delicious pumpkin tea will keep you in the autumn mood!

Serving Size
1/4 cup (concentrate)
Notes
Top 8 plus corn and seed free! Free from peanut, tree nut, egg, dairy, soy, wheat/gluten, fish, shellfish, corn, and seeds.

Ingredients
2 tsp ground ginger
2 tsp cinnamon
2 tsp ground fennel seeds (I can't find them ground, so I do it myself)
1 tsp ground cardamom
1 tsp ground coriander
1 tsp ground nutmeg
1/2 tsp ground black pepper
1/2 tsp ground cloves
1 cup pumpkin puree
1/8 cup loose black tea (I use Earl Grey, like Captain Picard 🙂 )
2 cups water
3/8 cup (3 fl oz) agave
1 Tbsp molasses
4 tsp vanilla extract
1/2 Tbsp lemon juice
Whipped topping, optional
Instructions
Heat your spices in a saucepan over medium-low heat, stirring constantly, for 1 minute.
Add the pumpkin puree and stir constantly for another minute. It will form a thick paste. This helps remove any squashy flavor from the pumpkin and makes your spices more fragrant.
Add the water and the tea. Whisk until the paste incorporates evenly throughout the water. Then heat to a boil.

As soon as

the water boils, remove it from the heat and give the mixture a stir. Then cover and allow the tea to steep for 10 minutes.
Strain out the tea and spices by pouring the mixture from one pot to another through a large strainer. You will need to gently stir the contents of the strainer for several minutes to help the pumpkin and thick syrup pass through. All that should remain when your're done is a sludge of tea leaves and oversized spices.
Stir in agave, molasses, vanilla, and lemon juice.
Refrigerate for a few minutes to lower the temperature, and then pour into an immersion blender and puree to make sure that the pumpkin and remaining spices are fully dispersed.
Keep refrigerated.
To serve
Shake/stir your concentrate. Combine 1/4 cup of pumpkin chai tea concentrate with 3/4 cup milk or non-dairy substitute of your choice.
Heat gently or serve over ice.
Top with whipped topping, if desired.
© 2023 © Eileen Rhoadarmer - Allergy Superheroes, unless otherwise noted
It's a little weird to cook spices, but just stir them around constantly to keep any one spot from touching the heat for too long.
You want to cook your pumpkin a little bit, and it's best to do that with the spices. They'll quickly turn to a sticky paste though, so have your water ready to go!
After steeping, this mixture often has a lot of goop. Something happens with the tea and spices to make them a bit gelatinous. You want to strain the liquid through a strainer and let it sit for a bit. It also helps to stir it around with a spoon and even help push the liquid through. I keep stirring until all that's left in the strainer is a sticky mass of tea leaves and larger spices, with maybe a pumpkin string or two.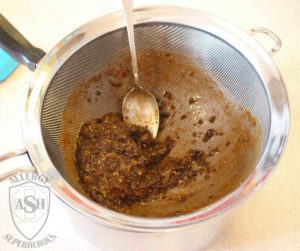 You can just stir the concentrate in with your milk of choice, but I've found you get a better result if you blend them together until frothy. It's more like it would be from a coffee shop that way, and you know everything is getting evenly distributed. Make sure you shake/stir your concentrate before measuring!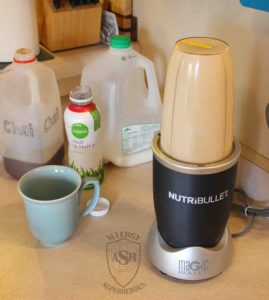 Delicious! What's your favorite pumpkin-flavored food or beverage at this time of year?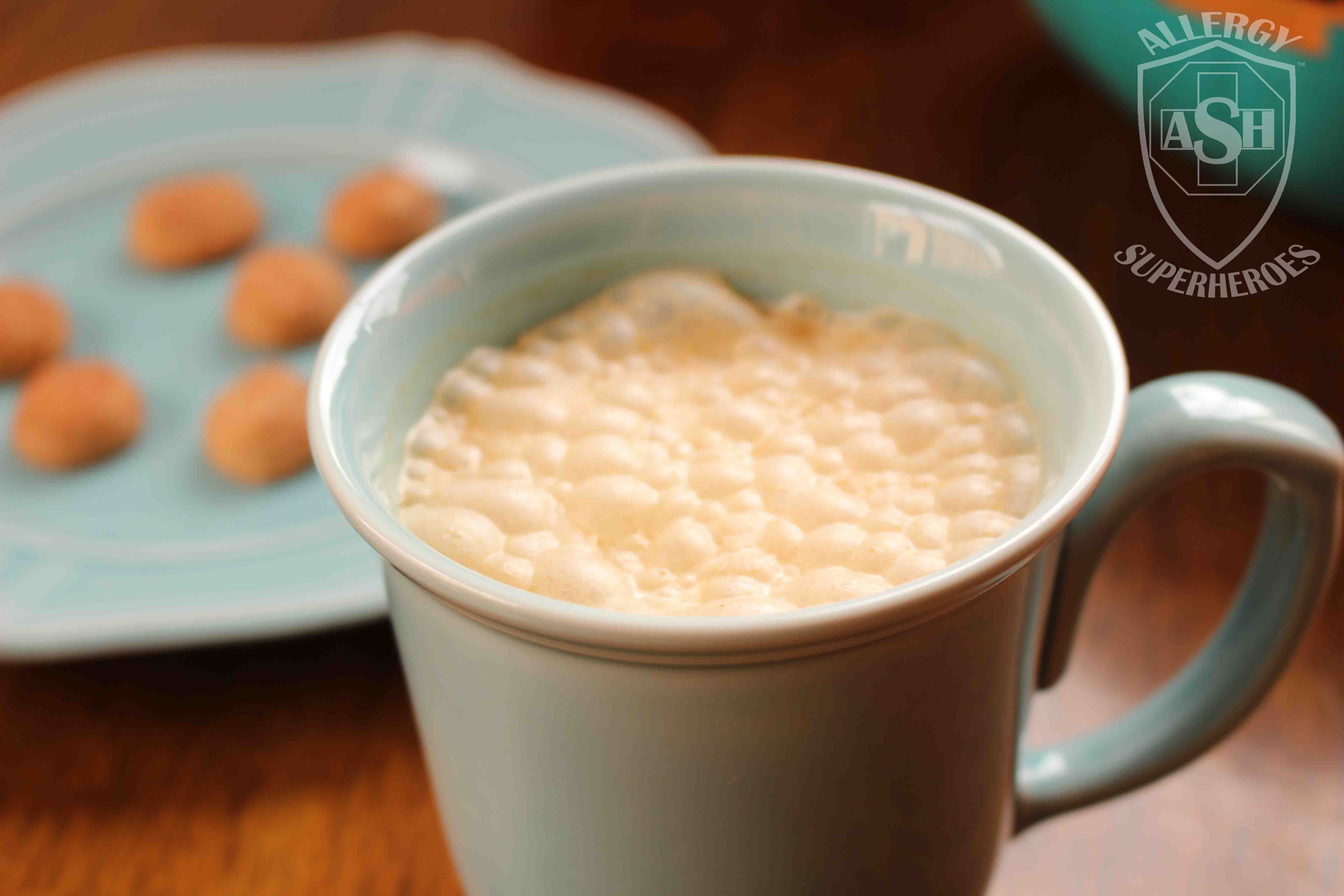 Linking up at Allergy Free Thursdays and Gluten Free Fridays