Jump to recipe
Do you need an easy and attractive treat to serve for Easter or a related party? These Nest Krispie Treats will hit the spot!
Nest Krispie Treats

Serve these special nests at Easter or your next Spring Party! They're sure to impress!

Notes
Contains gluten (but not wheat) and corn. Free from peanuts, tree nuts, egg, dairy, soy, wheat, fish, shellfish, and seeds.

Ingredients
For the Nests
6 cups Rice Krispies or generic cereal
4 Tbsp Soy-free Earth Balance (or a butter that fits your needs)
4-5 cups mini marshmallows
Grass
Green food coloring
Frosting of your choice -AND/OR-
2 cups flaked coconut
To Fill the Nests
Egg-shaped chocolates or Jelly Beans
Instructions
Melt Earth Balance or butter in a large pot on the stove.
Add marchmallows and stir constantly, until fully melted.
Immediately add cereal and stir until evenly distributed. Remove from heat.
Grease your hands with additional butter or oil. Keep more handy to keep re-greasing.
Working quickly, take out a handful of the treats and carefully sculpt into a nest shape. Use your thumbs to push a depression in the middle and cup the bottom to help it hold its shape.
Place on waxed paper and repeat until all treats are made.
Add Grass to your Nest
Tint frosting green and spoon into a piping bag with a narrow, circular tip.
Pipe blades of grass onto each nest.
If you prefer coconut grass
Add the coconut flakes to a small plastic bag or jar.
In a cup, mix together 1-2 teaspoons water and a few drops of green food coloring.
Pour the tinted water over the coconut, and seal the bag/jar.
Shake the container until all of the coconut is evenly colored.
Sprinkle green coconut artfully over the green frosting, or directly onto the Krispie nests.
Lay Some Eggs
Place three egg-shaped candies or jelly beans into the center of each nest.
© 2023 © Eileen Rhoadarmer - Allergy Superheroes, unless otherwise noted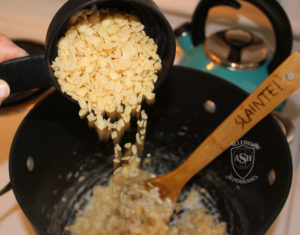 The hardest part of this recipe is shaping the nests. Rice Krispie Treats are notoriously stickly, so you're going to need to grease up your hands between each nest (or two at the most.) This will, admittedly, add a bit more fat to the finished product, but I can't think of any other way around the sticky treats falling apart in your hands.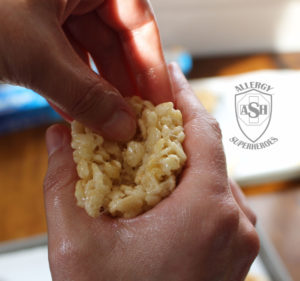 You'll also want to make sure you shape the nests very quickly once the treats are ready. If they firm up too much, you won't be able to sculpt them.
I made the grass for these in two ways. First, I made my favorite Cream Cheese Frosting (contains dairy and corn) and tinted it green, but you can use your favorite safe-for-you frosting. Then I used a piping bag to pipe little blades of green frosting.
This worked well for me and Zax, but for hubby and Kal, I also tinted coconut green and sprinkled that on top of dollops of green frosting. They're the only ones who like coconut and they seldom get it, so I decided to treat them this time.
To color coconut for grass, add 2 cups of coconut flakes to a plastic bag or jar. Mix together a few drops of food coloring and 1-2 teaspoons of water until the color is even. Pour the colored water into the coconut and then close the bag or jar. Shake and/or squish until all the coconut is evenly colored.
You can fill these with any egg-shaped candies that you like! We favor Cadbury Mini Eggs, but Jelly Beans or egg-shaped candy from your favorite allergy-friendly company would work like a charm!
Serve these special nests at Easter or your next Spring Party! They're sure to impress!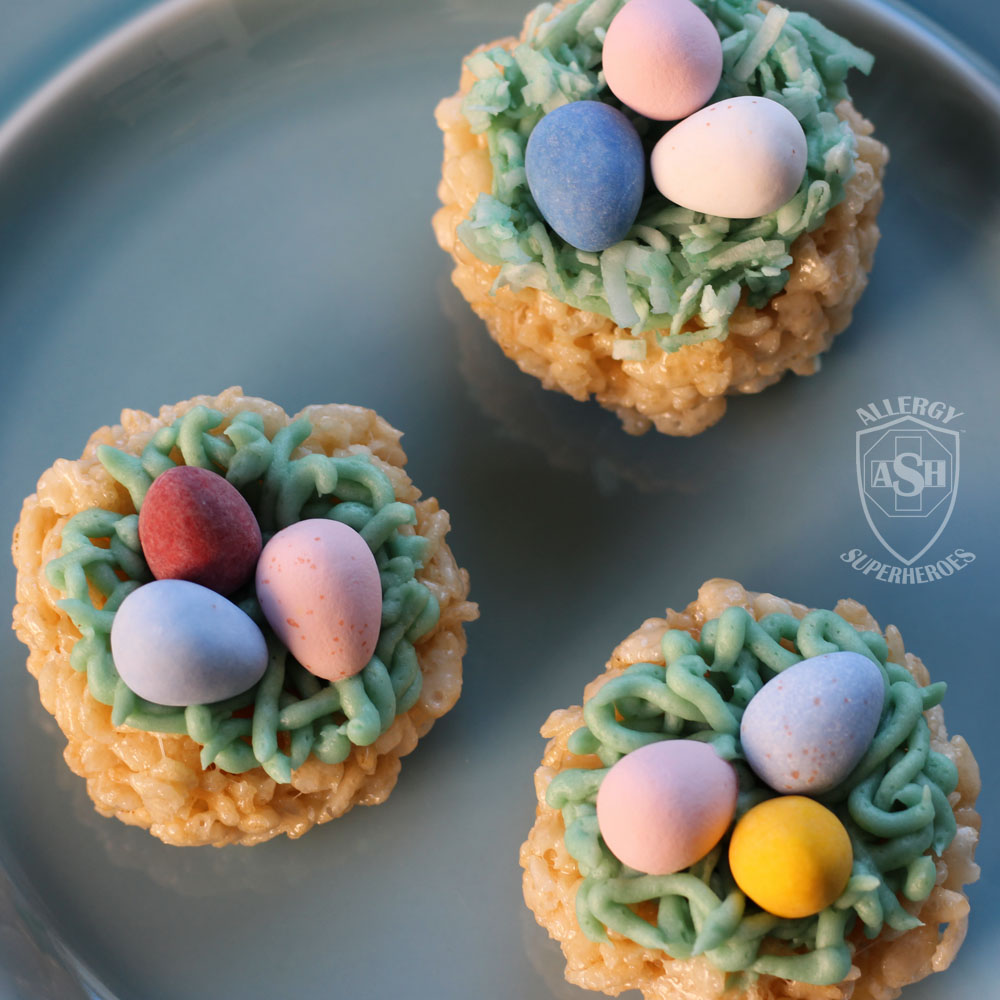 Linking up at the following Link Parties: Allergy Free Thursdays, Hearth and Soul, Inspire Me Monday, Tasty Tuesdays