Jump to recipe
If you deal with a nut allergy (peanut, tree nut, or both), you know that it's nearly impossible to purchase trail mix from anywhere. In fact, except for Enjoy Life, I gave up trying long ago.
Trail mix plays an important role in outdoor activities though. It provides a boost of protein, sugar, and carbs when you're out in the sun getting healthy, fun exercise. Plus it's lightweight, portable, and is an easy finger food that you can snack on whenever you feel peckish along the trail.
A few years ago I devised a nut-free version based on the snack foods we keep around the house. Usually I just mix it up in snack baggies before we go anywhere, but this summer I'm all about planning ahead. Our waterbottles are perpetually in the fridge, filled and just waiting to be topped with ice before we head out the door. A can of sunscreen and extra baseball hats are in our sport bag so we can just grab it quickly before heading off to practice or a game. The Epis from school are in a small backpack, along with sunglasses and a school spacer and inhaler, so we can easily grab it for a bike ride or when hubby goes off with the kids without me (our regular set of Epis live in my purse.)
So it was a natural extension of this for me to mix up a big canister of trail mix this summer, so we can just pour it into bags and be out the door that much faster!
Nut-Free Trail Mix

This trail mix is easy to whip up at home, is nut-free and as allergy-friendly as you need it to be, and is infinitely customizable--just swap out your favorite crackers, seeds, and dried fruits for a combination that is uniquely you!

Notes
Free from peanuts, tree nuts, eggs, fish, and shellfish. Optionally contains seeds. As I made it, this contains wheat, soy, and dairy--but you can easily make it safe for those allergens by using crackers, pretzels, and candies that are safe for YOU!

Ingredients
1 cup pretzels
1 cup bite-size graham-style crackers
1 cup goldfish crackers
1 cup raisins
1 cup Craisins
1 cup chocolate chips or chocolate candies
sunflower or other seeds
Instructions
Pour all ingredients (except sunflower seeds) into a large container.
Close container and gently shake/roll until thoroughly mixed (this may take a while.)
Scoop into individual bags or containers.
Add seeds directly to individual servings, if desired.
Enjoy!
© 2023 © Eileen Rhoadarmer - Allergy Superheroes, unless otherwise noted
This recipe is a cinch to mix up! Just dump all of your ingredients into a container and shake/roll (gently!) until thoroughly mixed!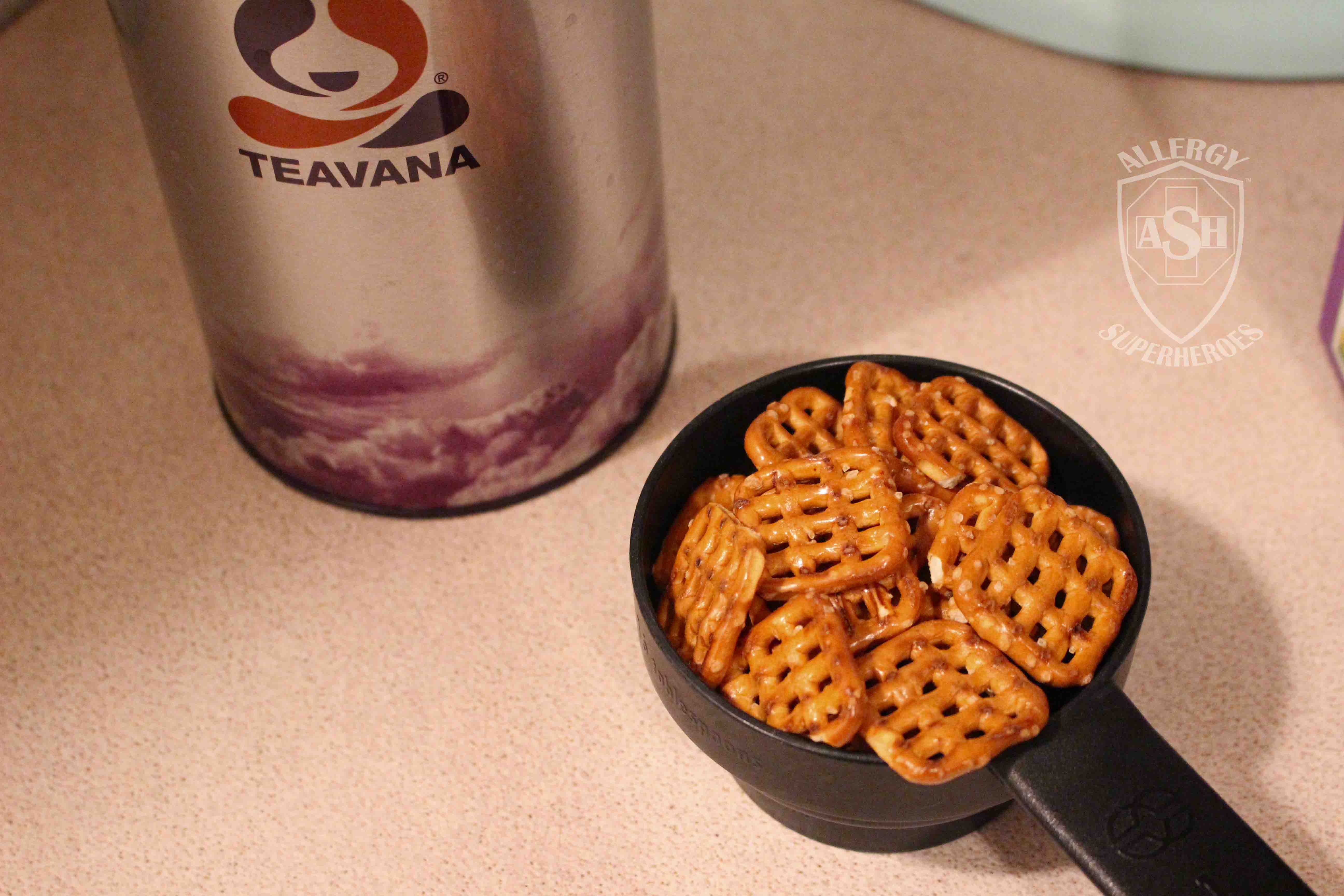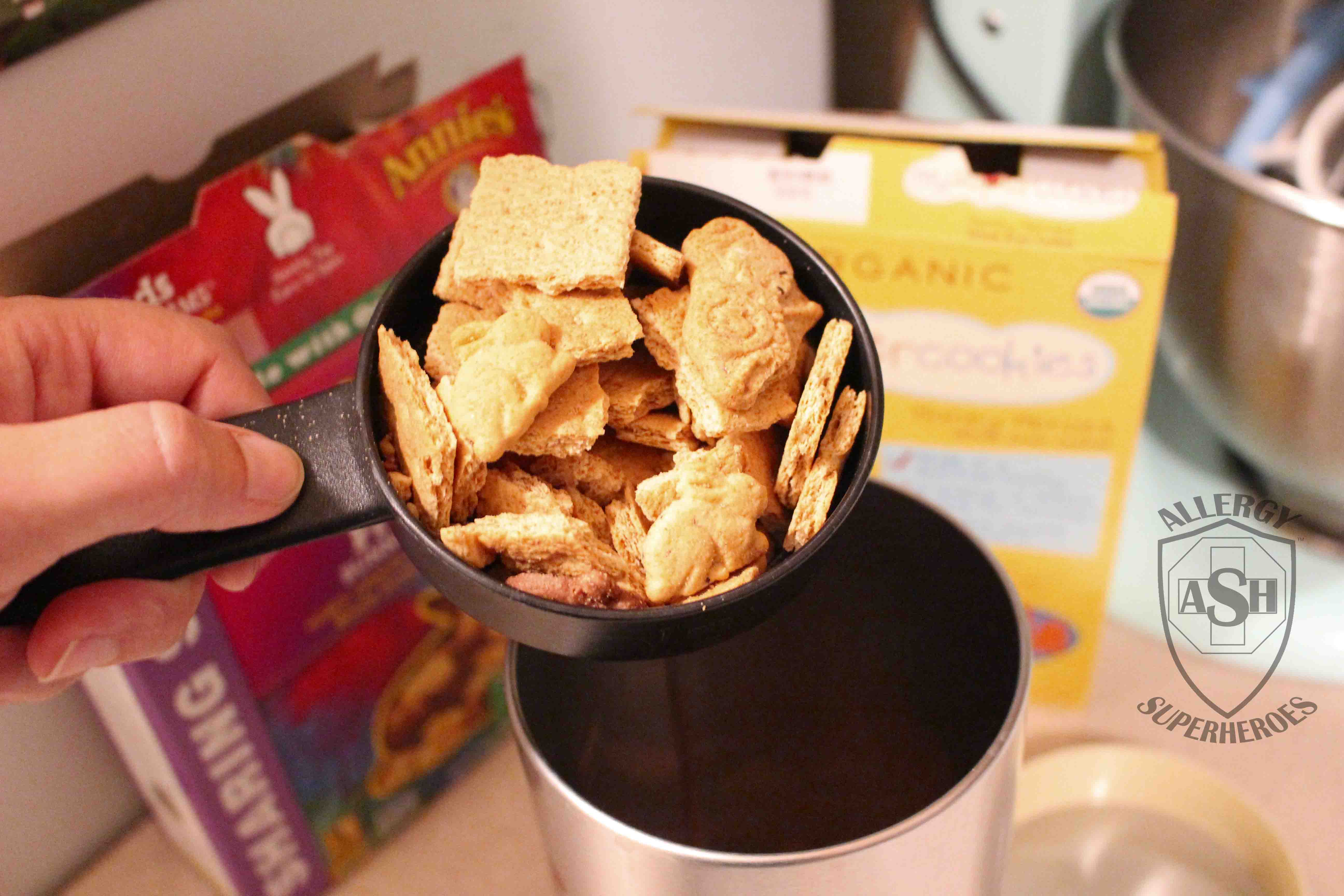 Usually I use Annie's Bunnies for this, although I've discovered My Super Cookies and they're great too! I also happened to be perilously low on both this time, so I just broke regular graham crackers into small pieces to make up the bulk.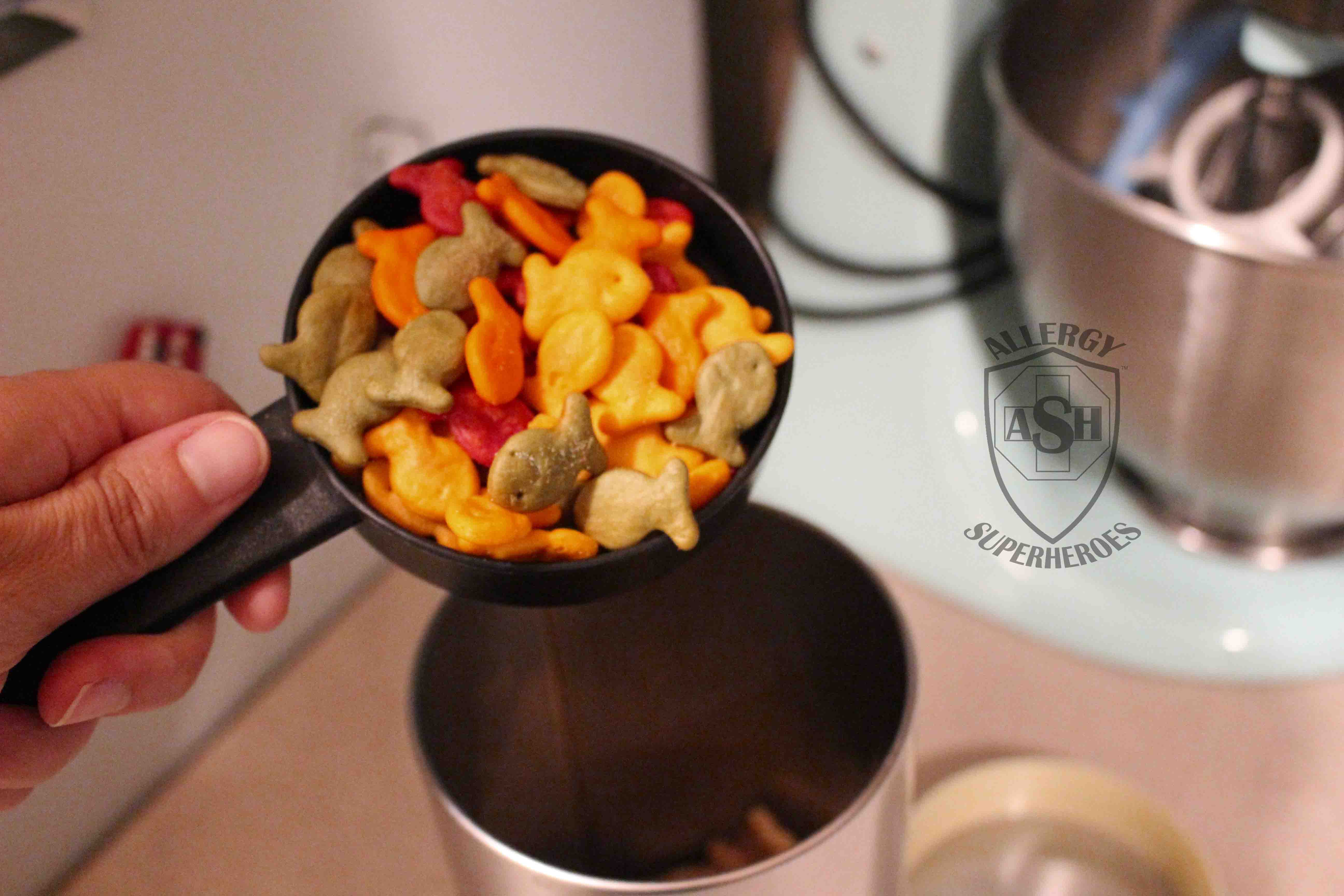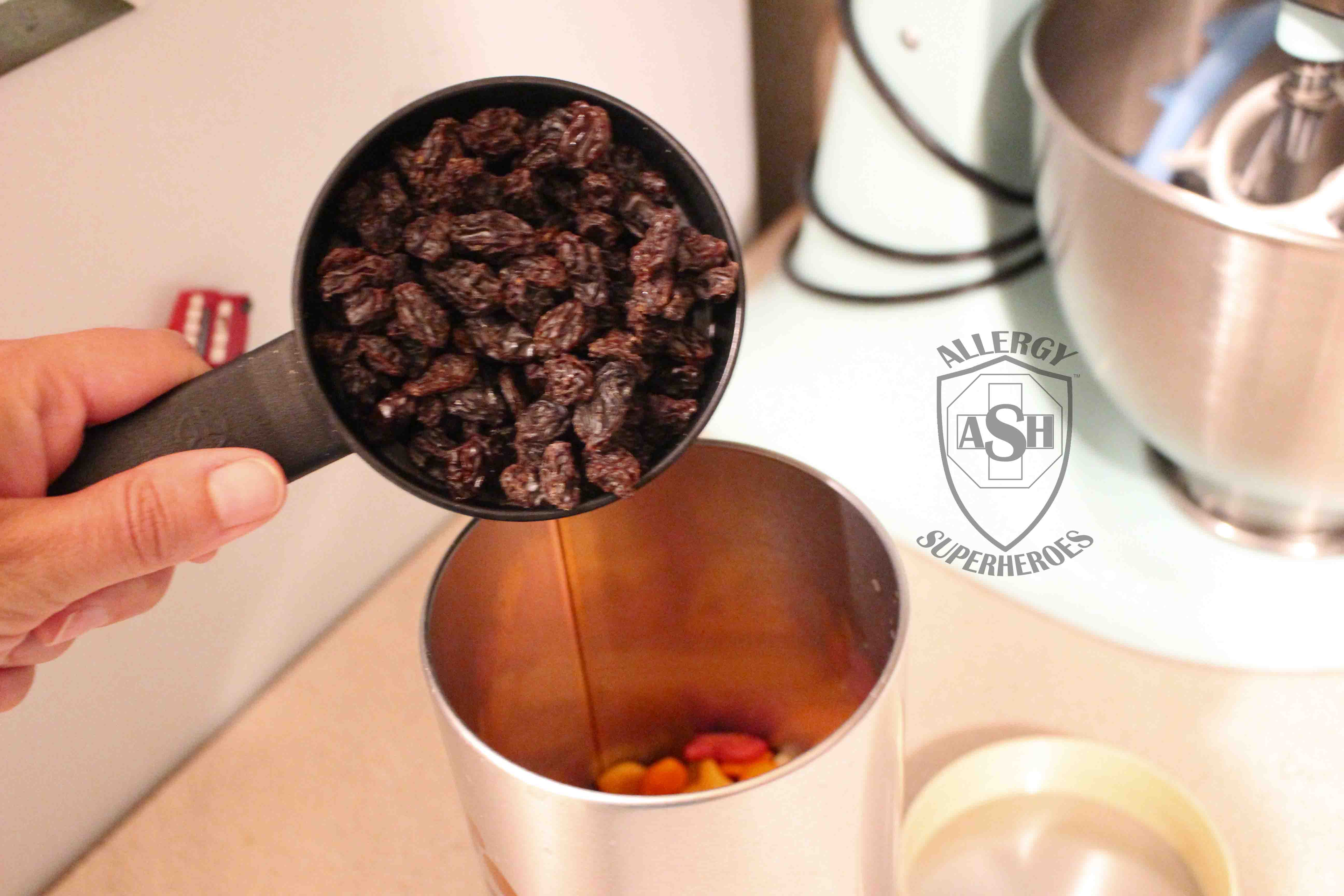 You could use the same trick of breaking larger crackers into smaller ones to replace the goldfish crackers if you have other varieties you prefer–or if you need to eliminate dairy.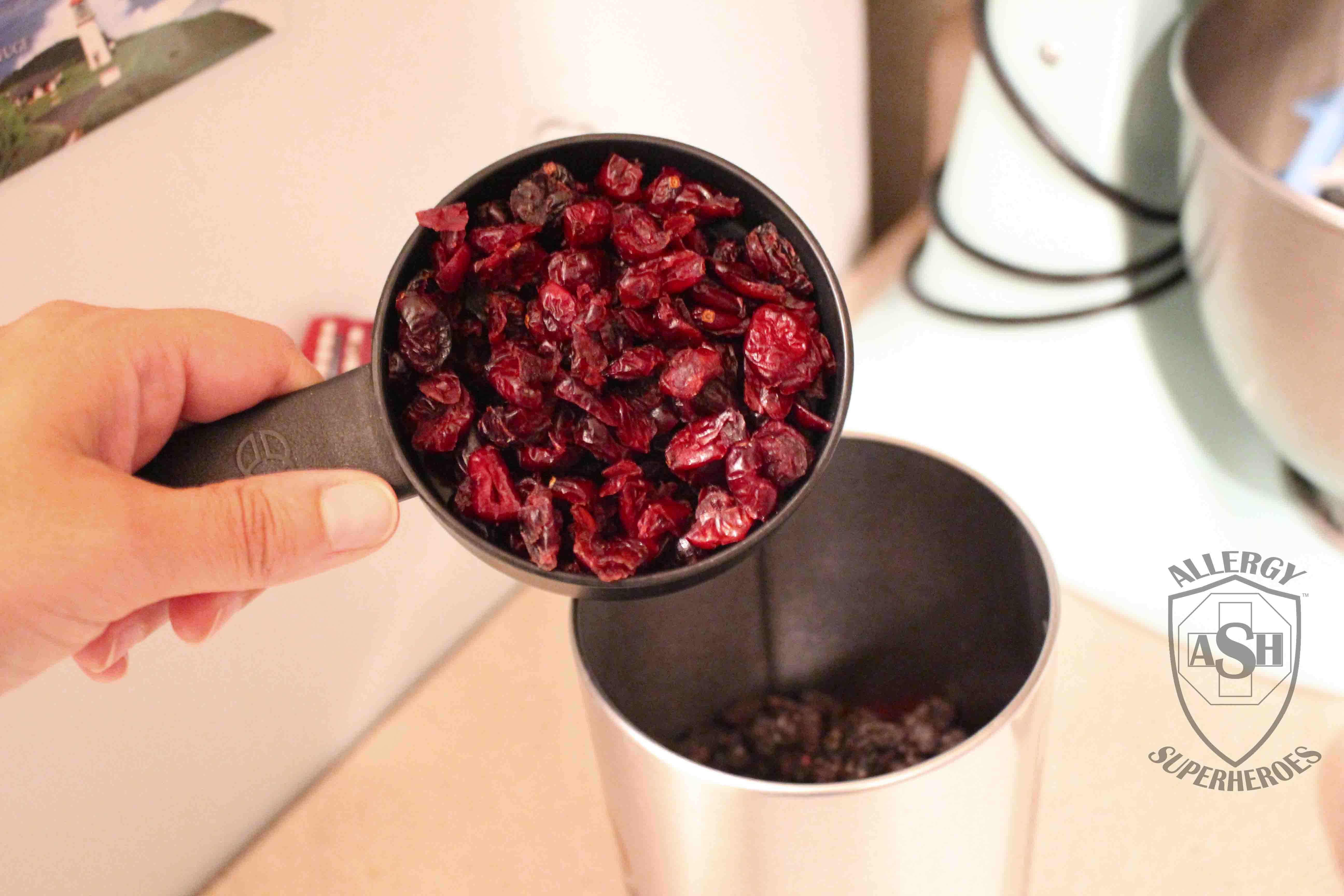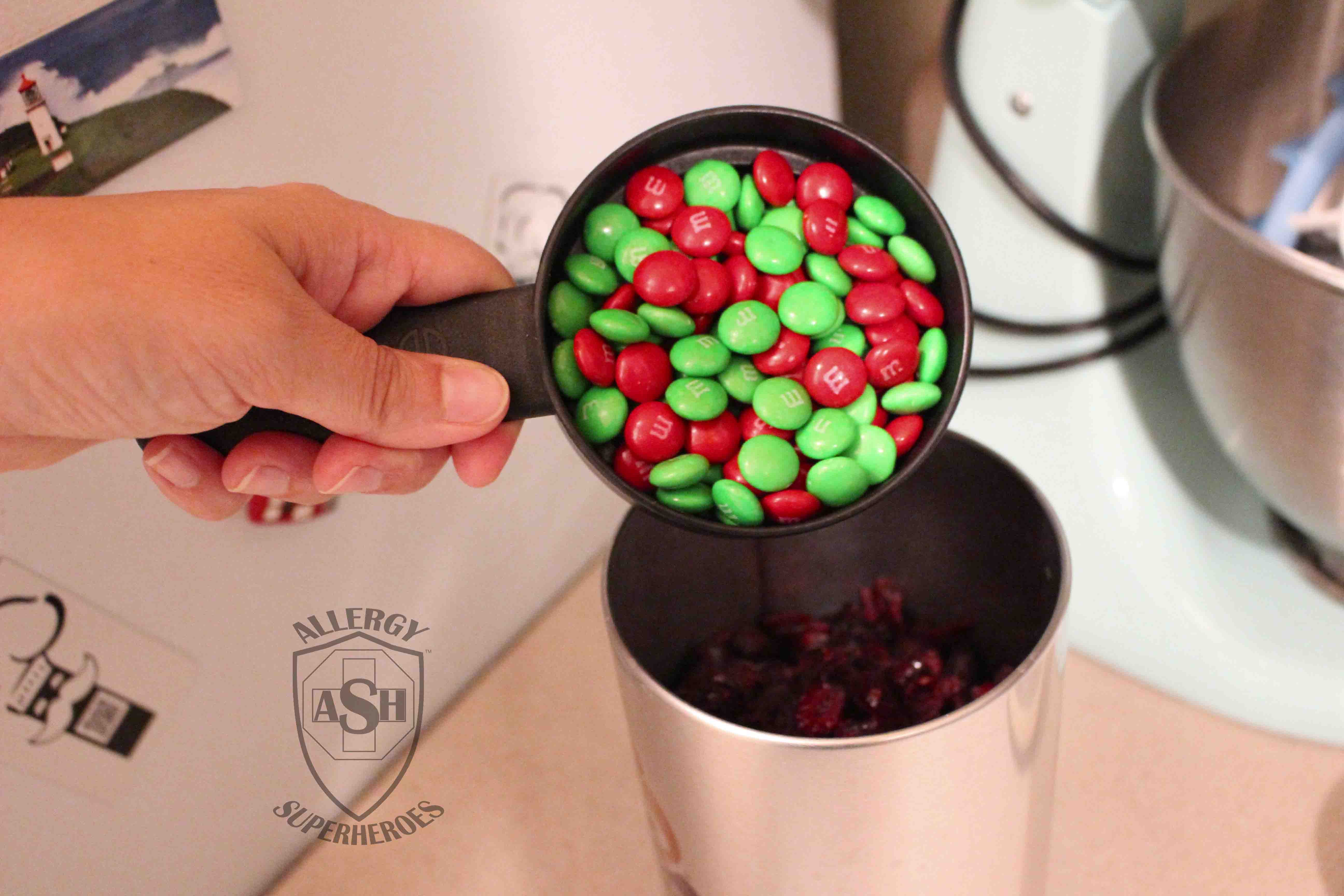 Yes, we eat plain m&ms. We had been doing so for some time prior to diagnosis without incident, and so we have continued to do so, still without incident. That's us though. If peanut cross contact from plain m&ms concerns you, use something else! Hersheyettes are great, and plain old chocolate chips can work too, although something with a candy coating is nice if you'll be out in the heat–chocolate chips will melt.
After scooping into individual baggies, I add a small amount of sunflower seeds to Kal's and a large amount of them to mine. Even if everybody liked them, I would still add them separately because they are the smallest item and always wind up at the bottom.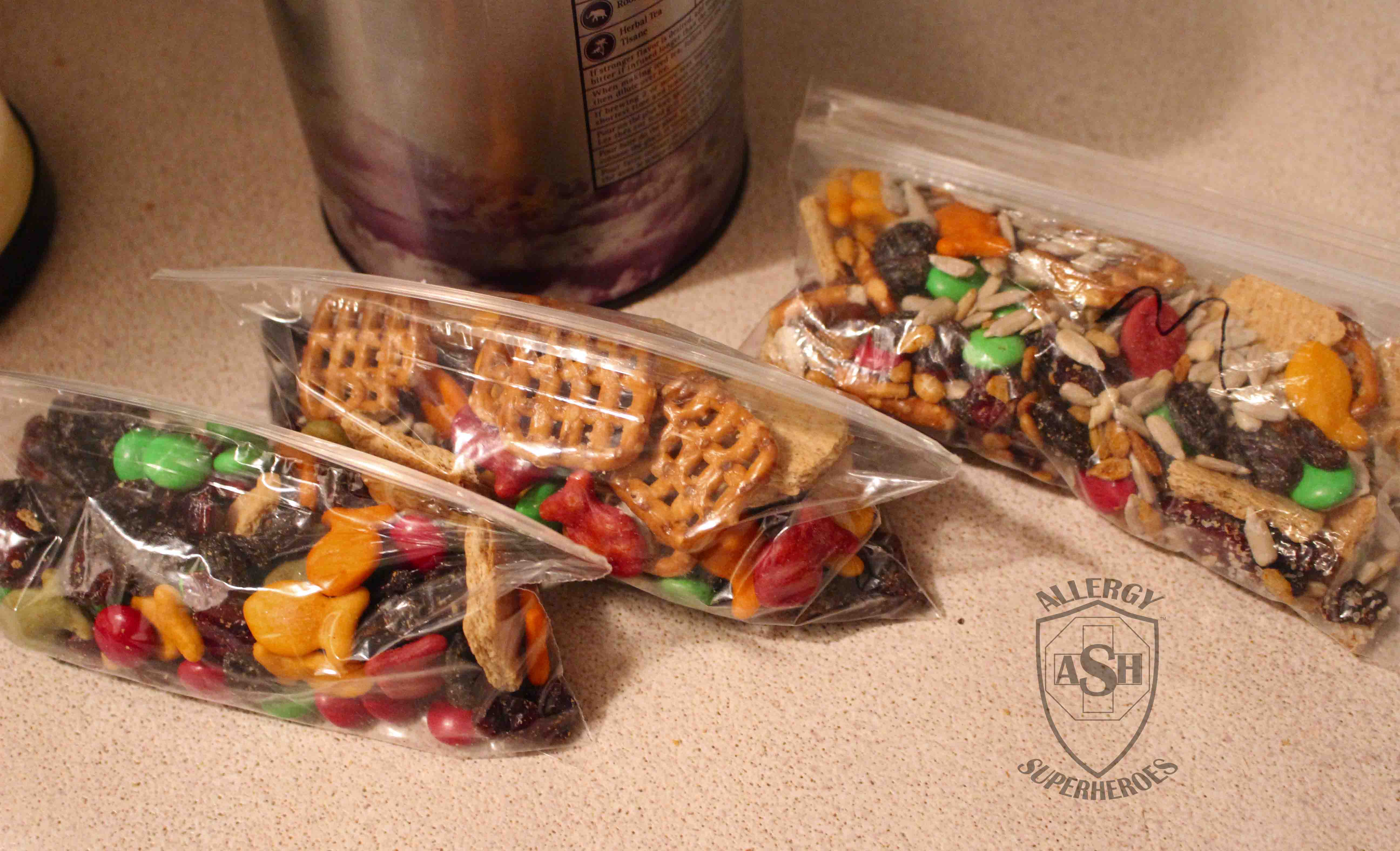 Take this treat on your next hike or bike ride, you won't regret it!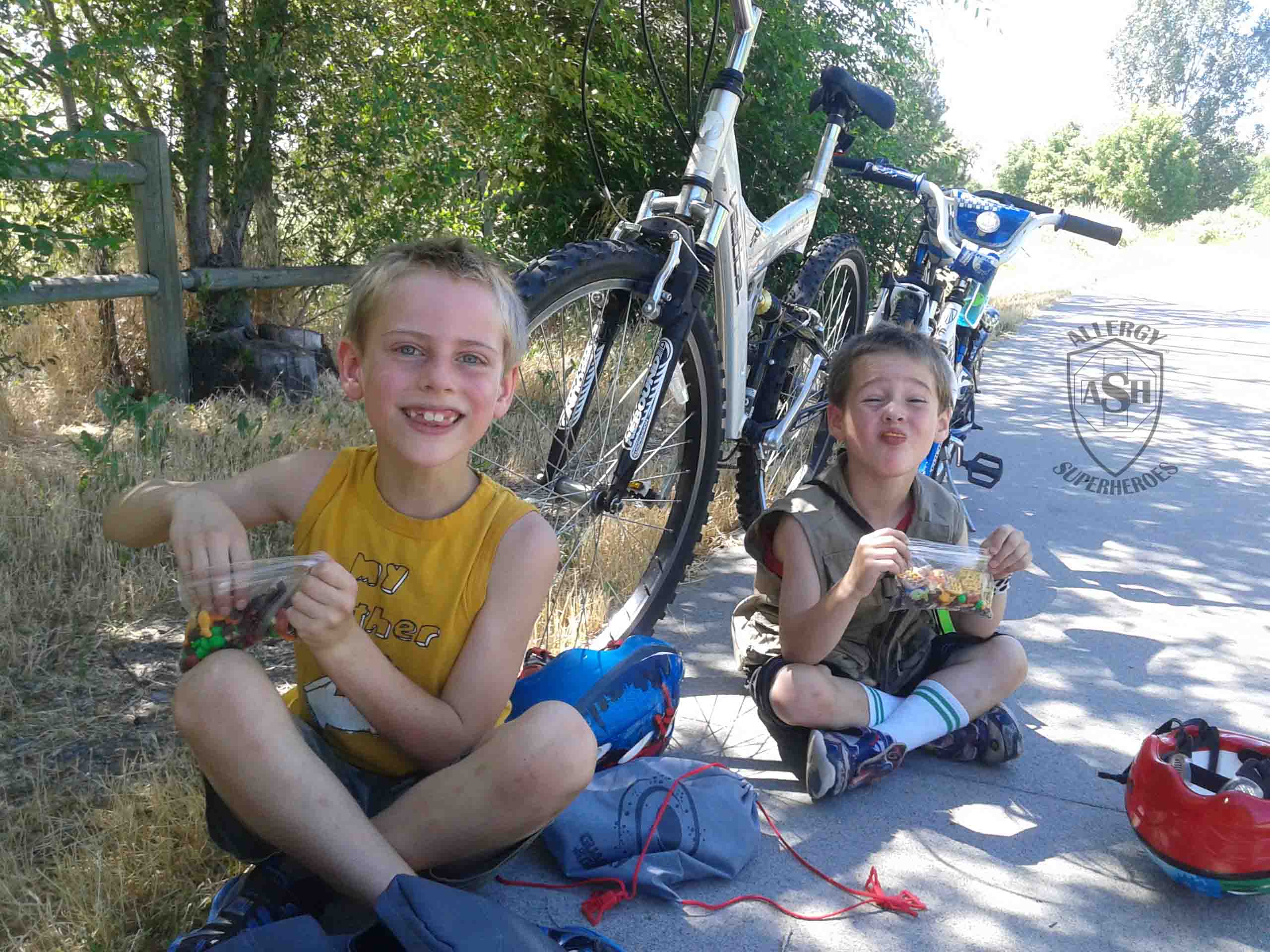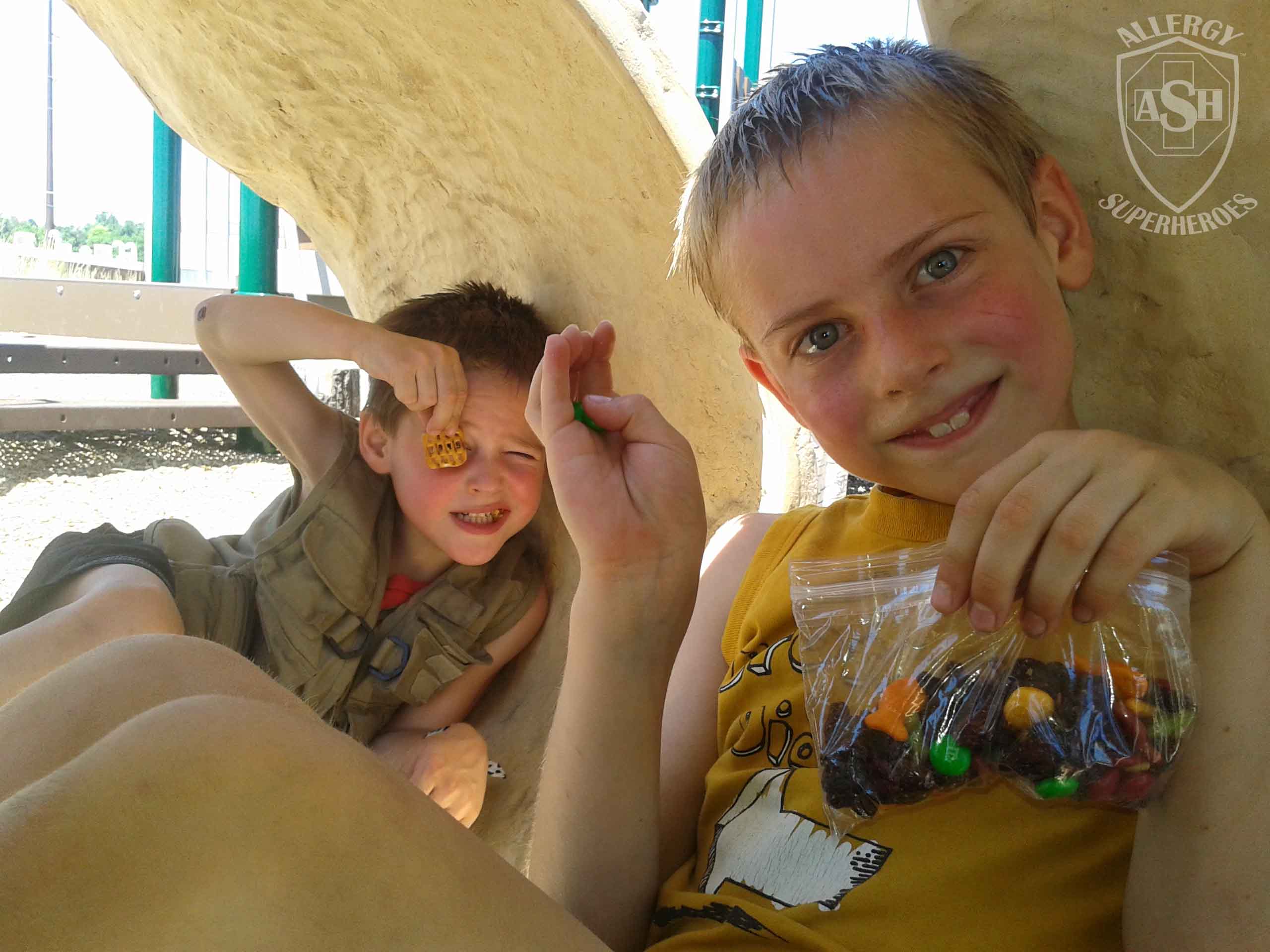 Linking up at Allergy Free Thursdays and Gluten Free Fridays