Jump to recipe
Mexican restaurants can be intimidating when there's a language barrier, but these Allergy-Friendly Fajitas take the food allergy fear out of Mexican food! Dine tonight on something healthy and delicious!
I used to make a fajita recipe that used Lipton Dry Onion Soup Mix, but then one day I went to make them and discovered I was out. Not to worry though, because mixing up your own fajita seasonings is easy to do, with spices you probably already have on hand. Plus, there are no extra fillers, preservatives, or chemicals in the totally-from-scratch version!
Allergy Friendly Fajitas

These allergy-friendly fajitas take the food allergy fear out of Mexican food! Dine tonight on something healthy and delicious!

Notes
Contains corn. Free from peanut, tree nut, egg, dairy, soy, wheat/gluten, fish, shellfish, and seeds.

Ingredients
3/4 pounds chicken breasts
1 onion, sliced
1 1/2 sliced bell peppers, in colors of your choice
2 garlic cloves, pressed
2 Tbsp olive oil, divided
1/2 cup chicken broth (I used 1/2 cup water and 1/2 tsp Organic Chicken Better Than Bullion
1/2 cup salsa
3/4 tsp cornstarch
1/2 tsp chili powder
1/4 tsp salt
1/4 tsp paprika
1/4 tsp sugar
1/8 tsp onion powder
a pinch of garlic powder
a pinch of cayenne pepper
a pinch of cumin
Instructions
Cut your chicken into thin strips.
Heat 1 Tbsp olive oil in a large wok or skillet over medium-high heat. Add the chicken and stir-fry for 3-4 minutes, until chicken is no longer pink. Remove chicken from wok and set aside.
Heat remaining oil in wok and add the onion, bell peppers, and garlic. Stir-fry 1-2 minutes. Return the chicken to the wok.
Mix the cornstarch and all the spices together in a small cup. Sprinkle them over the stir-fry mixture. Add the chicken broth and salsa, and mix until thoroughly combined.
Cook and stir for 2-3 more minutes, until sauce begins to thicken.
Serve on warm safe-for-you tortillas and top with your favorite toppings!
© 2023 © Eileen Rhoadarmer - Allergy Superheroes, unless otherwise noted
The veggies for fajitas are so pretty!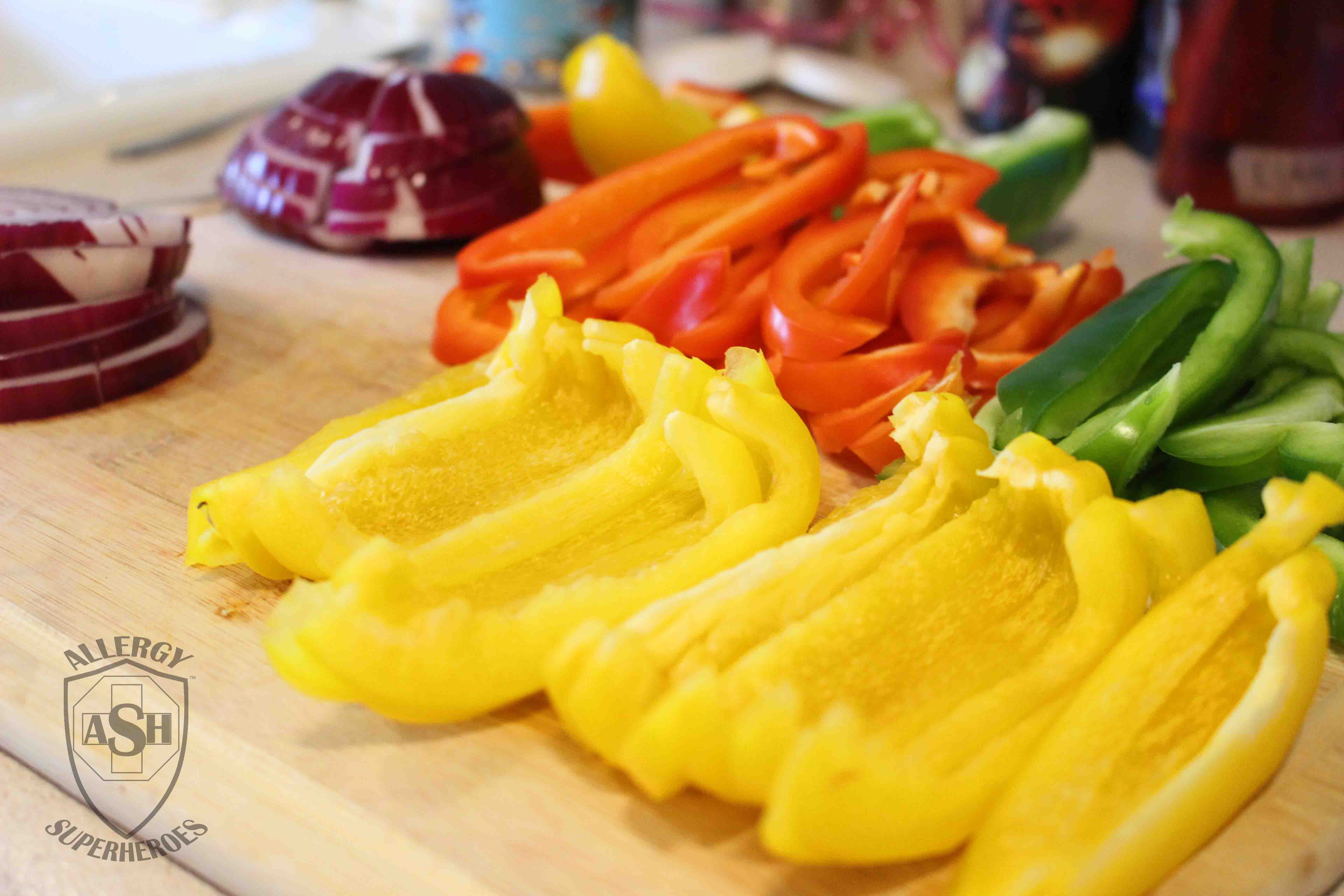 You'll want to mix up your seasonings to ensure even distribution. (If you have a corn allergy but are okay with wheat/gluten, use flour instead of cornstarch. If you can't have either, try another starch or your favorite thickener.)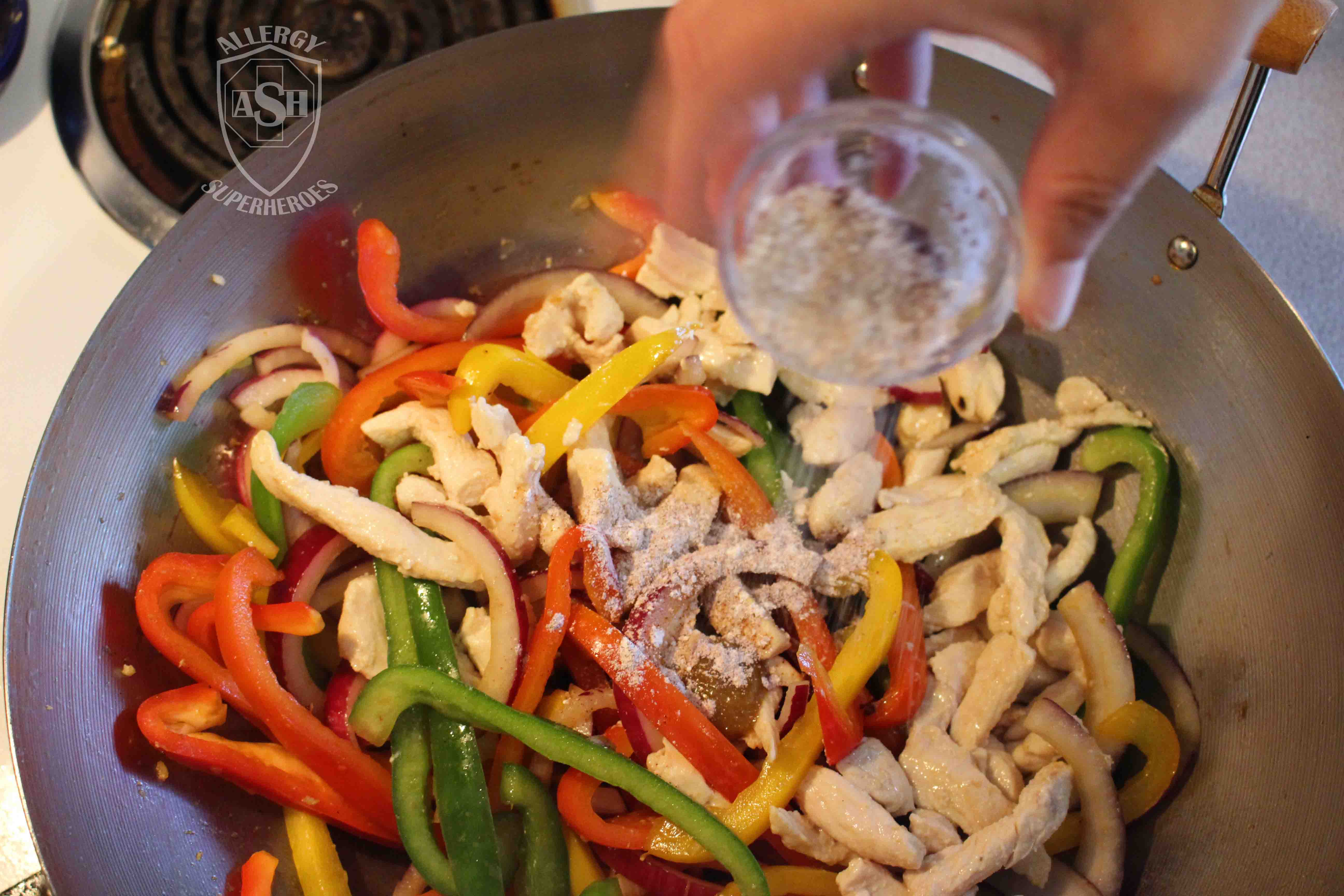 It doesn't take long to make this meal once everything is prepped!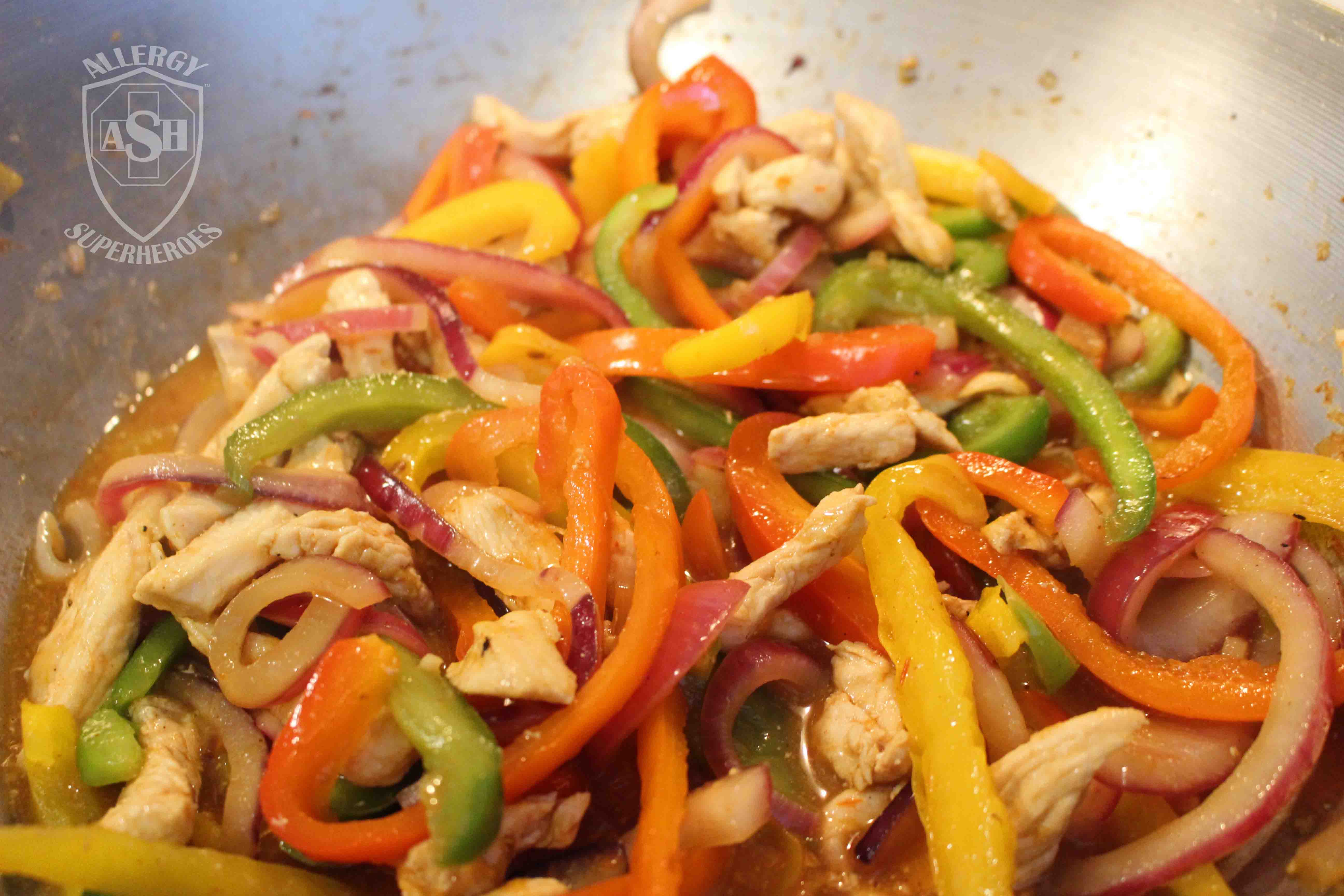 You can substitute other meats for the chicken, or even make these vegetarian, depending on your tastes. Just tweak the meat and broth ingredients.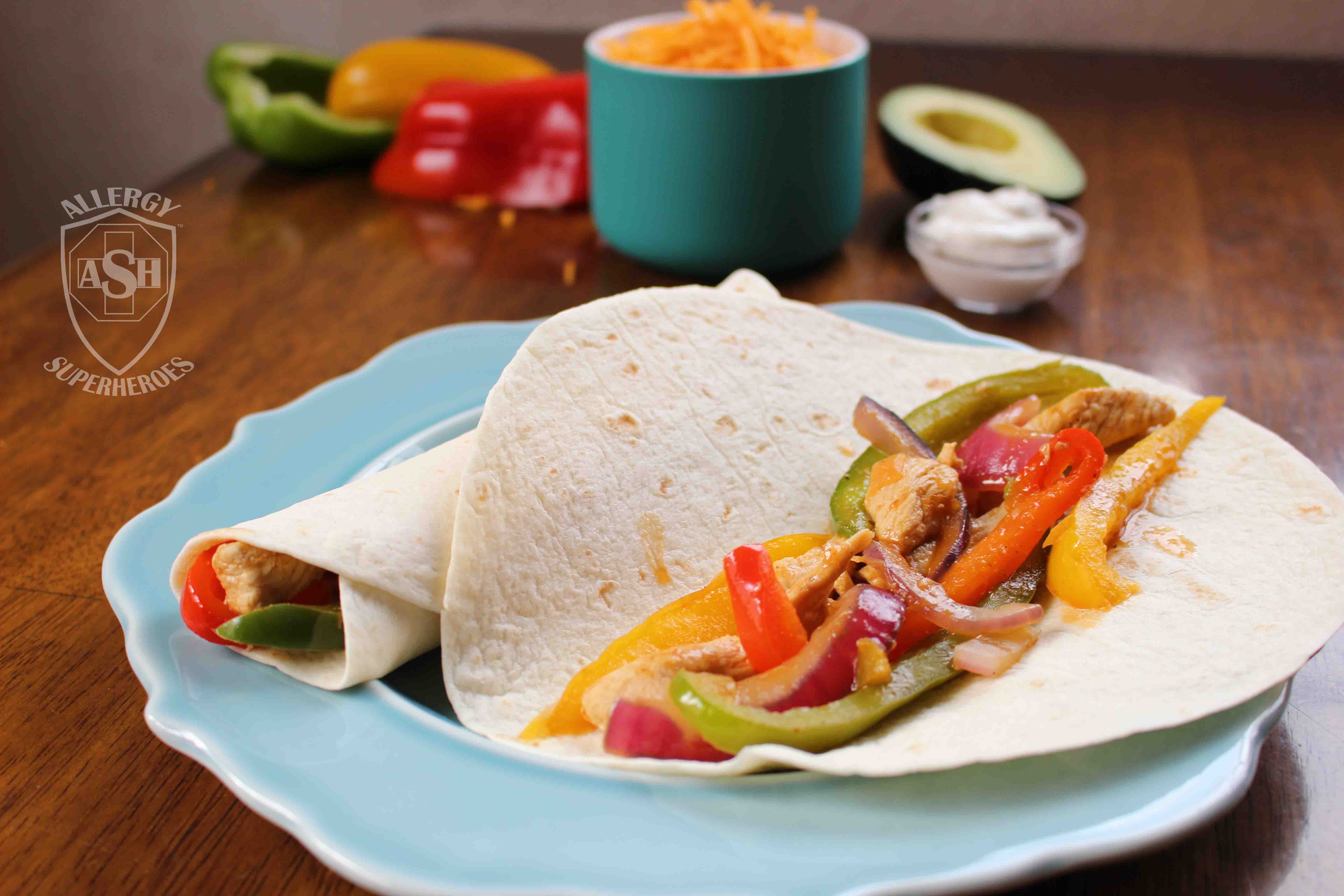 Making these fajitas safe for your food allergies is easy, not to mention delicious! And don't forget to pair these Allergy-Friendly Fajitas with my Fiesta Rice to complete your meal.
Want to come over for dinner tonight?
Linking up at Allergy Free Thursdays and Gluten Free Fridays